Photos of Wigan
Photos of Wigan
Album Contents
Album Contents
Wigan Album
Warrington Lane Infants School
25 Comments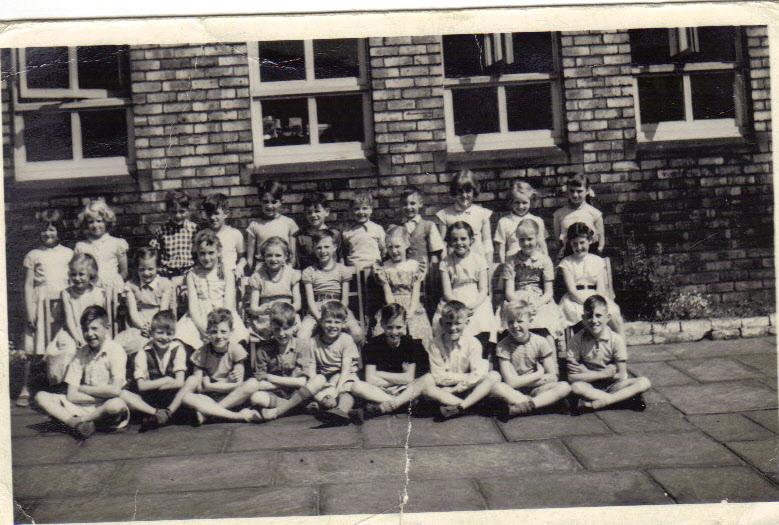 warrington lane late 50's early 60's
Photo: anne silcock(searle)
Views: 5,139
Item #: 18628
looks like infant and juniors,don't know many names,tall girl at back looks likedoreen beard,4th right middle row looks like my sister lilian searle, front row arther hill,derek yates,robert jones,???martin silcock,? john smith.middle row 2nd left we think is me
hi my name is michael benson im the only boy in the centre of the middle row martin silcock is 3rd right on the bottom row brings back memories from a great school
Comment by: Keith Austin on 30th December 2013 at 11:35
Peter Garraghty 4 from left, back row. Anne Barrow is on photo.She had a brother called billy.Who also went to the school.
Comment by: Keith Austin on 30th December 2013 at 21:51
There is a chance that it could be Lynn Albiston far right middle row.Walked with her to where her Father picked her up in his car.I could be wrong.Help.
can help you with a few more keith,,top row 5th left david hughes 8th left rob hill,,,middle row me in middle 3rd from right beryl dainty,,,bottom row from left jack Kendrick,,don wooton,,keith mason,,?,,?,,?,,martin silcock,,john fairhurst,,trevor swift....all my old schoolchums would love to know how there all doin
Comment by: Keith Austin on 31st December 2013 at 01:22
I could have everything wrong mike.Peter Garreuty lived very close to Jackie Kendrick on Darlington St, very close to Preston Arms.I lived in Shelmerdine St just off Harrogate St.Ithought Martin Atherton could be on.Brother of Eric.Its all interesting but confusing.Ithought the year could be 1961.What do you think Mike.Where did you live.
almost sure its 1958..went to whelley sec mod in 1959...ive now lived in winstanley wigan for 30 years..aint seen any of that class since I left
hi keith I lived in lymm st just off warrington lane it aint there anymore...the foto is deffinately about 1958
Hi - I am Judith Griffiths, middle row, 4th from left and next to me 3rd from the left is Christine Stotherts I remember Michael Benson next to me. I am in New Zealand now, been here 40 odd years and love it here. Does anyone remember me - I had a sister called Nadine Griffiths, a year older than me.
hi Judith..remember you and your sister Nadine..always wondered what happened to some of my old classmates..hope your keepin well..i was in Australia in 2008 for a few weeks..thinking of comin over again with my mates eventualy and New Zealand to...would be nice to keep in touch..hows Nadine doing...x
Hi Michael Benson - Judith from New Zealand, if you ever get to New Zealand, we have to meet up.
hi Judith lovely to hear from you after all these years,not sure when were comin over..but definitely would like to meet up..would also be nice to keep in touch..maybe on this page or e.mail.ps is Nadine keeping well..x
Comment by: Tony on 27th April 2015 at 22:46
I remember you, Michael Benson. You introduced me to "World Soccer" magazine when I was about 12. I still read it. We used to play cricket in the street outside your house, near the embankment.
yeah tony happy days...lymm st gone now.livin in winstanley..do you remember Kenny and keith bell..ps whats your second name ?
Comment by: Tony on 5th May 2015 at 20:18
I was known by Anthony in those days, Michael. In the World Soccer magazine of yours I read there was a photo of a player from Deportivo Cali. 30 years later I used to watch them regularly when I lived in Cali, Colombia.
Think I am on the photo Front row third from left, I used to live at 30 Darlington street opposite the Preston Arms, We used to have a TV Shop that became Kays surplus store
Comment by: michael benson on 14th January 2016 at 15:50
think that's keith mason david..foto was taken about 1958..i went to whelley sec mod in 1959
Hi Mike, yes i meant 3rd from right as you look at the picture
what good times looking back i generally used to play about with Derek & David Yates, Eddie Lynch, Gordon Tarbuck & Derrek Lancaster, wonder how they are all doing, love to hear
Comment by: michael benson on 18th January 2016 at 14:58
high david.3rd from right is martin silcock..think the names you mention were a year above this class...I aint seen any of my classmates since..like you I always wonder where they are now
Hi Again Mike, its a bit bad when I can't even remember what I used to look like hey ho the ravages of age
Comment by: don wooton on 23rd May 2016 at 19:59
hi mike was in same class and then went to whelley in 1959 I was in goal at both schools wernt much good thougjust a few lads names alan heyes alan Baldwin victor sharples billy stubbs eddid leverington francis rothwell roy jones Robert hill
Comment by: michael benson on 8th June 2016 at 09:34
hi don nice to hear from you after all these years..remember all those names but aint seen any of them since school days..what you up to these days..hope your keeping well
Comment by: don wooton on 8th June 2016 at 20:42
HI mike not seen any myself since school days Im married with 3 kids and living up platt bridge for last forty years nice to hear from you after all these years hope your keeping well
Comment by: michael benson on 14th June 2016 at 10:40
hi don..living in winstanley for 34 years now since my divorce..got 2 very sporty grandsons..ones been trainin with man city and the other plays rugby for st cuthberts and cricket for norley..I played in a 6 a side footie tournament on sunday and tore a calf muscle...must be my age hahaha
Comment by: don Wooton on 15th June 2016 at 10:03
HI Mike hope you soon get better you should let grand kids do the sport you watch got 3 granddaughters 1 grandson 1great granddaughter not sporty thank god not played sports since leaving whelley darts is about my limit hope your keeping well
Comment by: michael benson on 1st July 2016 at 12:59
hi don yeah keepin ok thanks let me know if you bump into any old classmates..keep in touch