Photos of Wigan
Photos of Wigan
Album Contents
Album Contents
Wigan Album
St Thomas's C of E, Wigan
29 Comments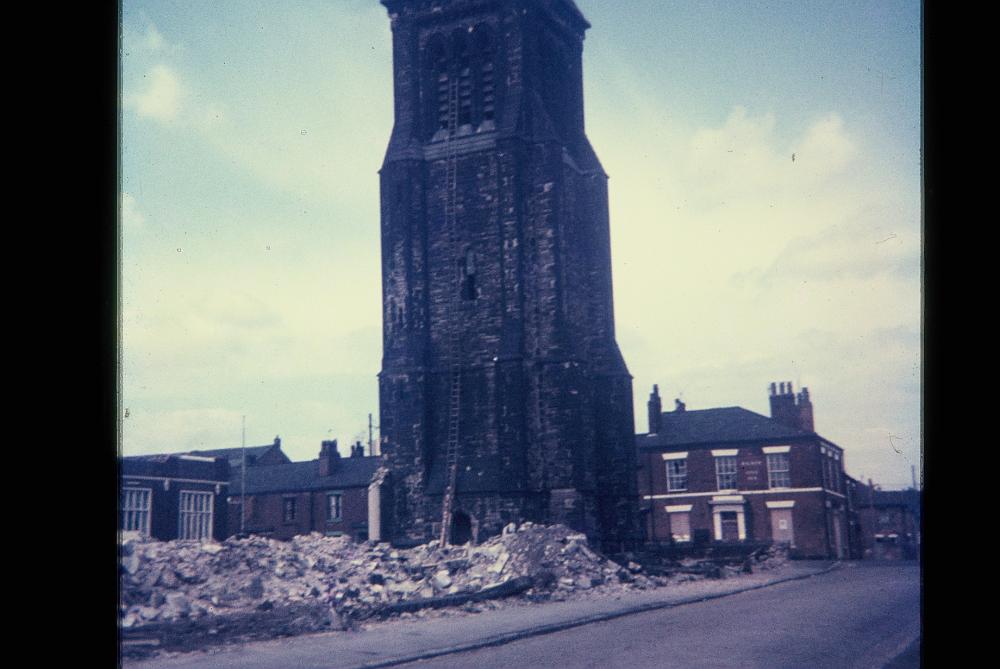 final days
Photo: thomas anglesea
Views: 7,002
Item #: 18572
this was st.Thomas church in caroline st.not sure about the year i think it was late 60s early 70s.
Any idea what is on the land now? Thanks. All my Walmsley family from Bridge Street & Duckworth family from Eleanor Street used the church
Comment by: Keith on 1st October 2011 at 17:11
Thanks for posting, as far as I can remember this is the first time I've seen the church where my great grandparents married in 1873.
Comment by: Ian B on 1st October 2011 at 18:10
Another photo:
http://www.wiganworld.co.uk/album/2/k1lkzdqm.jpg
Comment by: Dave Marsh on 1st October 2011 at 18:48
It feels very sad to see this photo and it shows the only view I've ever come across of the school windows.So many happy days,so many good friends,so many good memories.Thanks for sharing your photo Thomas.
Comment by: catherine on 1st October 2011 at 19:13
i was christened and confirmed in this church
used to go there from school on saints days and i remember going to mr jacksons (the headmaster of the school)funeral there80hew
Comment by: Cyril on 1st October 2011 at 19:30
Ian B, the row of store units ie Benson's Beds, Tile Store and All Spares were built on the site of the church. The demolition took place around the mid seventies.
Comment by: winder on 1st October 2011 at 19:41
To Ian B.
Thanks for the link to show the church, before it was knocked down. In case anyone wants to know were the church was, it was on the corner of Caroline Street and St Thomas Street.
Crown Paint decorating centre is now on the site of the old church.
Comment by: Keith on 1st October 2011 at 19:53
Thank you Ian, much appreciated.
Comment by: Bob on 1st October 2011 at 20:21
The site of the old church was located just off Caroline st, then Thomas st, then Woods st. it was next to edmonds walkers and geodor auto electrics.
Comment by: jj on 1st October 2011 at 21:00
what a magnificent peice of architecture and great loss for Wigan - all they can build these days is tin cans!
Comment by: Dave on 2nd October 2011 at 11:03
It must have taken a brave man to erect or climb those ladders!! Just looking at them scares me.
Comment by: thomas anglesea on 3rd October 2011 at 14:01
hi IAN B,grow up with the walmsley family in bridge st I sill see jack around town,was sad when jimmy past away at a very early age.
Comment by: James Rudd on 4th October 2011 at 08:10
Brings back memories of my schooldays at St Josephs which was nearby, the whole area was demolished in 1970. St Josephs church still standing though, just off picture on left. i recall the kids from St Thomas school shared the same dinner canteens.
Comment by: Carol on 6th October 2011 at 08:52
Which direction are we looking on the photo? What was the name of the pub. My family are from Adelaide / Melbourne St which ran parallel to Caroline St.
Comment by: thomas anglesea on 6th October 2011 at 16:02
The photo was taken in saint Thomas street.the pub was the Church Inn. and Caroline st ran parrallel with Hodson st.
Comment by: Carol on 7th October 2011 at 09:21
Yep, Hodson St was sort of wrapped around St Thomas Church and school, Melbourne street was the next street down from caroline street at the wallgate end.
Thanks for the info and photo, it's good to get some idea what the area looked like as it's all been flattened.
Comment by: Mikewigan on 8th October 2011 at 11:03
How long is that ladder !!!!!
Comment by: Colin Harlow on 9th October 2011 at 18:47
Comment by: les gaskell on 30th October 2011 at 14:08
deff the 70s as i was still at the school in 1970s , great mems of that school at the school mates that went there ,
Comment by: S Dingsdale on 11th December 2011 at 12:32
Ilived in chaple st across the road from the vine,stayed at the the vine many a night with margaret dingle(we were good school mates at All Saints Shool)got married at st thomas's church oct 1st 1966 to leslie judson devorced oct 1989.miss the old days.
i have 4 of the gargoyles off the church in my garden - i also have the old sign for Hodson Street - All collected (around the time of the photo) by my Grandad - Bert Holland - i would love to get some close ups of the church that i could spot the gargoyles on - incidently i was christened at St Thomas's (My mum was Anita Holland, later Anita Rigby)
Comment by: thomas anglesea on 19th April 2012 at 19:06
HiPaul,grow up with your mother I lived in chaple lane area,used to work with her brother Maurice,your mother used to come down to Bridge st.to visit,can she stil do Ballet?
Comment by: thomas anglesea on 21st April 2012 at 13:49
Sorry Paul to hear about your mother, I didn't she had died. I have have just been looking at the photo of 1948 of St Thomas's school. She was a wonderful and beautiful girl back in the 1950's. I am so sorry to hear of your loss.
Comment by: paul banks on 9th December 2012 at 17:42
great photo,me and my family lived next door to the church on caroline street no28
St. Thomas's Church was a beautiful Church. I was brought up going to this church. the last service was one joy and sadness. The church was packed that one last time. Some of the fittings are in St. James with St. Thomas in Poolstock. St. James's church was the daughter church to St. Thomas. My mums family came from Driving Lane (near the canal). Her maiden name was Gray. Unfortunaley she's the only one left now.
Comment by: thomas anglesea on 17th May 2013 at 17:20
Hi Lynne.I knew the Gray`s.If you go back to albums click onto places, there is a thread there ( DRIVING LANE ) IF you look at the photo at the lift hand side at the bottom there is a row of houses your Mother live in about the third one down.
My uncle Harold Molyneux had the chip shop just across the road. His daughter was Lois. Doe's any know where she is now?
Comment by: Andrew Claughan on 1st November 2015 at 12:10
This was my first school, i remember us all getting moved out very early 70s as the school was to be demolished and i went to Scot Lane, seemed to remember one class mate called Ingram Bowen?