Photos of Wigan
Photos of Wigan
Album Contents
Album Contents
Wigan Album
Warrington Lane Infants School
22 Comments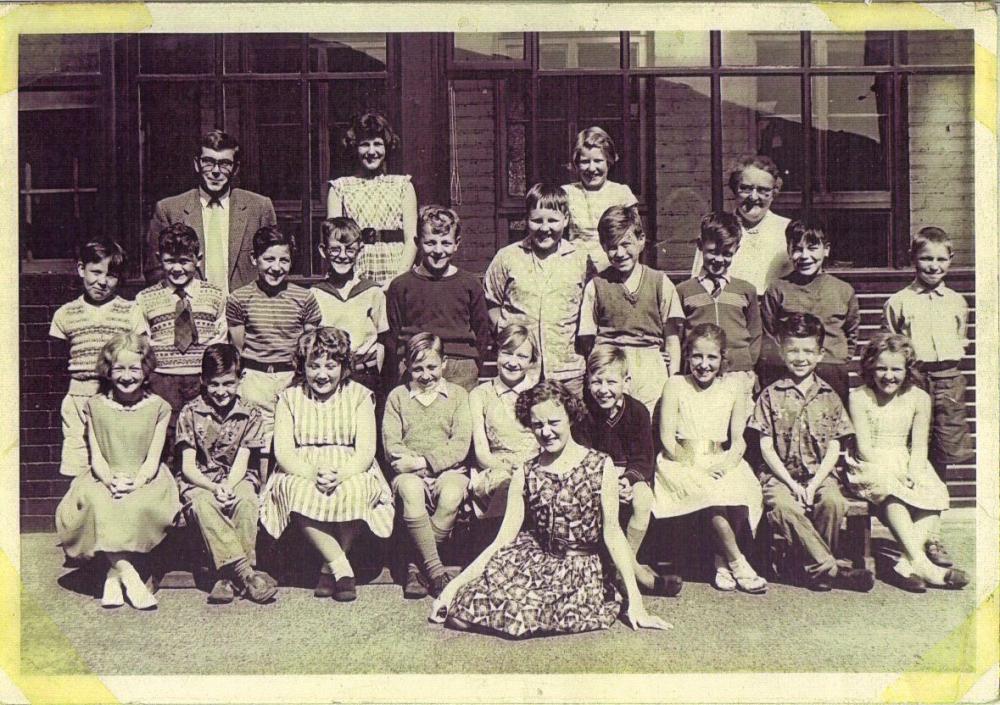 warrington lane school early 60s
Photo: anne silcock (nee searle)
Views: 6,469
Item #: 18568
back left mr briton,norma fairhurst,susan swift'mrs thomas'middle row,arthur hill,henry woodcock,robert jones,david mathews,david barton,eddie lynch,david morris,allen longmire,keith jepson,front row,kathleen,whalley,derek yates,gail leyland,gordon tarbuck,anne searle,john smith,edith rigby,david yates,linda taylor,in front,marion worthington
Comment by: Ron Hunt on 30th September 2011 at 13:52
Was Mrs Thomas the Headmistress?
Comment by: anne silcock (searle) on 30th September 2011 at 16:54
yes she was and they were both good teachers .There was mrs walton over the juniors and mrs johnson who locked my brother william in a cupboard he fell asleep and they had to get police to open the school he`s 72now but sill remembers it
Comment by: anne silcock on 30th September 2011 at 17:41
sorry missed out stephen ?inbeteen david and eddie
Comment by: Ron Hunt on 30th September 2011 at 20:55
Hi Anne I remember that happening when I was in Nursery someone got locked in the room, they stored the chairs in in the Nusery part of the school. But that would have been in the late 1940's so it wouldn't have been your brother I don't think?
I didn't get on well with Mrs Thomas, had a few run ins with her and she ended up sending for my dad. Anyway the outcome was I moved from there to Highfield School, which was nearer to where I lived in Pemberton. I originally lived in Spring Street hence me going to Warrington Lane School. Everything turned out fine, as I passed my 11 + and discovered that, in the class I had left, at Warrington Lane, not one person passed their 11+
Comment by: Ron Hunt on 30th September 2011 at 20:57
Forgot to mention a teacher called Derbyshire , who ended up a Pem Sec School. He didn't like me either<g>
Comment by: anne silcock on 30th September 2011 at 21:28
she was firm we lived in silver st my elder brother jacky and elder sister lilian also went there i do remember gail and a couple others passed eleven plus may have queued in taylors chippy sometime
I left the school when I was 7. I remember being in a Christmas Play when I was a dog?????? At the time I had a carbuncle on the back of my neck and I can remember all the mums sympathising with me. I also remember the small present! of paper and card we got at the Christmas Party they had in the school. Small books with pictures, which when you wet them with a brush turned into colour and small card puzzles, given by various companies. It was all advertising really, but I thought they were FANTASTIC. Played with them for hours. How happy and content with our lot, we were in those days.
I was there from 66 till it closed and became the teachers training center .My Teacher was Mrs Fish I remember Mrs Walton and the large rocking horse.OH and the play fountain in the bottom classroom not much else i can remember.
Comment by: Ron Hunt on 2nd October 2011 at 17:12
When I was in the Nursery, which If I remember correctly (It was 60 years ago) was down some steps and was lower than the rest of the classrooms. There were two rocking horses, a very large one, and a smaller one. I wonder what happend to them? They would be worth a fortune today.
Comment by: Stuart on 3rd October 2011 at 21:53
I left in 1966. A couple more teacher some of you may remember: Mrs MacFarlane and Mrs Dowling.
Also remember Miss Thomas's cat?
Comment by: David Morris on 6th October 2011 at 19:30
Stephen Wilson is missing name.Great photo,great times.
Comment by: anne silcock on 8th October 2011 at 23:07
yes good times'I met Mr Briton when he churched me after I had my son's,he became a vicar and was at St Pauls in Goose Green
Comment by: Derek Lancaster on 11th October 2011 at 15:28
Hello David,yes they were good times,i remember chasing the girls under the Railway arch at the bottom of the school yard,i left in 1957 to go to Marsh Green Junior.Just missed out on the photo.
Comment by: Ron Hunt on 12th October 2011 at 19:18
Hi Derek you didn't live off Harrogate Street did you? Did your dad work at Hill & Jaynes? I can remember a lad named Lancaster, who I was friendly with, but I thought his name was David?
Comment by: Derek Lancaster on 15th October 2011 at 16:28
Hi Ron, no i am not the Lancaster your thinking of,I used to live in Johnson St off Leigh St,my dad worked on the railway.
Hello Anne I remember very clearly when your parents bought a new bible for you and you brought it to school.it had black leather backs and many pictures,it was boxed. D.Barton.
Comment by: Keith Austin on 30th December 2013 at 00:51
i went to Warrington Lane from about 1954 till 1965.i remember a lot of these names but they were older than me.i lived in Shelmerdine St, off HarrogateSt.A teacher named Miss Johnson was an old battle axe.Miss Walton was great.Mrs Fish and Miss Outrum in the nursery.Miss Thomas head over the juniors,a good teacher.Mrs Mcfarlane another nice teacher.People in my class.Lynn Albiston,Doreen Winstanley,Tony Tarbuck,Alan Sharples,David Taylor,Janet Gregory.Surprised to find this sight,what memories walking up Darlington St to school.Old mr.Woodcock the lollypop man. Memories of the school are many.
Comment by: sandra coxhead nee fields on 2nd April 2014 at 21:04
does anyone know the whereabouts of norma fairhust married name roubotham
Comment by: Tony on 27th April 2015 at 23:04
I remember Mr Britton. Also Mr Briggs. I was in the class a year above this one. I recognise Gordon Tarbuck. I use dto play football with him and his elder brother Melvyn.
Yes I agree with you all good times, in fact looking back I rather think we lived in the best of times, I remember Marian Worthington after looking at this picture she does look very mature you could almost take for one of the teachers, Heard Eddie Lynch died around 2006, wonder how many are left, should perhaps have a reunion
Comment by: Derek yates on 18th May 2016 at 12:07
Hi I am derek yates and my twin brother is David sadly David passed away in 2004 also the year I had a severe stroke this photo brings back memories. The tarbucks bumped into Gordon and Melvin recently it would be great to see everyone again .
Hi Derek nice to hear from you, sad to hear about David
I believe you had some work done on your house a while back
by my sudo brother in law Fred Hamill, I only work across from where you live let me know and I will call across
I guess time passes and some of us don't make hey-ho