Photos of Wigan
Photos of Wigan
Album Contents
Album Contents
Wigan Album
St William's RC, Ince
8 Comments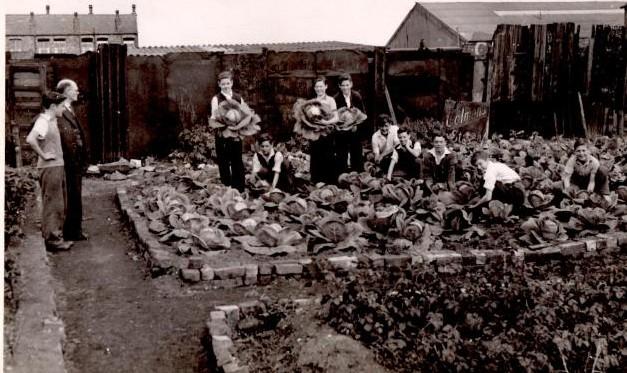 The Garden at St William's RC Ince about 1951/52ish
Photo: Chris
Views: 2,198
Item #: 18532
Modifid photo. of one put on the site earlier
Comment by: Chris on 24th September 2011 at 12:27
Owd Black in the garden at St Williams RC, Ince, with the lads growing cabbages 1951/52ish
Comment by: Chris on 24th September 2011 at 22:33
Stood with Owd black, Brian Tarpey then L to R John Ashall, Cliff March, Mick Lee, Terry Wilson, Tony Connor, Terry Harrington, Matt Cusick, John Daniels, Dennis Hagen.
Comment by: Baldylocks on 25th September 2011 at 17:08
Thats a nice photo,by eck! those vegetables look crumpers!
apparantly in the 1950s highfield primary school on billinge road pemberton also had allotments too.
Were allotments/plots like this part of the old WW2 wartime dig for victory campaign? that were just kept going after the war finished?
Comment by: Evelyn on 25th September 2011 at 23:33
My husband was at Highfield Senior Boys School from 1948 to 1952 and worked in the allotments there, with Mr Gaskell being the teacher . He doesn't remember the primary school having allotments.
Comment by: Chris on 26th September 2011 at 13:51
Evelyn, Terry says the weren't allotments as such it was just what they called the school garden, they sold the vegetables to the pupils. I was just behind the school, over the school wall.
Comment by: Baldylocks on 27th September 2011 at 21:34
Sorry Evelyn,i meant to say senior school.
My old grey matter isnt what it used to be :-)
i started 1951-2 so these must have been 1948-49
At one time wasn't there a goat and a donkey in the School garden