Photos of Wigan
Photos of Wigan
Album Contents
Album Contents
Wigan Album
British/Evans school Ashton in Makerfield
2 Comments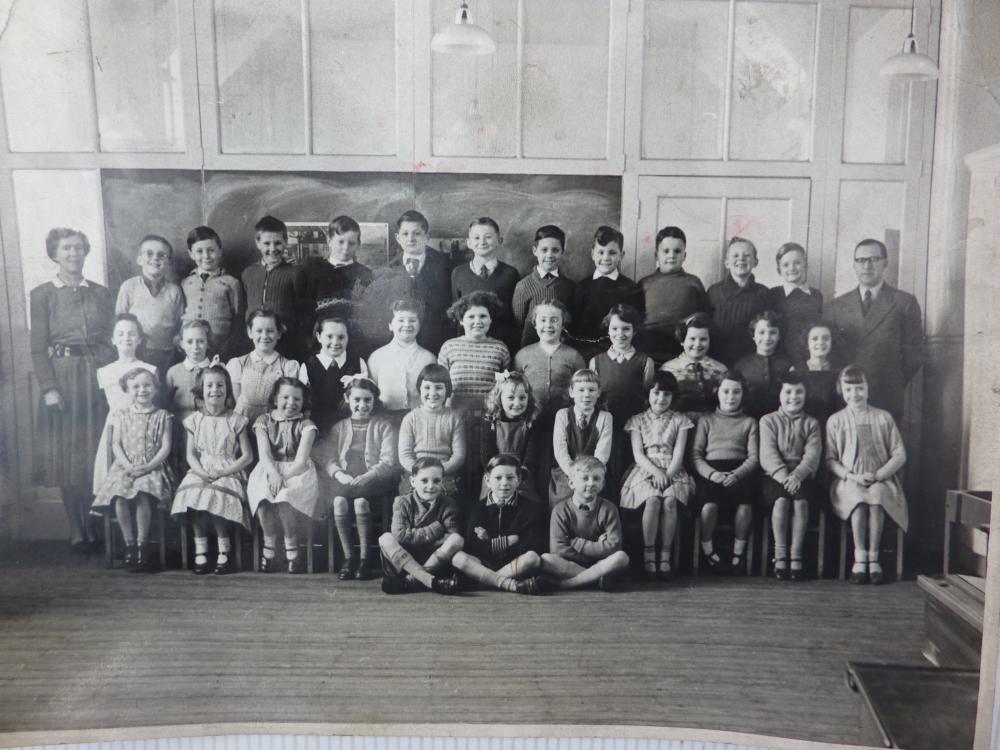 Juniors - approx 1958
Photo: Audrey jenkins (nee Brown)
Views: 5,406
Item #: 17596
Back:brian hardman,John Duffy,Alan Roberts,John Liptrot, jeffrey Kay, ?, Arthur Knowles, david Gill, Jimmy Goodyear, Ian Pendlebury
Middle: lesley palmer, Yvonne Blinston, Audrey Brown, Susan Wainwright, Christine Pearce, Kathleen Summers,hannah STARBUCK (I think),Christine Pilkington, Kay Croston, mariliyn Worswick,hazel Whitter
Bottom:Wendy Cousins, Sheila Marsden, Christine Wright, glenys Hughes, Susan Hart, hazel ?, hazel Massey,Audrey Littler, Sheila Aston, margaret Pendlebury, Wendy Liptrot
Sitting on floor:Laurence Collister, Douglas Pearce, terry Morris,
The teacher was Mrs Callow and of course Mr pilling was on it. I wonder why you weren't there Kenny? Joan Aston was also missing but Douggie Pearce made it on this one - also I'm sure that the girl next to Kathleen Summers is Hannah Starbuck. I'm not sure of the year but I know it was upstairs in the Juniors.
Audrey

Comment by: Ken Eden on 19th April 2011 at 12:12
It's a mystery Audrey! The last three years I was at this school I took a week off in June for a holiday, so if that's when this photo was taken, I would be on the beach.

I think the back row should be:
Brian Hardman, John Duffy, Alan Roberts, Anthony Lavin, John Liptrot, Jeffrey Kay, ? Arthur Knowles, David Gill, Jimmy Goodier (not Goodyear), Ian Pendlebury. I think it is Anna (no H?), I can't think who else it might be, she's the right height and she was always with Kathleen.
I don't remember Mrs Callow looking like that (the mind plays tricks)! A lot of the kids didn't like Mrs Callow but I had no problems with her.
I don't recognise the room, it doesn't look like the school hall and it isn't Mrs Callow's classroom, the door's in the wrong place. It might be the classroom next to it, directly above the infant class in your other photo but it's strangely devoid of furniture.
Comment by: John Duffy on 19th April 2011 at 18:21
Missing names: Jeff Nixon next to Arthur, Susan Welding and Hazel Pennington after Glenys Hughes. Susan Hart started later I think. Douglas Pearce must have been your sub' that day Ken. Never seen this photo before so thanks Audrey.