Photos of Wigan
Photos of Wigan
Album Contents
Album Contents
Wigan Album
British/Evans school Ashton in Makerfield
9 Comments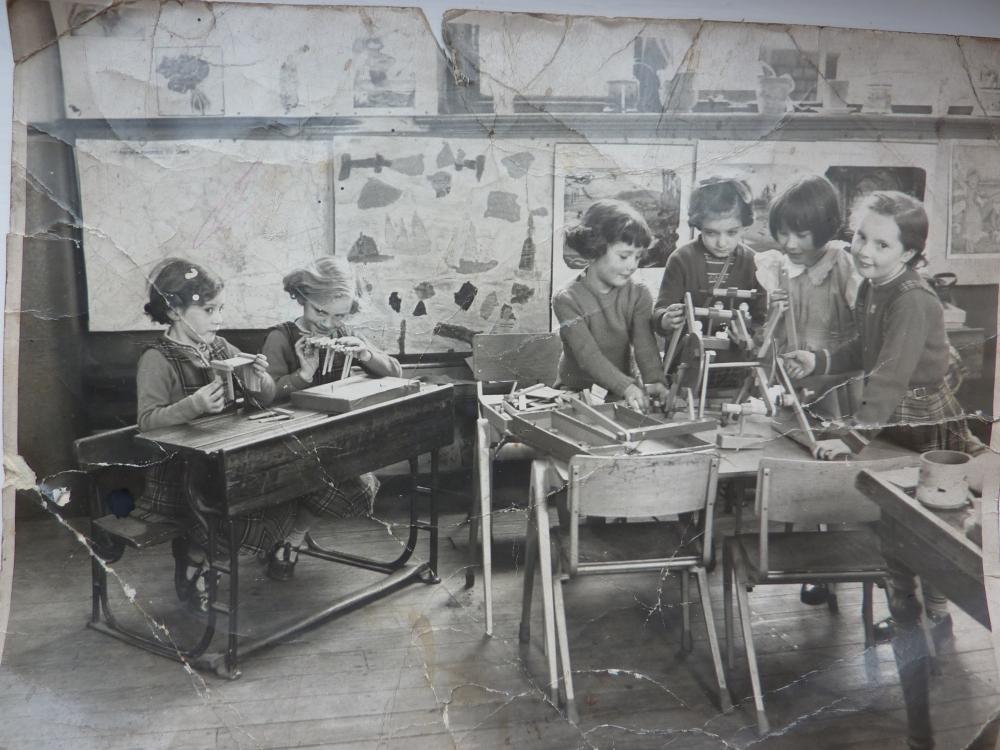 Infants class
Photo: Audrey Jenkins (nee Brown)
Views: 2,794
Item #: 17563
1956
From left to right: Joan and Sheila Aston, Margaret Pendlebury, Hazel Whitter, Audrey Brown, Susan Wainwright
I can't remember who the teacher was in 1956
Comment by: Ken Eden on 17th April 2011 at 13:46
Another new one. Do you remember when the Christmas tree caught fire Audrey?
Look at the old desk compared to the more contemporary furniture.
Comment by: irene roberts on 17th April 2011 at 16:39
I LOVE the old desks! The other picture says this school is now a care-home.....would it be Ashton View Care Home, near to Ashton Library? I love to see pics of 1950s schools and schoolchildren. There was a homeliness about the old schools, somehow.
Hi Ken
I don't remember the Christmas tree setting on fire. Look at the tidy boxes on the other photograph - they're really well used
Audrey
Comment by: irene roberts on 17th April 2011 at 20:20
I wondered if they were "Tidy Boxes".....I remember those so well from my childhood in Ince; I didn't think anyone would remember them!
Comment by: Ken Eden on 20th April 2011 at 11:05
They used 'real' candles on a 'real' Christmas tree, so...... flammable!
I can't remember who the teacher was, she had to run and get other teachers to put the fire out. The kids just sat there, bemused - watching it all! There were no alarm bells, no suggestion of evacuating the building.
Imagine that nowadays.
Comment by: irene roberts on 20th April 2011 at 14:55
And I bet no-one came to any harm! If you fell in the playground and skinned your knee, the teacher would bathe it and put a plaster on and you'd go back out to play. They'd probably have to fill a form in these days.
Comment by: John Duffy on 20th April 2011 at 21:53
Irene, teacher wouldn't be able to put on a plaster today, it would have to be a trained nurse, the yard would be closed while a risk assessment was carried out and only opened again after the playground was covered in foam (non-flammable).
There I go being cynical, sorry!
Comment by: irene roberts on 21st April 2011 at 11:28
You're absolutely right John; please don't apologise.Things have just got silly!
Comment by: Ken Eden on 29th October 2011 at 18:43
I can't remember how the fire was put out, I'm pretty sure fire extinguishers were not used.

Only a few kids suffered from burns, their mothers were sent for and they quickly brought vinegar and butter to put on the injured.


...............................................Only kidding!