Photos of Wigan
Photos of Wigan
Album Contents
Album Contents
Wigan Album
British/Evans school Ashton in Makerfield
6 Comments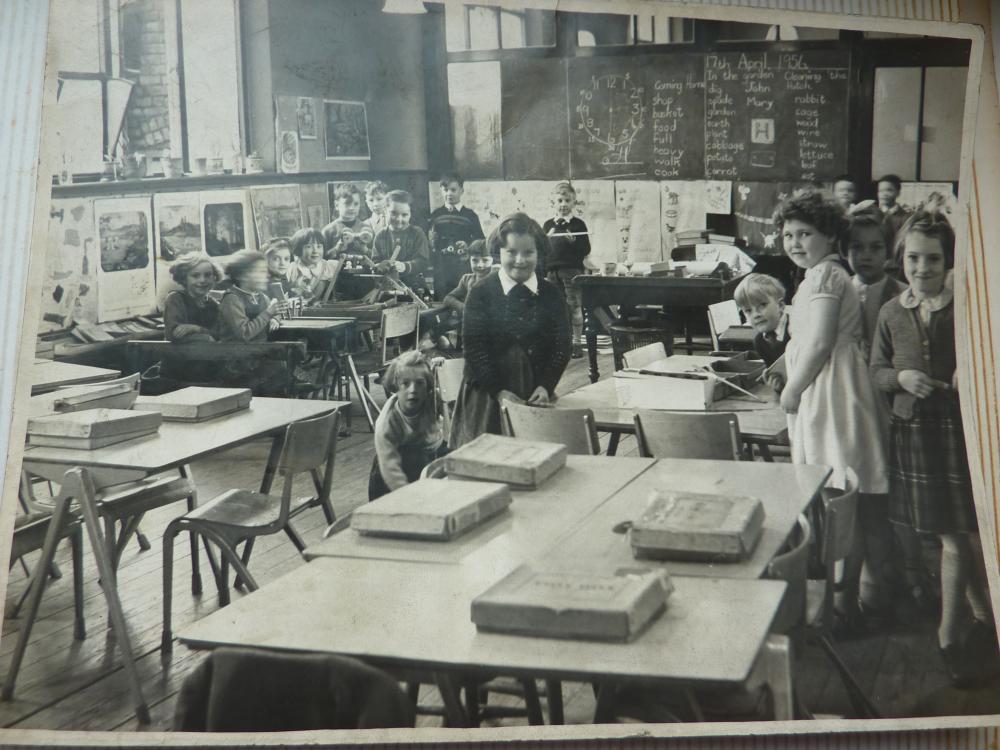 Infants class
Photo: Audrey jenkins(nee Brown)
Views: 3,468
Item #: 17562
1956 in the infants
On the left are the Aston twins, Joan and Sheila, hazel Whitter,Audrey Brown, ?, John Pownall, Susan Wainwright, Margaret pendlebury, Terry Morris.
Sheila Marsden and Kay Croston in the middle
Kathleen Sommers, Ian Pendlebury and Christine Pilkington on the right with someone else. Looks like david Gill at the back and possibly Arthur Knowles

Comment by: Mavis Higham on 16th April 2011 at 20:14
The date on the blackboard is 17th April 1956, so tomorrow it will be 55yrs since it was taken. Did you give it a viewing for it's birthday Audrey?
Comment by: Ken Eden on 17th April 2011 at 12:43
I haven't seen this one before. It seems that a lot of the class were missing, including me. The school building is now a care home, where this classroom was is now the main entrance, reception and office. They removed the high ceilings and squeezed an extra floor in.
I hadn't noticed the anniversary of the photo - blimey 55 years! I don't know where the rest of the class were - perhaps in the reading corner with John Duffy or in the sandpit!!
Comment by: irene roberts on 17th April 2011 at 20:24
Or playing with fuzzy felt? My schooldays were in Ince, but this photo, (with "tidy boxes" on the desks),and the next photo, bring back so many memories; thankyou!
Comment by: Ken Eden on 18th April 2011 at 12:39
Surely John was too young to be in this class!!!
(He tries to kid us that he wasn't old enough to go in pubs in the 1970's.)
LOL
Comment by: John Duffy on 19th April 2011 at 18:39
More likely the Naughty Corner! As for Ken's comment I was teetotal in those days but boy have I made up for it since, hic!