Photos of Wigan
Photos of Wigan
Album Contents
Album Contents
Wigan Album
Notre Dame School, Standishgate
10 Comments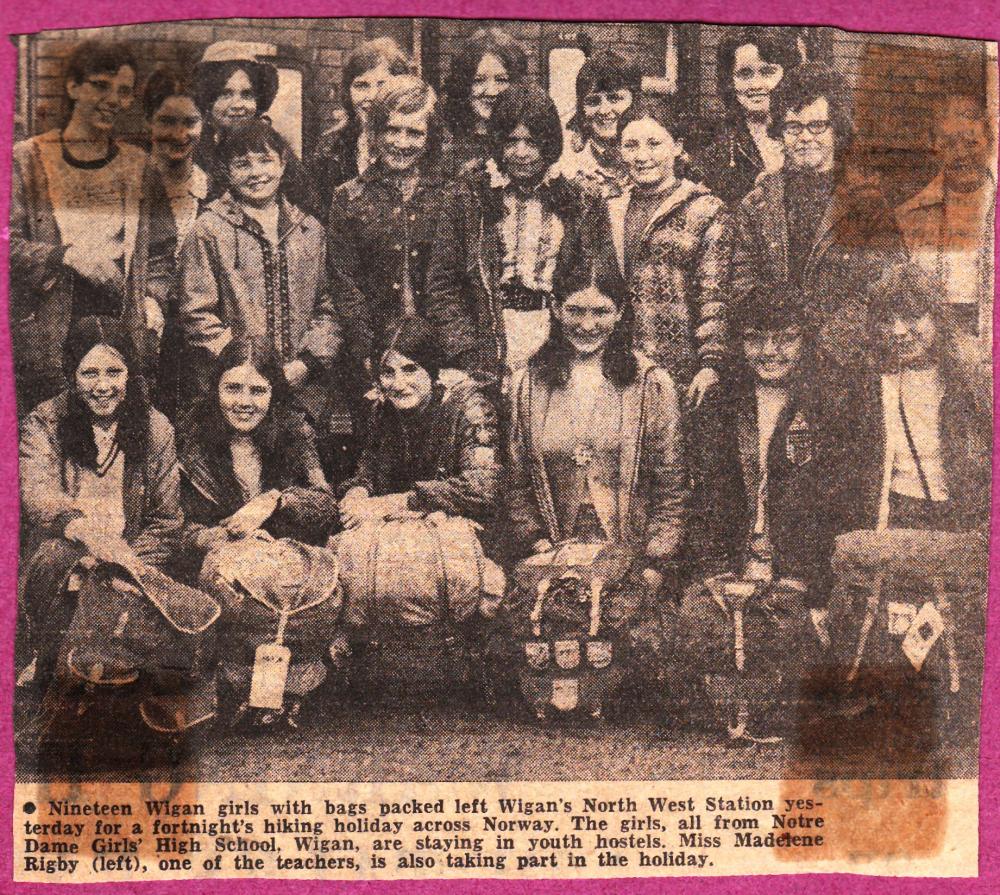 Notre Dame Norway trip 1971 or 72
Photo: Carol Farmer
Views: 5,479
Item #: 17444
Taken at Wigan North Western. School trip for Youth Hostelling holiday in Norway. Catching the train to Newcastle for the ferry to Bergen
Comment by: penny2 on 1st April 2011 at 14:39
I went to Notre Dame from 1969 to 1974,dont recognise anybody ,does anyone know any names .
Comment by: Carol on 1st April 2011 at 16:52
I am the little squirt with the light coloured jacket middle row, fringe, second from left.(Carol Greenall),centre of that row is Annette / Anita ??. Next to her with the striped jacket is Julie Wilkinson, then Moira hall with the glasses and at the end of the row is Sandra Dickinson. We were the youngest in the group. The girls in front were a year older (I think). At the girls at the back, the older ones. I was at the convent from 1970 - 73, then our year got moved to Thomas Moore for the 4th and 5th form.
I was at ND 70 -73 then moved to Thomas Moore - what a shock that was after being at the convent school...I remember that some of the boys in the 5th year couldnt spell their own names!! Any one remember me Colette from Warrington I was in Towneley I remember Mary Cottriall Judith Brindle, Lesley Hill, Anne Quayle to name a few.Would like to hear from any one who remembers me...my memory is not as good as it used to be lol
Comment by: Carol Greenall on 29th July 2011 at 12:06
Hi Colette, I remember you. I was in Jerningham. The trip was 1971 - just found some photos with dates on. I've met up with Kathryn Dodson and Eileen Lamb in recent years.
I am on the 2nd row, 3rd from the left - Kathryn Hart
I remember this trip. It was 1971. On the back row next to the teacher is Mary Gaskell, then Julie Atherton and I think regina Schickhoff. Anyone got photos of the trip to Germany the year before with Miss Rigby and Mr Savage who got married teh year after this.
Comment by: June Thomas on 13th January 2013 at 22:29
I rember this trip I was in jerningham and am on the far right front row next to julie Dawson and Leona Blazys.Fond memories and I do have some photos tucked away in the loft of stave churches and glaciers!
It was Annette Smith in the middle - she was my bestie - I didn't go to Norway - I was in Jerningham Annette was in Townley I think - we moved on to Notre Dame St Helens when it closed.
Comment by: Denise Fulton on 3rd October 2015 at 22:22
Went till 73 then got moved to John fisher