Photos of Wigan
Photos of Wigan
Album Contents
Album Contents
Wigan Album
John Rigby Grammar School, Orrell
8 Comments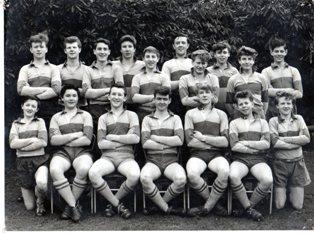 Undefeated after 5 years
Photo: John Lydon
Views: 5,847
Item #: 17371
This photo shows the U15 side in 1963/64, having gone 5 years without losing a game.

Team;Mason, Banks Keane, Nolan, Barton, Dewhurst, Carter, blakeley, Heterich, Nuttall.
Front Row; Walsh,Simpson, Riley, Lydon, Prior, Moss, Stacey
Comment by: frank higgins on 24th March 2011 at 08:20
Is that Barry Riley on the front row?
Comment by: horace on 24th March 2011 at 14:04
Is that Joe Lydons less famous elder brother?
Comment by: Simmy on 4th July 2014 at 13:54
Front left is Mike Stacey from Warrington and front right is Mick Walsh. Two notable absences Mike Higham and Peter Brown.
Comment by: Pete Nolan on 7th October 2014 at 11:58
I'm back row 4th from left, getting used to contact lenses!
John Lydon was playing for England schoolboys at the time.
Well remember sitting in 2B,3B and 4B with Jonny Lydon.What a player! Joe is his cousin I believe.Remember Joe going the length of the park to score for Widnes against Wigan at Wembley in their 1984 victory by 19 points to 6. Fortunately Joe returned to the fold and became a true Wigan great!
Comment by: JM on 11th September 2015 at 15:29
Thanks for correcting me JM. Shows how out of touch I,ve become over the years!