Photos of Wigan
Photos of Wigan
Album Contents
Album Contents
Wigan Album
Bluecoat School, Wigan
8 Comments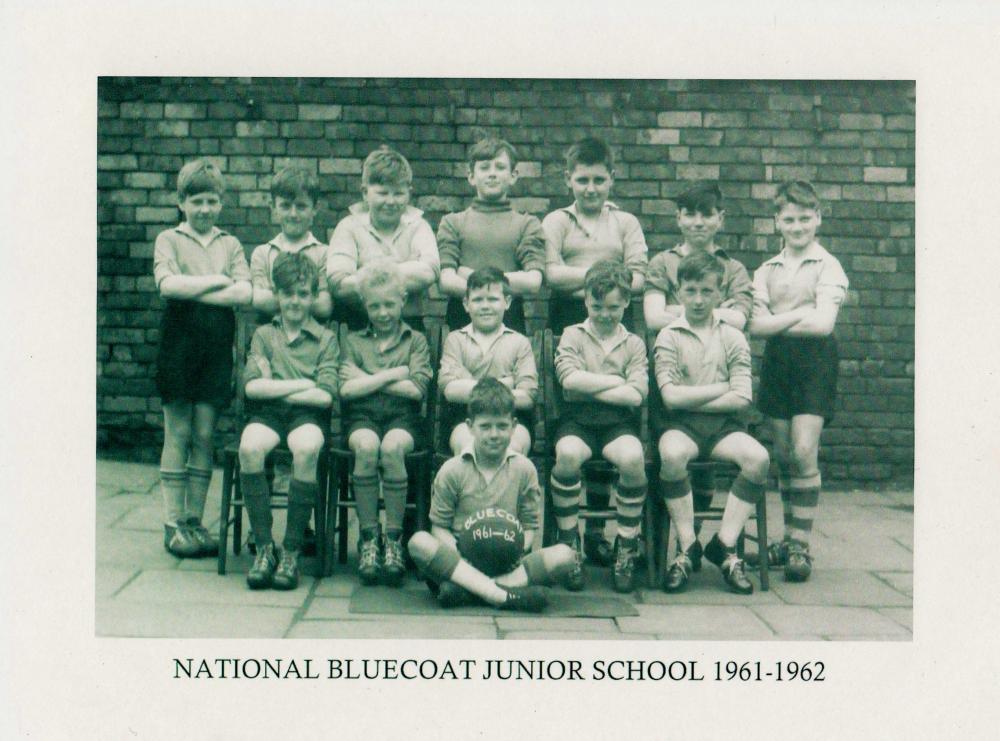 National Bluecoat Football Team 1961/62
Photo: Dave Cockrell
Views: 4,754
Item #: 17233
National Bluecoat School (Hallgate, Wigan) 1961/62.
Back Row l to rt. John Middleton, Micheal Anderton,Geoff Shepherd,Paul Rigby, John Clark, Dave Cockrell,Jeffery Edwards.
Front Row, l to rt, Alan Wilkinson, Freddie Pugh,Geoff Minchin, (unknown), Graham Pye.
Seated with ball, (unknown).
My apologies if I got anyones name wrong and to those I couldn't remember, Its been a long time ! Where are you all now ?
Comment by: geoff minchin on 13th March 2011 at 19:29
The 'unknown' who is sat next to me is colin Litherland. What a brilliant photo, we should have a reunion some time.
My apologies to Colin Litherland, I just couldn't recall his name. I saw mike Anderton about two months ago in Wigan and Geoff Shepherd in Preston last year (he now lives in Leyland). Jeff Edwards returned to Wigan for a short time in the 1990's but has since gone to ground again. Freddie Pugh I last saw about 20 years ago. graham Pye is a member down at Wigan Subscription Bowling Club and Paul Rigby joined the RAF and was Stationed at RAF Valley in North Wales, havent seen him for 30 years. The rest I haven't seen in nearly 50 years. If you want a copy of this Geoff, please get in touch by email.
Blimey, i thought this photo lost forever!! Hi guys long time ago that was, champions league or what,ha ha, bumped into Mike anderton in town earlier although not seen him for many years i recognised him straightaway he told me about the photo being on the "tinternet", i too got all the names apart for the guy with the ball (sorry). as for myself i still live in wigan and looking forward to retirement,those were the days,hey, short pants, silver sleeves. Thanks again for the memories photo now saved and my son will laugh his head off. ta from wilky....
hello again guys, i,m sure you can,t forget the long walk to our "home" pitch, down passed where i used to live in Prescott st, then right over the rough and smelly bit just before the canal, then the hallowed turf, (sorry, shale, cinders and broken pottery and glass shards),well, i was down that way recently, and a lot of units have been there for quite a while now, i was telling this guy about our school footy (also doubled as wigan boys)pitch, then was "gobsmacked" when he told me, then showed me, one goalpost is still standing!!! that took me back some fifty years. My lasting memory of gallaghers is xmas day in casualty having my knee stitched up, having been playing "3 pots in" along the tiny patch of grass by the touchline on the swamp side with a friend called Billy Naylor, yep great memories of days of old.... Still can,t remember a name for the guy with the ball, sorry mate but hope you well... Ta again from Wilky....
Comment by: jim brady on 28th January 2015 at 10:23
great photoboys,but could any one help us out and i know its been a long time ,but does any one remmber who was the captain of the football team the year before 1960/61, as carl langlouse and me have a pint on the out come. thanks
Hi Jim, do you remember that before anyone made the senior team lads were classed as "possible, or probable", (which really meant if you could stand upright on two feet you were in the team), well, I have a photocopy of your team of 1960/61 which also shows me and four other lads on as well. I recognise faces but not names, one I think ...billy Sedgwick ? (not sure)..another.. ken duggle ? (pretty sure )..kev fisher..(definitely sure )..and you yourself, now then Jim, most team pictures always show the team captains sitting in the middle of the front row, you have kevin on your left, little old me on your right which means Jim, you're the mean and moody captain of bluecoat 1960/61....hope this helps.... now go get your pint mate.....
Comment by: jim brady on 16th April 2015 at 13:01
thanks allan can get that pint now