Photos of Wigan
Photos of Wigan
Album Contents
Album Contents
Wigan Album
St Catharine's, Wigan
24 Comments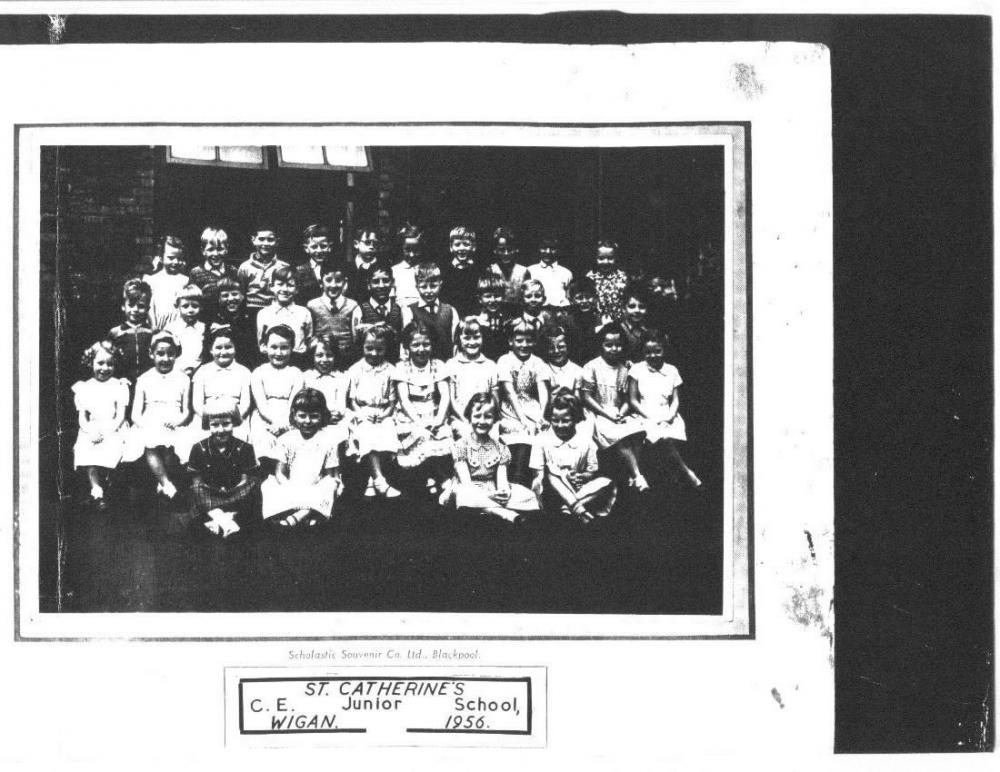 St Catharine's Junior 1956
Photo: John A Hankin
Views: 7,696
Item #: 17130
Back Row
Christine Webb, Ronald MacDonald, Harold Mercer, Brian Cubby, Alan Stretch, Susan Kinsey(?), Dennis Mears, Robert Fairclough, Susan Wadsworth(?)
Middle Row
Ronald Davies(?), Paul McCracken, Brian Hart(?), Roy McCann, Malcolme Lloyd, Henry Meadows, John Hankin, Clifford Darbyshire, John Poulson, Tom Fowler, Karl Lafrenz(?)
Front Row
June Greenall, Lorna Berry, Susan Ashurst, Janet Houghton, Joyce Lowe, Brenda Carter, Doreen Trainer, Dianne Balderson, Kathleen Cheers, ?, Beryl Dainty(?), Vivian Grange
Sitting
?, Pauline Cheers, ?, Christine Hawthorne.
Comment by: watchalot on 17th February 2011 at 13:09
front row fifth from right linda sturgeon
Comment by: Ken Smith on 17th February 2011 at 15:09
I have a couple of photos of the sturgoens Brian Roy & Lynda with my cousin Roy, I found them amonst the photos of the Pitchers if any body wants them I am willing to send them if I have an address
Comment by: WATCHALOT on 17th February 2011 at 19:35
HI KEN CAN YOU SEND PHOTOS TO roysturgeon@btinternet.com
love to see
Re comment that Dianne Balderson is in fact Linda Sturgeon. I do remeber Linda, but though Dianne was also on the photo. Maybe June Greenall (don't know her married name); who lives in Camberwell Crescent, Whelley and I think still works at the chippy on Scholes Precinct; has an original of this photo. Perahaps someone can ask her to upload it and add some of the unknown names.
Comment by: Margaret Carter on 12th March 2011 at 01:34
I believe the unknown girl second left on second row is me - Margaret Kenyon. I left St Catherine's soon after this photograph was taken but am still in contact with Christine Hawthorne who is sat just in front of me.
Comment by: John Hankin on 15th March 2011 at 09:31
Re Margaret's comment, and presume she means second right looking at the photo. So it isn't Berryl Dainty then, that's that sorted. If do remember you and if you/Christine can add any other names it would be great.
Please give Christine my regards as I haven't seen her for many years. The only ones I see these days are Susan Kinsey (who is in contact with Janet Houghton), Pauline Cheers, Joyce Lowe, June Greenall, and Brenda Carter (occasionally) I used to see Christine Webb at Wigan Rugby. Kathleen Cheers sadley passed away a few uears ago. I mated with Harold Mercer and Malcolme Lloyd in the 60's but haven't seen them for a long time. I do see Brian Darbyshire (Clifford'selder brother) regularly so keep in touch that way.
Comment by: Margaret Carter on 1st April 2011 at 11:27
I do remember you John and and I did get it wrong, I am second from right. I used to see June Greenall until she married. I remember a lot of the names you mentioned and will meet Christine Hawthorne and show her these pages and will comment again soon.
Hi Margaret, nice to hear from you. I know Jean, Susan kinsey's elder sister has passed a copy of the photo to her and Janet to see if they can remember any of the missing names. Tell Christine that my dad passed away in 2002 but mum is still with us at 87 this year. Keep in touch.
Comment by: Margaret Kenyon on 7th April 2011 at 22:44
Christine came for lunch yesterday and we went and parked in Hardybutts and had a walk round the old place. Do you remember the Clary (Clarington Brooke)at the side of the Rec. The Rec is now two football pitches and we only just managed to find the overgrown Clary. The big sand hole is still there but grassed over. A very large 3 story detached house has been build where my house was. Christine's mum passed away 2008 and her dad died about 6 months later. She can remember quite a few on the photo so I will try to more for you.
Comment by: John Hankin on 12th April 2011 at 09:20
Hi Margaret, sorry to hear about the death of Christine's parents, my dad did a few joinery jobs for them in the old days and mum remembers them very well. Yes I remember the Clarry (Clarington Brook) we used to catch sticklebacks (or try to) and quit often feel in. Nothing is the same unfortunately. The Rec holds many great memories and is still there, just about. Bumped into Ron MacDonald a few weeks ago and had a good chat. My wife Pauline (ex St Stephens) and I live in Aspull and attend St. Catharine's church so are quite familiar with how the area has changed over the years, for the worse I might add. I lived in Golborne Street until turning 7 yrs then we moved to Scholefield Lane, next to George Conroys fruit and veg shop. Do you remeber Boltons at the bottom of Scholes? Great ginger beer and sarsaparilla! Have you or Christine any relevant photos to upload?
It would be great if we could organise a reuinion of our class sometime maybe in St Catharin'es Parish Hall. I'm sure we could manage a lot of contacts between us and maybe get word out through Wigan World and the local papers. What do you think?
Comment by: Margaret Kenyon on 13th April 2011 at 02:08
Hello John - we used to fish for stickle backs there too and Christine remembers falling in. I think a reunion is a good idea. Where is St Catherine's hall, I didn't know they had one, will it not be too big? Will have a word with Christine about it.
Comment by: John Hankin on 14th April 2011 at 08:40
Hi Margaret, Have Christine have a look at the other photo I uploaded which is prior to you joining the class. It is the infants dated 1954 and as it is taken from the original is much clearer. The parish hall is located in Catherine Street facing the church and attached to the school. Later.
Comment by: John Hankin on 14th April 2011 at 14:23
Error from previous comment, it's Catherine Terrace not Street I think. Do you and Christine live local?
Comment by: Margaret Kenyon on 14th April 2011 at 18:50
We have both stayed in Wigan, Christine lives in Winstanley and I live in Shevington.
Comment by: sandra fields on 26th May 2011 at 13:42
hi john i used to live in neville street round corner from where you lived at no 1 raymond and adrian where my brothers was your mum doreen she used to take me tosunday school at st catherines
Hi Sandra, yeh mum's name is Doreen and she was a Sunday School Teacher at St Catharine's for a great number of years. I do remember you but are you on the school photos? You know doubt will remember Gwenda, Melvyn and Lorraine Kennedy who with their parents Edna and Danny who also lived in Neville St. Gwenda lives in Lorne St now and Lorraine lives in Aspull not far from where I live. Scholes was a great place in those days, pity we can't say the same today. Used to love going to Scholes Picture House and Holland's Off-Licence at the corner of Neville St and Scholefield Lane. We used to call in at Monica's sweet shop in Scholefield Lane on the way to school. Do yo remember The Bluesville (formerly Scholes Picture House)? Great days those were.
Comment by: Margaret Kenyon and Christine Hawthorne on 18th November 2011 at 15:36
We have both been looking at the old pictures and chatting about our old school and the good times we had there.
Comment by: Vivian nee Grange on 26th April 2012 at 05:22
I remember John Poulson 's family had a bakery in Scholfield lane, on the left going down. Wonder what happened to John.I was good friends with Kathleen Cheers I was shocked to hear that she had passed.She was good at sports. Nice hearing you all having a chat. If we are over I will come to a reunion but it is a long way!! Viv
Comment by: roy sturgeon on 4th August 2012 at 17:03
first row of girls seated 5th from right is my sister linda sturgeon
Comment by: pauline cheers on 10th January 2013 at 21:31
HIYA john i have not seen Harold yet and Ronnie does not have a computer
Comment by: Lorna on 16th May 2013 at 20:03
Hi John, this photo brought back lots of great memories, it was lovely to see it again and I could remember everyone, good to know the old brain still works! Best wishes.
Hi Lorna, it was great for you to comment and if you wish please email me to update me on how things are with you.
Comment by: roy sturgeon on 3rd April 2014 at 20:00
5th from right second row linda sturgeon
Hi everyone thanks John for the photo some great memories of our class