Photos of Wigan
Photos of Wigan
Album Contents
Album Contents
Wigan Album
St Catharine's, Wigan
9 Comments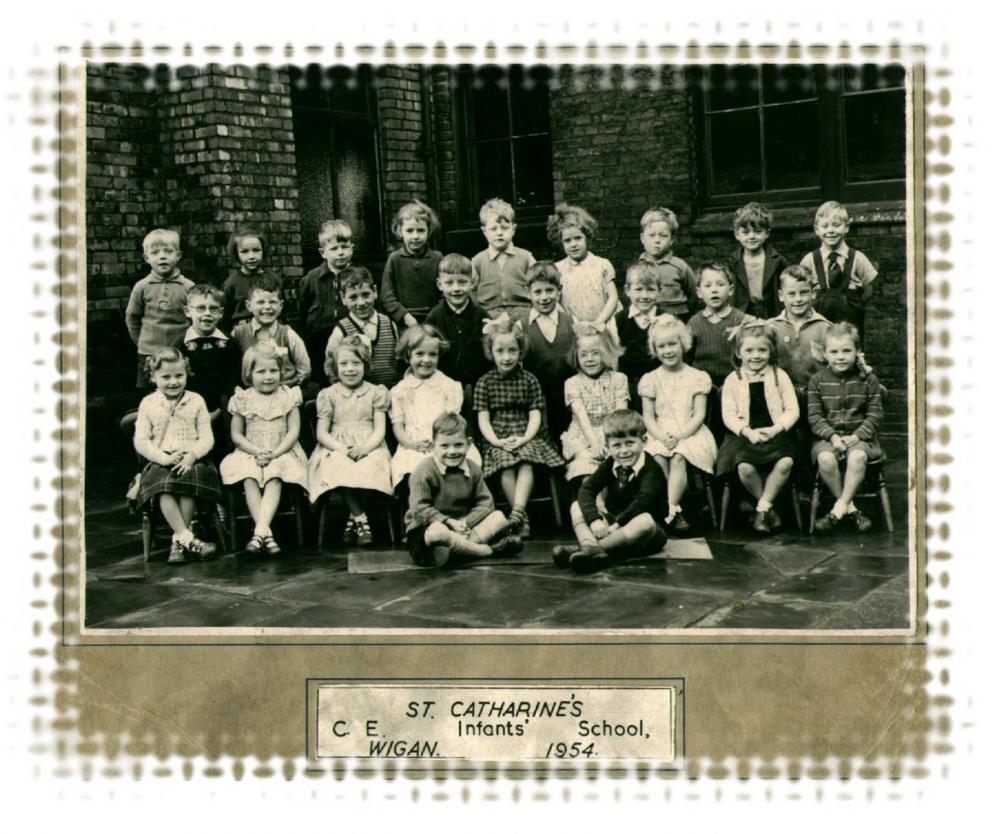 St. Catharine's 1954
Photo: John A Hankin
Views: 4,635
Item #: 16926
In those days half the class moved upto the next year being replaced by the new intake or half of the class from the year before.
Back Row - (?), Annie McCormach?,Clifford Darbyshire,(?), John Hankin, Robert Fairhurst, Malcolm Hoary, John Poulson.
Middle Row - Alan Stretch, Harold Mercer, Henry Meadows, Robert Fairclough?, Tom Wynnard, Roy McCann, David Crook, Dennis Mears.
Front Row - Christine Webb, Christine Hawthorne, Joyce Lowe, Brendan Carter, Susan Kinsey, (?), Brenda Stephenson?, Kathleen Critchley, Vivian Grange.
Sitting - Alan Gaskell, Tom Fowler.
Comment by: Keith on 31st January 2011 at 13:36
Thanks for posting this, I remember Henry Meadows, he lived a few doors away from us in the early 1950's in Birkett Bank.
The name of the girl between myself and Robert Fairhust is not know plus it should of course be Brenda Carter not Brendan. If any of the class are out there please make it known, especially if you can identify the missing names. I know that Alan Gaskell has been dead for some years and Vivian Grange (married) emigrated to Australia in the late 70s.
back row top left,,Willie Higham,,,believe it or not have just left a comment on Keith Bowens Crispin Pic and mentioned Willie and his older brother Keith,,,
All these pics of St Catherines and yet not come across one of the class stream I was in,,,,in fact i dont even remember any of these pics being taken,,
i left St Catherines in summer of 57,,,fellow pupils included Sherrington twins,Steven Critchley,geoff parkinson,anthony halliday ,Eddie Rudd,Kevin Stone ,Billy Winnard<Margery McCarthy,Olga Bamber,Irene Waine,Jean Allen Gwen Rogers,Nellie Hinds,two Allan Finches(unrelated),Eric Foster,Jennifer ??,lived in Henry Park St,,Jean Orrell,,,minds just gone blank,,,
if jim holding or anyone knows which one is bill winnard please contact me on e.mail.bill-carol@hotmail.co.uk.
Comment by: tricia on 18th February 2012 at 12:30
We may be wrong but O.H. and I cannot see him on here ? I'm sure someone else will know.
Comment by: Vivian nee Grange on 26th April 2012 at 05:06
Hi John, Thanks for posting the photos,yes we emigrated to West Aus. in 1983. I have been doing the family tree for 15yrs now and I did not have this photo, so nice to add it to the collection. I remember them all so well, Cheers Viv
Comment by: Harold Mercer on 11th August 2012 at 17:17
Good heavens John, that's a blast from the past, have you found a time capsule somewhere. There's not half some long forgotten faces on there. If the date's correct we must only have been five years old.
Comment by: Joe Thomas on 14th February 2013 at 14:20
Hello Harold Joe Thomas Here How You Going On Where You Living Now
Harold nice to hear from you. I have spoken to Pauline Cheers a while agao and found out you see her sometimes in Whelley labour Club(?) and I gave her my email for you and Ronald Davis(?). Give me a shout soon.