Photos of Wigan
Photos of Wigan
Album Contents
Album Contents
Wigan Album
Whelley Secondary School
7 Comments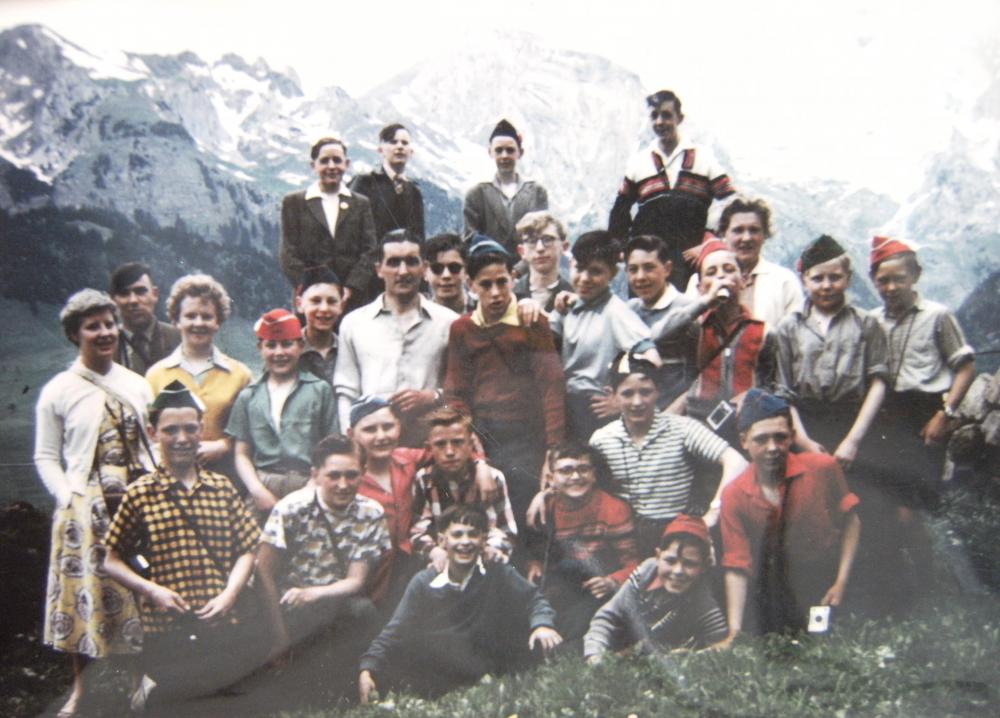 Whelley Sec Mod trip to Switzerland 1958
Photo: Philip Harrison
Views: 3,217
Item #: 16792
Whelley Sec Mod trip to Neslau in the Toggenburg Valley, NE Switzerland. Mr & Mrs Ashley, Mrs Entwistle, Mr Edmondson, Mrs Edwards, wife of our form teacher. David Goulding is the only one wearing designer sunglasses!
Comment by: watchalot on 17th January 2011 at 17:53
can name a few/micheal hitchmough/phillip harrison/graham myers/allan unsworth
Comment by: roythompson on 18th January 2011 at 03:08
i recognise jimmy johnson at the front far right with the red shirt also jack edmondson who was our form teacher and always looked like dracular to me but a very good teacher all the same
Comment by: WATCHALOT on 18th January 2011 at 08:46
roy picture second from left front row/was buried on frid 14/01/11 RIP brought up with him
Comment by: Philip Harrison on 18th January 2011 at 10:29
I should have included more informtion: Mr Entwistle, science and sport took this pic some pupils I can name, others I can't. Front row L to R: Tom Oakes, Roy Pitcher, Brian Arrowsmith, Keith Mason, Kenneth Robey (my cousin kindly allowed on the trip from Gidlow school), Trevor Pritchard. 2nd row L to R: Jeff Taylor, ? Cottam, Bill Mather, Martin Brookfield. Back Row L to R: ? Cottam (brother), Malcolm Milner. Any other names would be appreciated!
SORRY TO READ ABOUT ROY PITCHER DYING.TOP BLOKE ROY. GOD BLESS
Comment by: Gem on 22nd January 2011 at 23:58
goodness Mrs Ashley was still there in 1973 and very handy with the cane !
Comment by: roy thompson on 23rd January 2011 at 03:30
so sad to hear about Roy Pitchers passing and it seems funny to realise that we are in the autumn years of our lives. i could never afford to go on any of these international holidays but i was very envious. i only ever met up with Jimmy Johnson and Colin Blackledge before he was killed in an accident after leaving school the only other lad was Keith Mills and that was on a rugby field at swinton when he was pushing my face in the mud and to think that i used to get complementary tickets for him and thier Jacky to go to the ritz in the circle no less.one thing baffles me about this picture though is that whelley was a mixed school so where are the girls