Photos of Wigan
Photos of Wigan
Album Contents
Album Contents
Wigan Album
St Andrew's C of E School
13 Comments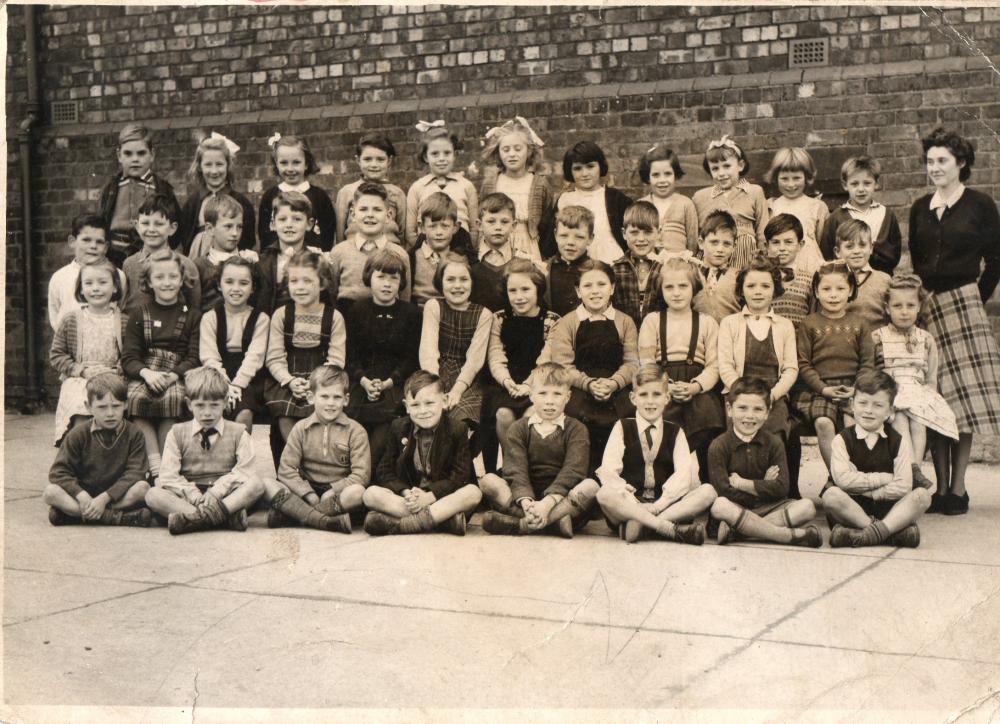 Junior1a Class of 1953
Photo: Kath Brogan
Views: 7,986
Item #: 16657
People on here who I can remember are June Burgess John Burgess Carol Harmer Ann Duckworth Marjorie Evans Linda Stevens Pat Rothwell Hillary Fairhurst Denis Aspey Malcolm McGuire Graham Forest Denis Green Olive Hicky Avril Brown Victor Riley Geofrey Charnock and myself.
Comment by: Barrie Winrow on 7th January 2011 at 16:30
Comment by: tony on 7th January 2011 at 18:56
looks like clive charnock, geoff gregory next to him ?
Comment by: Kath on 11th January 2011 at 13:26
Hi Barrie I am 6th in from the left.
Comment by: Frank Healy on 1st February 2011 at 22:53
Hi Kath, can I see Alan Holmes, Geoff(Jeff)Hardman and Ernie Kearsley? Linda Stevens should be Linda Stevenson(I think)
Comment by: john halsall on 14th February 2011 at 20:47
2 names for the bys in the 3rd row 2nd from left joe lemin and 4th from left my brother anthony halsall
3rd row far left Billy Marron.Front row 2nd from left Donald (ducky) Wiggins.£rd from left Graham Tutton. Other names to conjure with include Frank Richards (who held the World Champion [a.k.a.Mr.Universe)Bodybuilders Title and Brian Belshaw(whose father was a world champion wrestler and also faught as Jack Beaumont) Also on the picture 3rd row 2nd from the left is Joe Lemming.Dennis Green,my brother sadly passed away in 1998 aged 52.Incidentally was John Burgess's sister not Jill, the youngest sister was Susan who was in my class.
Comment by: Rita Starling on 31st December 2012 at 16:56
Hi Frank Healy! Which one in Geoff Hardman?
Wasn't Barry Taylor and Dave Flemming in this class?
Comment by: Frank Healy on 5th January 2013 at 22:25
Hi Rita. I THINK Geoff is 6th from the left, 2nd row from the rear.
Comment by: Alison Griffiths on 28th August 2013 at 13:05
I am on back row 5th from left...was the teacher Miss/Mrs Thomas?
Comment by: Carole Harmer on 29th July 2015 at 03:48
I recognise one or two more, Christine Robinson, Jean Kearsley and Pat Baker.
Comment by: Louise on 20th April 2019 at 22:04
Linda Stephenson is my mum, sadly passed away in the 90's. Not sure which is her.
Comment by: FRANK HEALY on 19th May 2020 at 21:58
First time I've looked at this photo in many years. Louise--The girl extreme right, first row of girls, is your mum. I've not seen your dad for a year or so; hopefully he's still alive and kicking.