Photos of Wigan
Photos of Wigan
Album Contents
Album Contents
Wigan Album
St William's RC, Ince
24 Comments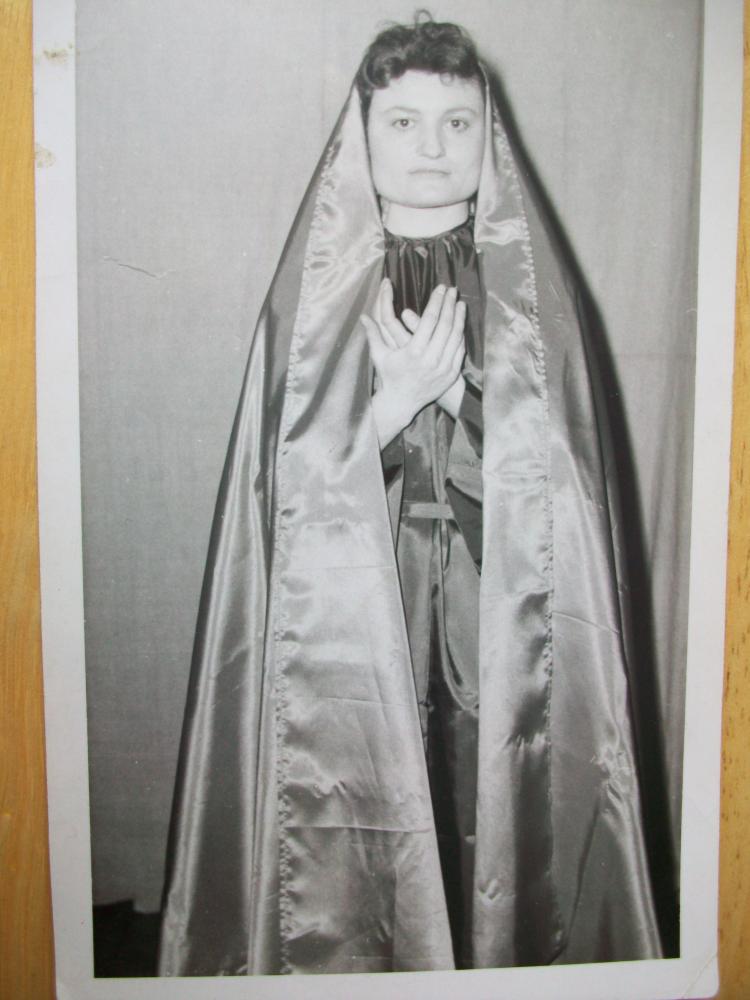 a play
Photo: josie pennington nee beckett
Views: 2,359
Item #: 15329
unknown person. a play i think st williams
Comment by: Margaret Wall on 18th July 2010 at 10:56
Comment by: irene roberts nee griffiths on 19th July 2010 at 12:36
Although I didn't go to St. Williams, my friend and I went to Miss Dunne's "Socials" at the Parochial Hall, (we would only have been about 10 years old), and this lady's face is familiar, probably from there. They were lovely nights, a mix of children and adults, with dancing, and tea and biscuits during the break...happy, innocent days.
Comment by: Gerry on 19th July 2010 at 18:58
I too went to Miss Dunnes Soial in the "Pinnochio Hall" as we called it. as you walked in there was a stage to the left of you. maybe you went at the same time as me Irene I remember asking a young lady if she would like to dance "no thanks" she said.. It was a hell of a long walk back to your laughing mates when that happened.. It wasn't you was it Irene?
Comment by: irene roberts nee griffiths on 20th July 2010 at 12:11
No, I never got asked to dance, Gerry....I was an unclaimed treasure! It would have been around 1962/63 when I was 9/10 years old. I was 10 in October 1962, so don't know how that puts us in age, Gerry. In Sept. 1964, after the Scholarship exam, my friend and I went to different schools and drifted apart, which is why I can pinpoint roughly the time I went to the Socials. We also used to go to Ince Central's "Party Dance" once a month which cost the dizzy sum of 1/6d!
Comment by: Gerry on 20th July 2010 at 14:59
I hate to tell you this Irene but you are a full month older than me............Sorry. It must have been one of your mates who declined to dance.
Comment by: Gerry on 20th July 2010 at 15:04
Sorry Irene.. its obvious I went to Saint Williams coz I cant count... I am older than you by 9 years and 11 months (had to use all my fingers and toes to work out that one)So I cant see it being you or your friends at the social nights I went too
Comment by: Gerry on 20th July 2010 at 17:33
Nope... I have checked again with a calculator and my first sums were right you are a month older than me.. PHEW !! I was 10 in 1962 too but only in November
Comment by: irene roberts nee griffiths on 20th July 2010 at 17:48
Gerry, have you counted right, lad? When you came to our house, (this is where everyone on Wigan World gets interested...tell them nothing, Gerry!), I wouldn't have said you were in your sixties!
Comment by: irene roberts nee griffiths on 20th July 2010 at 17:51
Just got your amended age; that's more like it! What were you doing in the arithmetic lessons at St. Willims, lad? Reading The Beano behind your desk-lid?!
Comment by: josie pennington nee beckett on 20th July 2010 at 22:14
thanks margaret and all of you for the information
Comment by: Gerry on 21st July 2010 at 10:44
Arithmatic lessons Irene ?? They only ever taught us religion, and how to bring in money for the Carmelite Nuns , the Good Shepherd, and the building of Liverpool Cathederal, then after all that the preist appeared on Friday evenings at our house with his collecting bag.

I remember once the Priest coming to our house in Battersby St and saying to my Dad "John I haven't seen you in church lately" Dads reply was " Aye, an Ah've not seen thee Deawnt pit too"

No Irene Academic subjects was not a strong point at St Williams. When I calculated your age I took it that you were BORN in 1962 not aged 10. I must say I enjoyed coming to your house and giving you something that you had'nt had before... (that should get um thinking)
Comment by: irene roberts nee griffiths on 21st July 2010 at 16:14
Did you know Pat Burgess at St. Williams? She was a friend of mine when I was little, but not the one I went to the Socials with. I remember my Catholic friends having to go to confession,(they can't have confessed much in the time they were in!),and being very secretive about the Crowning of Our Lady to us protestants., and we used to sing insulting songs to each other which would cause an uproar today, but minutes after we'd be playing happily together!What date in November is your birthday, Gerry?
Comment by: Gerry on 21st July 2010 at 17:44
I do remember Pat Burgess Irene, did she live around Bird St area? I remember going to confession too, I will tell you the secret of what you missed.. All alone in a little room with the priest behind a net curtain. you had to tell him all that you had done wrong the previous week, I have to admit there was not much to do wrong when you were 8 years old, apart from tell him that you had held your brothers head under the bed clothes while you trumped, or that you had said a naughty word in front of your grandma.

I remember once, Chipperfields circus came to perform on some land at Clarington brook,about 1960. One of the acrobats from the circus came to St Williams for confession, the Priest told the acrobat, that he would love to visit the circus but he was too busy, He then asked if was possible for the Acrobat to do some somersaults in the aisle of the church,and that he would watch through a little knot hole in the door, the Acrobat duly obliged, and did some somersaults, flik flaks, and head springs......... My Grandma and my Auntie were waiting to go next, into the confessional, after watching the antics of the Acrobat my Grandma said "Eeeh! Annie if the thats the penance he's giving out this wick I'm gooin' whom purrin my knickers on"
Comment by: Gerry on 21st July 2010 at 17:47
Sorry Irene I never answered you question, the answer is my birthday is the same as Ken Dodds..
Comment by: irene roberts nee griffiths on 22nd July 2010 at 11:28
No idea when Ken Dodd's birthday is! I just asked because most of my family's birthdays are in November. My husband Peter and my friend Neil loved the story of your Dad's answer to the priest! Neil lives in London but his Dad was born in Francis St. He asks me to ask you if you knew the Poole family from Battersby St. and do you know anyone who lived in York St. (before our time, mind!) who remembers the little motor-garage there, and also a building that was given over to the Sally Army? Neil's dad lived in London for all his married life, but loved Ince dearly and told stories about it to the end of his days, resulting in a love and loyalty to Ince in Neil, who visits as often as possible.
Comment by: irene roberts nee griffiths on 22nd July 2010 at 11:33
PS, Pat lived in George Street with her widowed Mum and brother Colin, but her Mum re-married and she then lived in Ince Green Lane in the row of garden houses adjoining Annie Brittons, and also, I think, in Loeminster Place, which we all pronounced Low- Minster; I have only recently discovered it is pronounced Lemster!
Comment by: irene roberts nee griffiths on 22nd July 2010 at 21:17
Gerry, away for weekend. Speak to you soon.
irene, i was born in york st in 1950 and lived there untill the houses were demolished around 1961/2 i remember loads of people in frances st as well, what was your friends dads name? my mam and her brother gerald used to love talking about top ut lane they talked about how they had nowt but had everything,the area was like a little village we had feilds to play in the canal was on the doorstep,picking flowers,standing on the iron bridge waiting for the steam train to engulf us in white steam,the slag tip barons farm,harry mitchels pigs, lots of people had irish names up there,is there anyone inparticular irene that your friends dad knew.
Comment by: irene roberts nee griffiths on 26th July 2010 at 14:29
Josie, my friend's Dad lived there way before our time, growing up in the twenties.His Father, (my friend's Grandad), was Jimmy Cain who had Cain's pie-shop at 10, Belle Green Lane, taken over by Ashurt's @ the 1940s. I will ask Neil of families his Dad remembered as some of them could still have lived around those streets in the 50s.
Comment by: josie pennington nee beckett on 26th July 2010 at 20:12
irene my great grandad lived at 9 bell green lane, mawdsleys
Comment by: irene roberts nee griffiths on 26th July 2010 at 20:32
Josie, do you remember Annie Capper's shop? And did you know Pamela (pronounced Pamella) Boardman? I think her parents owned a shop around the bottom of Belle Green Lane. I remember her vaguely from Ince Central.
Comment by: josephine pennington nee beckett on 26th July 2010 at 23:24
irene, i remember annie cappers been in there many times,and yes i remember pamellas as we called it , i remember it being a toffie shop penny tray and everything,i remember her dad and mam,pamella was quite a big girl and i played out with her a couple of times i thought it was great that she lived in a shop.and i dont know why she wasnt pamela it was pam ella. irene i think all us lot on ww should meet up somewhere for a drink or two and remenis our lovly childhood memories x
Comment by: Gerry on 29th July 2010 at 09:32
Eeeh Boardmans shop I been trying to think of that name for ages we used to climb over his wall at the back of the shop pog a couple of empty tizer bottles and the go round to the front of the shop and hand them in and claim twopece on the bottles.. then he got wise to us he used to rip the labels. I am allus up for a get together of like minded people to get together for a natter about the old days Josie, lets organise the first meeting... where are we going and when?
This photograph is of my mother, Eileen Johnson [Duffy]. It is in a Passion Play at St William's.