Photos of Wigan
Photos of Wigan
Album Contents
Album Contents
Wigan Album
Argyle Street Council School
14 Comments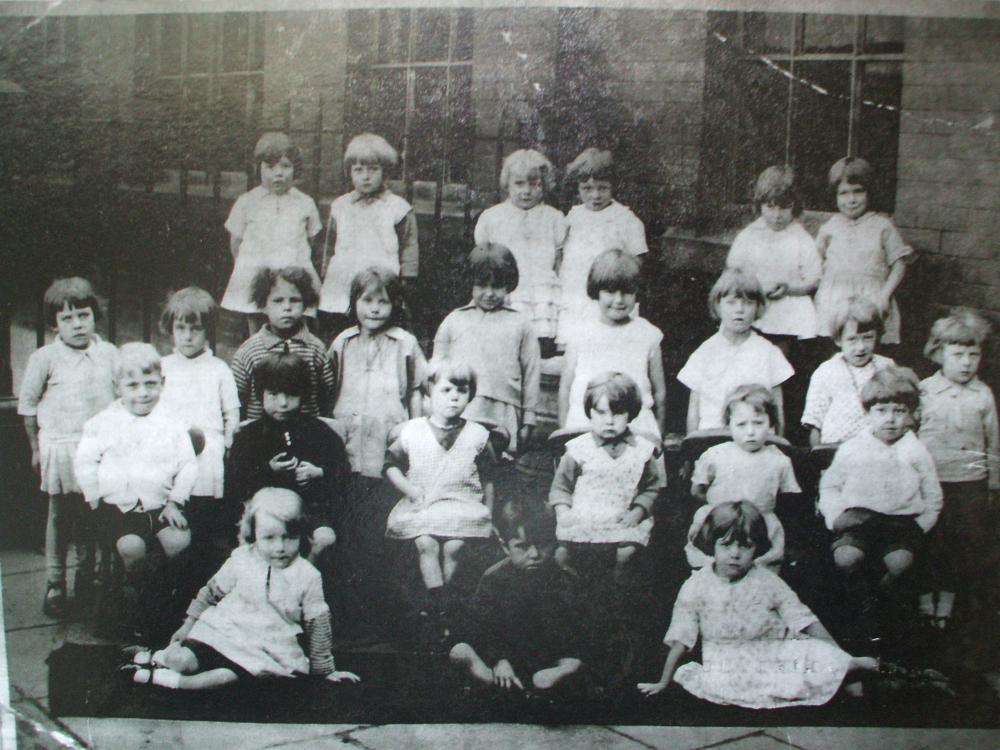 Arglye School, Hindley.
Photo: Thomas Jackson
Views: 3,636
Item #: 14782
This picture is off my mam and her class mates at Argyle school,Hindley.She was born in 1925 just to give you an idea of when the picture was taken.
From left to right back row..E Barratt..S Ellison..H Whittaker..M Rawlence..E Foster.. and D Hayley.
Left to right again..R Davis..M Dootson..Edith Walker my mum..N Hesketh..G Green..L Hilton..E Hayes..L Fitzgerald..and H Burgess.
Seated left to right..H Steele..M Bithell..J Brown..O Platt..A Aspinall..end one unknown ?.
Last 3 at front left to right..G Howard..I Fillingham..and D Smith.
Comment by: RON on 11th May 2010 at 22:23
Is it just me? but looking at old school photographs of children makes me sad. As I look at alll their innocent faces.I'm thinking they have all their lives in front of them, but now I suppose most of them or gone.
Perhaps I look at life to deeply?
Comment by: Wigwann on 12th May 2010 at 09:17
Hey Ron; thus was ever so....
Comment by: Maureen Andrews [nee Mcgovern] on 12th May 2010 at 14:52
Ron,I always get sad looking at old photos,I was once told that I think too deep.
Thank you for sharing this photo - my mother was born in 1925 and is very much alive and kicking! Lancashire born and bred, she now resides in Kansas - land of Dorothy and Oz and yes, tornadoes! She said she went to school at age 4 and these children look about that age. Again, thank you for sharing!
Comment by: RON on 12th May 2010 at 15:38
Hi Maureen nothing wrong in thinking about life. A fascinating subject with many questions and answers. Now,
"WHY ARE WE HERE"???????
Comment by: winnie on 12th May 2010 at 16:20
hi thomas could you find out please if the j brown is jemima brown thanks xx
Comment by: Maureen Andrews [nee Mcgovern] on 12th May 2010 at 17:02
Well Ron,I've asked that question so many times,the more I find out about space,the universe etc,the more I wonder just why God created us,but I'm so glad he did.
Comment by: rosie from hindley on 13th May 2010 at 15:27
winnie just been told the j.Brown is an irene Brown
Comment by: Gerry on 19th May 2010 at 09:00
Ron I know the answer to "WHY ARE WE HERE"............Coz we're not all there.:-)
Comment by: Widdrington on 19th May 2010 at 20:16
Hi Cloie,
I found out 10 years ago, after doing my family history, that I have about 400 American "cousins" practically all in Kansas, which as you know is a big place. Are your folk anywhere near Hiawatha? which is not far from Kansas City (70 miles away) and Witchita?
looking at oldpictures always make me feel sorry for the time that passes withoutn using most it
Comment by: StuartP on 11th December 2011 at 02:12
Thomas does your mam know if there was Pilkingtons in the class?
Comment by: Yvonne Dutton on 26th November 2014 at 18:38
my mum is on this. Alice Aspinall. She is 87now and in a care home