Photos of Wigan
Photos of Wigan
Album Contents
Album Contents
Wigan Album
All Saints School
14 Comments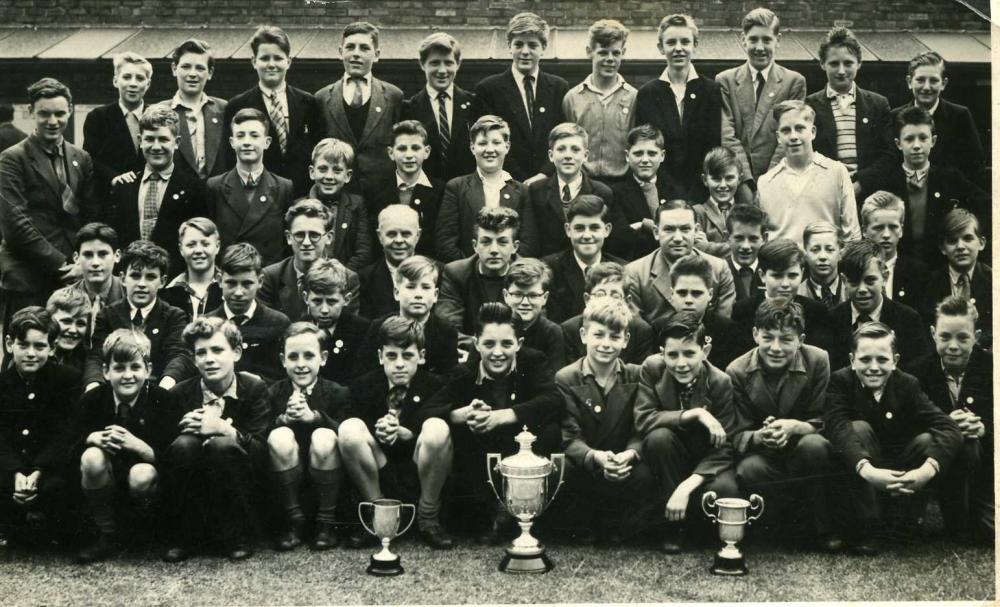 All Saints (Now The Deanery) Circa 1958/9
Photo: Roy Hesketh
Views: 5,369
Item #: 14740
I can recognise faces, but I can't recall their names, apart from myself and the two teachers.
Back row; 3rd from the left, can't recall his name, but he was a very talented artist, despite being colour blind; 5th from the right; Me, Roy Hesketh.
Centre row, 4th from the left, Mr. White (woodwork); 5th from the right, Earnie Grifiths (Biology; History; English).
The large cup was the School Cup, won by the House and the two smaller cups were for interhouse sports, I think.
Comment by: Catherine on 9th May 2010 at 16:20
I recognised Ernie Griffiths as soon as I saw him and I was at the Deanery from 1977- 1982. He never changed.
Comment by: frank on 9th May 2010 at 18:27
In front of Ernie Griffith = ??? Higson
Comment by: Keith Guest on 9th May 2010 at 18:49
Roy Woodwork teacher was Chris Walsh.
Comment by: Brian Acton on 9th May 2010 at 19:05
Roy.
The woodwork teacher was Mr Walsh not White.Pity you can't add a few names.
Comment by: Keith Guest on 9th May 2010 at 19:08
Roy what's the occasion? my guess it would be something to do with All saints House winning those three cups.
Comment by: Keith Guest on 10th May 2010 at 12:31
Frank, it's Ronnie Higson I think.
Comment by: Bill Oakes on 19th May 2010 at 21:06
Roy,
Front row far left is Roy? Thomas second is Denis Bamber, far right is ? Underwood. Second row fourth from left is Ian? Mc.Donald then me in front of Mr. Walsh, sixth is ? Settle eigth is Ronnie Higson. Forth row sixth from left is John Ward eigth is Sammy Foster,
2nd row 4th along Brian McDonald - The only bloke who I know who could peel an orange in his pocket.
I can add a few names, behind Mr Walsh or (sorpe) as he was fondly named is Humpfrey Holland and in front of him was Bill Oakes friend I haven't seen since school, 3rd row last on right is Malcolm Watson I think.Front row 7th from left Barry Hatton, I'am second from left next to Bernard Thomas.
Comment by: Billyo on 7th October 2011 at 19:39
Dennis,
Another face I recognise is Johnathon Cartwright on next to back row third from left.
Billyo.
Are you Bill Oakes if so hope you are well and are you still in wigan? Billyo is that Albert Banes to the left of Jonathan cartwright, also 3rd row 2nd from left is Ken stevens and front row to my right was Michael Gallimore also far right last one is Joe Underwood . I wonder how many of us there felt Earnie's cane I know I did!!
Comment by: BILLYO on 19th October 2011 at 20:43
Hi Dennis,

Yes I`m still around and well thanks, I don`t remember Michael Gallimore or Ken Stephens but Albert Baines is on the photograph below in front of Jock Shaw.
Ernie Griffiths was a pain at times but looking back he was the best and most respected teacher in the school, keep in touch.
Comment by: christine singleton on 25th January 2012 at 19:54
the lad fith at the back looks like my husbands brother .arthur singleton .my husband is called david
Comment by: David Hill on 19th August 2012 at 23:51
Ernie Griffith made my hands bleed more than i can remember the sad p--k