Photos of Wigan
Photos of Wigan
Album Contents
Album Contents
Wigan Album
Spring View School
15 Comments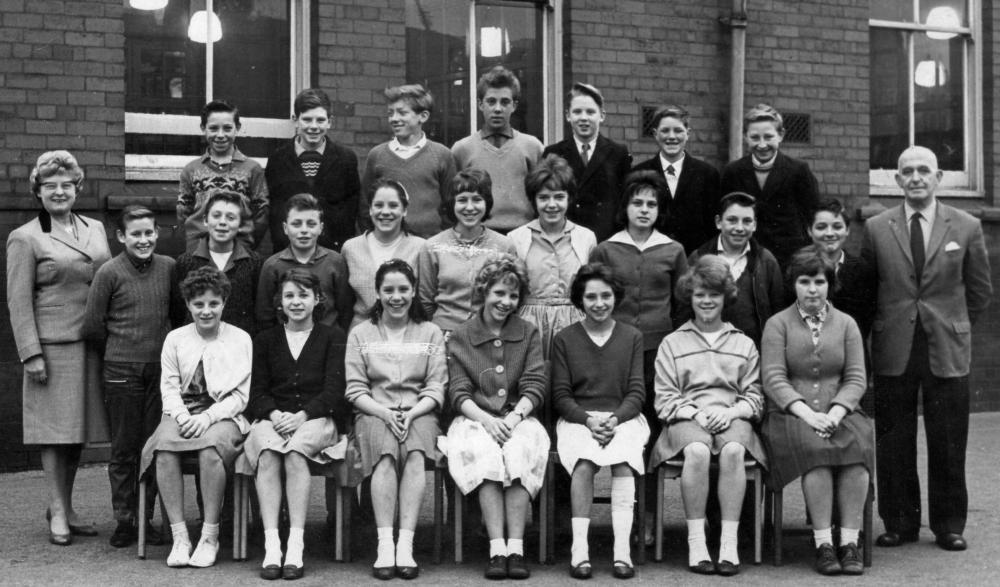 Class of 1964
Photo: Carol Curless (Meadows)
Views: 8,558
Item #: 14670
Back row left to right: Alan Benson, Arthur ? Micheal Winstanley, ? McCullock, Robert McSorley, John Daniels & Geff Fishwick.
Middle row: Derek Melling, Kevin Hayes, John Burns, Patrica McNamara, Carol Meadows, Susan Foster, Kathleen carruthers,Kenneth Aspinal & Barry Dermott.
Front row: Rita ?, Margaret Sinclaire, Pauline McNamara, Jean Carter, Lilian Dainty, Linda Holland, & Katherine Whittaker. Teachers Mrs Batty and Headmaster Mr Hayes.
Comment by: Old viewer on 21st May 2010 at 23:27
850 plus views... but no comments, WHY NOT ???
how could i forget carol meadows and the mcnamara twins i thought they were beutifull
Comment by: susan foster on 3rd September 2010 at 19:04
Hi Carol, what memories this photo brings back just seems like yesterday, hope you are well.
Comment by: patricia sharples nee mcnamara on 22nd September 2010 at 15:11
oh to go back susan good times but we all could'nt wait to leave school if we knew then what we no now
Comment by: les hart on 23rd September 2010 at 00:17
THE FRONT GIRLFRONT ROW ON THE LEFT IS RITA HODSON SHE WAS MY FIRST love
Comment by: les hart on 23rd September 2010 at 00:49
the girl on bottom left with the white top on is rita hodson my first true love i never 4get
Comment by: susan foster on 26th September 2010 at 12:52
Hi Pat, Guess we've changed a little since then. Yes we could'nt wait to leave but they were good times, only had to worry what we would wear to the youth club. hope you are well do you still live in Wigan?
Comment by: john d on 28th January 2011 at 18:49
still got stripes on my botty of,old block,mr heyes to be polite.i don,t think he liked me.
Hi Susan, it only seems like yesterday that we were all enjoying the best years of our lives but too keen to leave school without realising it. I am living in Ross-on-Wye in Herefordshire and have done for the past 20years. Christine Rudd lived in Gloucester 18 miles away with her husband they have a pub, Susan Jackson lives 1 mile away from me we have met for coffee but only once. It's a small world.
Do get in touch regards Carol
Comment by: Carol Curless (Meadows) on 21st February 2011 at 17:22
Hi David how is life treating you, we had some fun in those care free days of school, Leonard Chadwick, Harry Farrimond and the rest. Hope all is well
hi carol, thanks for the photo,great,not seen any of the old school virtually since i left,sadly Pauline Mac and Leonard Chadwick both died quite young, ive not lived in Wigan for years but you and others from school have allways stayed close to my heart and thoughts, must be old age, anyway hope your happy healthy and as beutifull as i remem
Comment by: kai on 16th August 2011 at 12:35
haha mi dad kenneth aspinall. R Kenny :-)
Hi David glad to here all is well with you and that life has been good. I am in good health and enjoying my retirement. I have 2 fantastic daughters one 37 the other 34
and 4 Granddaughters and one Grandson. 15,13,11, 3 & 18months. Sad about Pauline and Leonard but i do keep intouch with Pat she is still in Wigan. Thanks for the lovely comment you made and i often think about the rest of our class and what they are upto but i also have had no contact with any of them. Sorry its been so long time just flys by. Do keep in touch Best wishes
Comment by: annette lees on 8th October 2012 at 15:19
thats my mum (kathleen carruthers)and her cousin john burns.
hi carol just seen the photograph this brings back some good memories would love to hear from you have not seen you since we left school.