Photos of Wigan
Photos of Wigan
Album Contents
Album Contents
Wigan Album
Rectory c of e school
15 Comments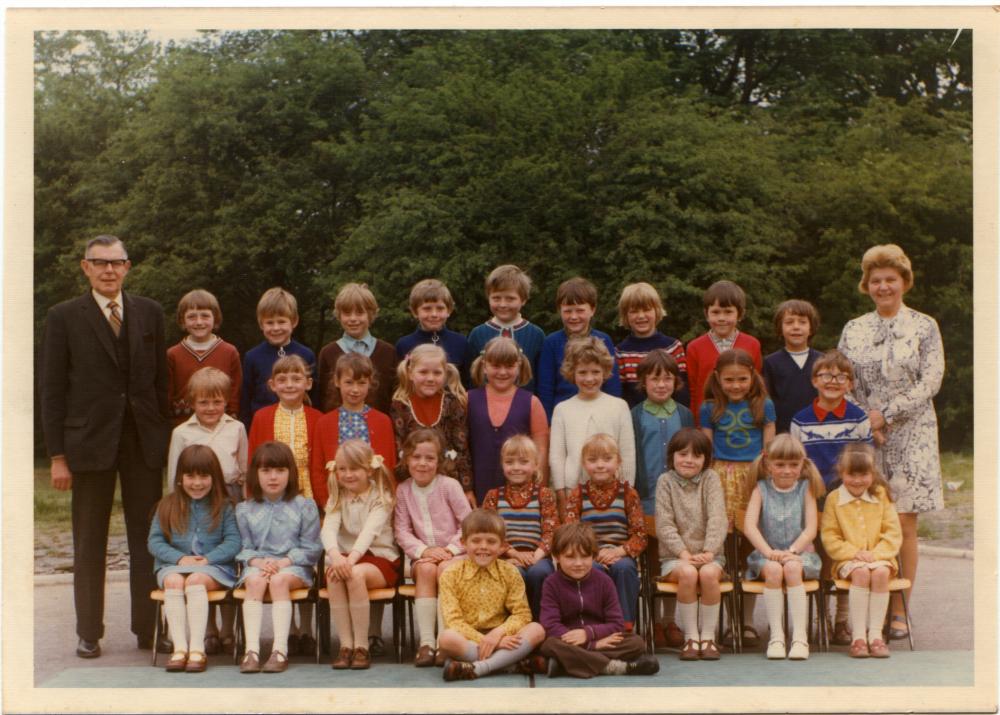 Class 3 1973
Photo: Jeff Picton
Views: 4,965
Item #: 14268
Mrs Cromptons class 1973...for all you nostalgia freaks out there.
I recognise a few on there , obviously my brother Steven Wall back row middle , Graham Hurst ( back row left ) Phil Birkett ( back row right ) , Deborah Halliwell ( middle row 4th left ) , Cunliffe twins Paula & Angela ( 1st row middle ) & David Parkinson ( right hand seated on floor )
Comment by: Jeff on 29th March 2010 at 23:06
Yeh I can name everyone except a couplr of the girls
Comment by: Jeff on 30th March 2010 at 10:35
(Back Row) Harry Lowe, Graham Hurst, John Blythe, Stan Yates, Jon Tinsley, Ste Wall, Baz Cunliffe, Me, Paul Latham, Phil Birkett, Mrs C, (Middle Row) Dave Bryan, Babs Walker, Val Tyrer, Deb Halliwell, Bev Houghton, Kath Hurst, Mandy ???, Jo Atkinson, Al Bond, Kath Cartwright, ????, Gaynor Denaro, Les Cross, The twins, Angela Miller, Jane Sutton, Mandy Baker (Seating) Paul Jackson, Dave Parkinson
Comment by: Dave Lewis on 1st April 2010 at 17:47
Third from right middle row is mandy heyes, dead centre middle row is my sister tina lewis.
Comment by: Jeff on 2nd April 2010 at 10:33
No Dave...you can't even recognise your own sister (maybe been a long time)...that's Bev Houghton lol
Yes that is me, back row centre. The missing girls name i can't remember at the moment. Seem to remember her first name could have been Julie. Do you have all of these Jeff. If you don't then i'll just have to dig mine out....37 years ago ...OMG !!!
Comment by: Jeff Picton on 3rd April 2010 at 19:11
Yeh Steve, dig out as many photos of these days as you can..I'll have a look here see if I have anymore
Comment by: Dave lewis on 17th April 2010 at 21:54
sorry jeff, yes it was long time ago hee hee.
This is the first time I have seen this pic, recognised myself straight away, I look like my younger sister lol
Tell you what Jeff you have got one hell of a memory mate.
Comment by: Baz Cunliffe on 10th March 2013 at 20:39
By the way as you look at the picture the twin on the left is Paula Cunliffe and the one on the right is Angie.
Comment by: Jeff Picton on 27th August 2013 at 13:42
Yeh Barrie I used the shortened Christian names as I remember them...too lazy to put the full names, lol. Where have all those years gone - all now middle aged.
Comment by: Dave Lewis on 17th July 2014 at 07:12
scott,is that paul Jackson at side of david Parkinson.
Comment by: mandy waters nee hayes on 5th November 2017 at 16:15