Photos of Wigan
Photos of Wigan
Album Contents
Album Contents
Wigan Album
Spring View School
5 Comments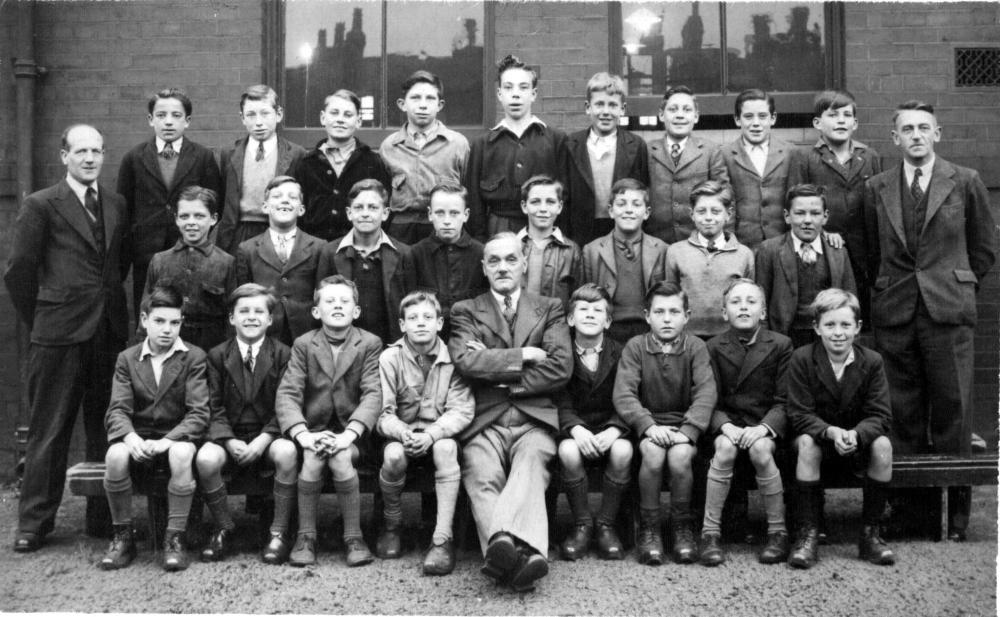 Spring View School, about 1947
Photo: Rev David Long
Views: 4,093
Item #: 14025
From the back, left to right: Jack Hurst, Kevin Santus, Peter Higson, Jim France, John Lee, John Bennett, John Lane, Mark Stott, Eric McPherson.
Middle: ? Mr Heyes?, Terry Dixon, ? Mason, Albert Green, Brian Marriot, Gordon Smith, Jack Cooper, Ronnie Banks, Clifford Harter, Mr Hilton.
Front: Brian Chapman, Jim Reid, Bob Heyes ?, Tommy Parr, Mr Middlehurst ('Owd Block'), Headmaster, Joe Radcliffe, ? Greenhalgh, Jack Jameson, Roy Johnson.

Pic from Jean Santus
Comment by: Bernard on 14th March 2010 at 23:35
David, owd block, as you call him isn't on this picture. I don't know who these teachers are, but block was Mr. Heyes. He taught my father and uncle, and was headmaster when I attended. He is on other pictures within this section, take look and judge for yourself.
Comment by: Roland Middleton on 15th March 2010 at 21:01
Thats right Bernard, David you may mean
OWD AGGIE, I think his last name was Middlehurst!
Comment by: RON HUNT on 16th March 2010 at 14:53
Is that Eric McPherson who was an Engineering teacher at the Thomas Linacre in the early 1960's?
i went to Spring View school and the owd Block a remember was Mr Hayes i left in 1963 i lived in Spring View,anybody remember me.
Comment by: Jimmy Edwards on 5th April 2014 at 00:08
Pat, remember you from View lent you 2/6 29 May 1963 so you could buy 5 Woodbines still not paid me back.Best Wishes.