Photos of Wigan
Photos of Wigan
Album Contents
Album Contents
Wigan Album
Spring View School
9 Comments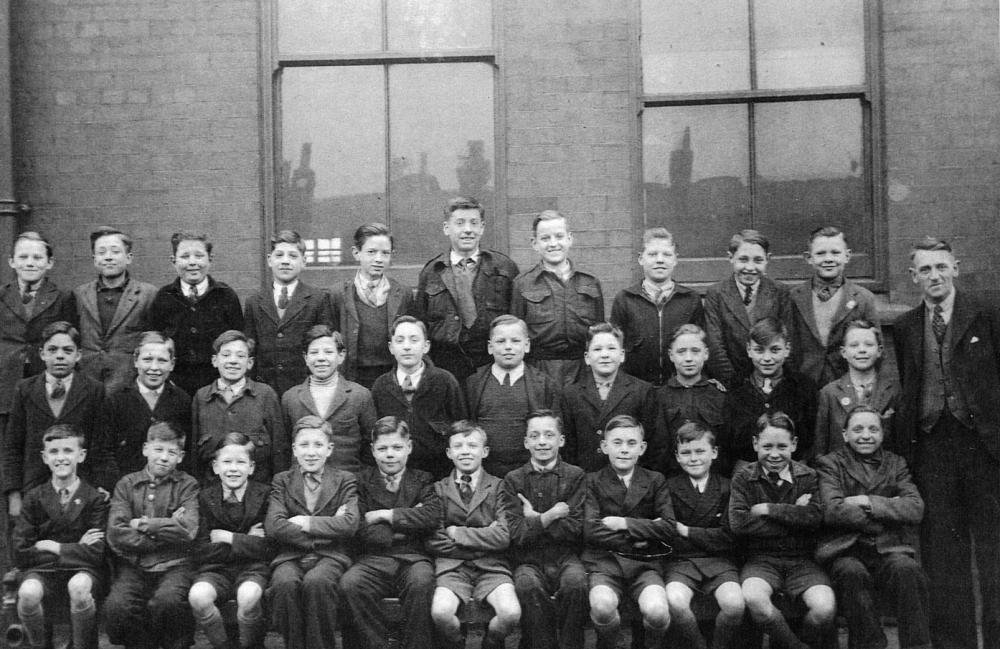 From Graham Worthington - Mr Hilton's Class of '46, Spring View School
Photo: Rev David Long
Views: 6,089
Item #: 13820
Graham can recall all their names... and also records that some are deceased (d after their names). From the back, left to right:
Colin Birch, Frank Connor, Alfred Bradburn, Edgar Roberts, Ron Winnard, Bert Wallace, Albert Pollitt, Kenneth Walker, Eric Meadows, Jack Berry.
Middle: Kenneth Hargreaves (d), Francis Moseley, Brian Charman, Gordon Harlow (d), Eric Melling, Sydney Wallace, Sydney Ratcliffe, Jim Foster, Sydney Berry, William Marsden.
Front: Graham Worthington, Colin Green, Joe Ratcliffe, Brian Simm, Jimmy Hooper, Lawrence Newhall (d), John Pennington (d), Donald Ashton, Kenneth Hutchinson (d), Joe Rigby, William Corner.
Comment by: tom on 5th March 2010 at 14:03
is it the same jimmy hooper that played for wigan in the 50s
Comment by: josie pennington nee beckett on 5th March 2010 at 17:44
john (jackie)pennington is my husbands older brother he died in december 1972 age 38 how lovely to see this photo as we have not seen a photo of him so young thankyou for putting it on
Comment by: mandy simm nee pennington on 6th March 2010 at 23:31
this photo of my dad as a boy aged 12 is like lookin at my youngest son dan who is also 12 how lovely to see a picture of him as a boy thank you to whoever put this on xxx
Comment by: john mosley on 22nd April 2010 at 13:00
yes jimmy hooper played for wigan 1955-57 and then he emigrated to oz. also bert wallace went on to play for belle vue rangers.
I went to school with these boys' starting at this school in Spring 1945. Because of the war, we only had the Headmaster Mr Middlehurst, Mr Heyes, Mr Hilton,and Mr Christipher, ( woodwork teacher). In 1946,at the end of the war, Mr Tatum and Mr Grange came. I can see them now, they first came in their uniforms. Mr Tatum R A F(Flight Lieutenant). Mr Grange,Royal Navy(Lieutenant), very smart they were.Later came Mr Lancaster,and Mr Benson,plus one or two trainee teachers. When Mr Middlehurst retired every one thought Mr Heyes would be appointed headmaster. Mr topping was appointed. Mr Topping stayed about eighteen months, he then went to Luton to a fresh appointment. Mr Heyes was then appointed headmaster.I left the school at Easter, 1949.It was a very happy environment at this school.
Further to the above. When Mr Christipher left Mr Anderton joined the staff as the woodwork teacher. Mr Tatum's parents had the Spring View Post Office and paper shop.
Yesterday I spoke to Graham, 21 3 11 He told me ,when we first went to Spring View Boys' School there was a female teacher named Mrs Mason, knowing Graham , he must be correct. He also reminded me that the teacher I named as Mr Lancaster was in fact Mr Jolley, he lived in Westwood Lane. The teacher I named as Mr Christipher, was Mr Christopher Walsh, all the pupils called him OLD CHRIS.
colin birch is my uncle, i was suprised to see him on this pic