Photos of Wigan
Photos of Wigan
Album Contents
Album Contents
Wigan Album
St William's RC, Ince
18 Comments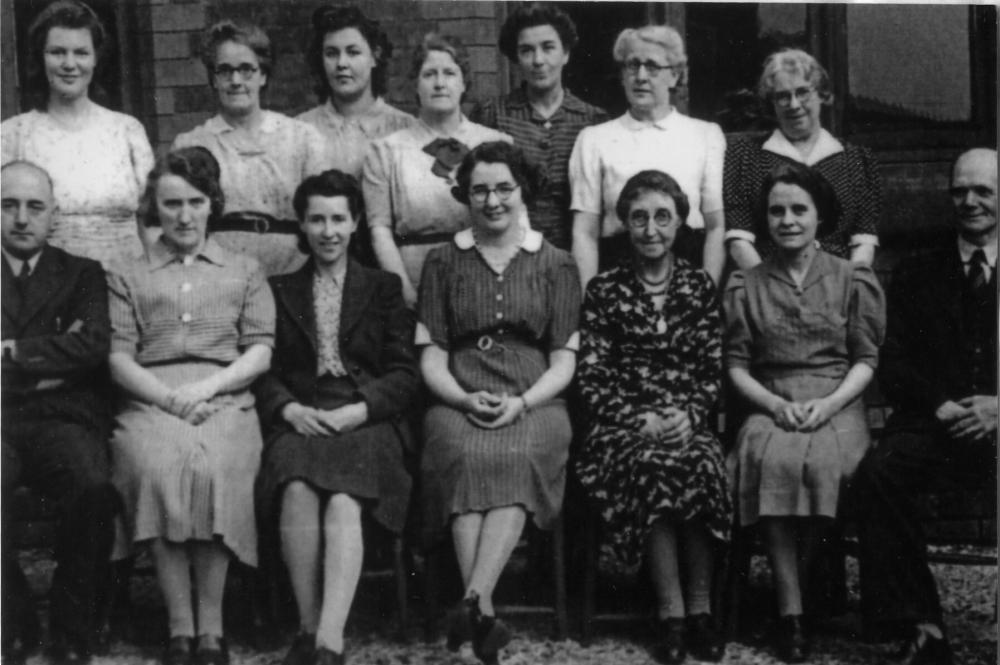 St Williams RC school ince
Photo: Glenys Cunningham
Views: 4,735
Item #: 13706
the teachers at the school in the 1950s
Comment by: Joseph. on 20th February 2010 at 18:47
Miss Byrne, second from the right front row and Mrs Maloney, I think?, third from the left front row.
Comment by: tony on 20th February 2010 at 20:04
back row l to r miss speakman,miss simpson,miss speakmans (sister),mrs mulligan,miss dunne,mrs settle,miss catterall front row l to r mr moore,miss bolton,miss owens(headmistress),? miss parkinson,miss berne,mr blackledge
Comment by: marie on 20th February 2010 at 20:37
4th from left mrs mulligan 5th miss dunne
Comment by: Bil Fleetwood on 21st February 2010 at 01:19
The lady in the middle front row was Miss Settle,she lived four doors away from our family in Ince Green Lane,a really nice person.
Comment by: Gerry on 21st February 2010 at 11:55
I remember Blackledge retiring in the early sixties he hired an ice cream van into the school yard and we all got a cornet. in return all the kids chucked in for a set of bowls for him.. Miss Settle might have been a nice person outside of school Bill but I remember her as bad tempered and not very nice teacher
Comment by: tony on 21st February 2010 at 12:34
thanks bill i was'nt sure which was miss settle so whos the lady next to miss dunne, do you know
Comment by: tony on 21st February 2010 at 13:42
i found miss settle ok it was miss berne i did'nt like she had a leather strap and she'd use it.i use to work with miss owens nephew,he told me when she got to be the headmistress at that time she was the youngest in the country.
Comment by: Evelyn on 21st February 2010 at 16:28
Bill, what relation was Miss Settle to Chris Settle who lived next door to you?
Comment by: Bill Fleetwood on 21st February 2010 at 19:34
It was Bill Settle who lived next door Evelyn,Chris lived at the other end next to the end house and then moved into the end house when he got married.Miss Settle was their aunt,I think.
Comment by: Evelyn on 21st February 2010 at 20:28
Thanks for reply Bill. Of course I remember now, Chris moved into Meyricks house and had 2 daughters.
That old grey matter does play tricks doesn't it?
Comment by: Gerry on 21st February 2010 at 21:28
Miss Owens was a great teacher I think she lived Bolton way cos she got off the Lancashire United bus at Ince bar and walked down Ince green Lane She gave me the job of playtime Phone monitor. the Phone was in a little room behind the boiler room, when the phone rang I had to answer it and then walk to the staff room to give the message or bring the teacher to the phone She let me change the fishes water in the library too. She was great, and told us some really funny stories, I have fond memories of her
Comment by: tony on 22nd February 2010 at 09:15
i would serve half seven morning mass and then eat mi toast in the classroom just me and miss settle she'd be marking papers before the bell rang at nine the room was warm the fire roaring long days for me but happy times
Miss Settle was my great aunt, Bill Settle was my dad, he passed away 2 years ago. My mum Kathleen, nee Taylor, is living in Atherton.
Comment by: teresa winstanley nee horrocks on 29th September 2010 at 12:20
how this picture brings back memories of my schooldays from
1935 to 1945. back row left to right dorothy speakman,miss simpson,cecelia? speakman[sister to dorothy]mrs mulligan?miss dunne, unknown miss catterall, front row L to R, unknown, miss bolton, miss owens,miss settle,miss parkinson.miss byrne, mr blackledge.the speakmans lived in the shop,corner of leaway/ince green lane,miss simpson in loeminster place,miss dunne opposite council offices,miss bolton parbold,miss owens westhoughton,miss parkinson wigan, miss byrne, and mr blackledge,quite close in darlington st.happy memories
Gerry, I didn't go to your Junior school but I remember my mum saying that she knew Miss Owen's and her family as they came from the Westhoughton area - she had other sisters who also became teachers - not sure whether there was one at St Benedicts too.
Comment by: fred fleetwood on 21st October 2010 at 00:31
I think that Mrs Mulligan was formerly Miss Heyes. I was taught to raise my cap whenever I passed her on the street. In 1936 the first lesson of the day was Catechism and we had to stand on the bench seat to be asked a question. On one bench were the 4 boys who were going to take the scholarship exam that year. Finney ,Flynn, Hidden and Bould. Flynn who weighed about 60 lbs gave the wrong answer and Miss Settle with a magnificent blow knocked him and the other 3 off the bench.
Comment by: Polly Settle on 7th May 2012 at 05:45
I remember Miss Settle, this last comment made me chuckle, my Dad was Chris Settle and we always called her Auntie Tessie, she was a real character and sometimes a scary lady!!
Comment by: Jennifer Blakeley on 10th February 2020 at 21:41
I remember Miss Dunne used to draw lovely pictures on the blackboard with coloured chalk. Remember her drawing a swan on a lake. Loved her to bits.