Photos of Wigan
Photos of Wigan
Album Contents
Album Contents
Wigan Album
St Andrew's C of E School
17 Comments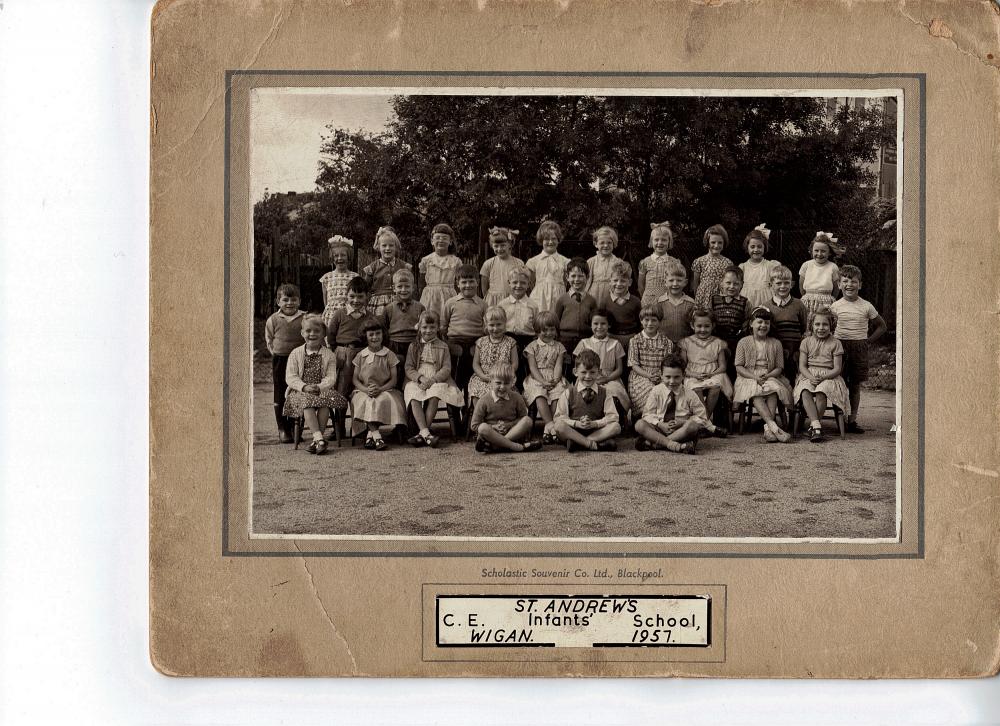 Class of 1957
Photo: Ann Jones (nee Dempsey)
Views: 6,936
Item #: 13600
This is a class photo taken in 1957 at St Andrews Infant School, Springfield. I am second from the left on the back row.
Comment by: gringo on 12th February 2010 at 09:35
hi ann how old are you on here and do you remember any names
Comment by: Ann on 13th February 2010 at 17:04
From left to right, back row. Christine Ball, me,Elsie ?, Carol Sanderson,Margaret Taylor,Christine Leyland, Maureen Bromley, Kathleen Porter, Janis Critchley. 2nd row: Martin?, Brian Abbott, ?, Roy ?, Michael?m Alan?, Tony Reid,?,Alan?m John Deakin?, ? Farmer,Front row: Corrine Aspinall, Christine Woodcock, Margherita Cooper, Louise Barlow, Eveline Hughes, Janet Green, Susan Francis. Pamela Crossland,Jean?, Linda Mason. Front row: David Rigby, Jeff Cunliffe and Barry?. I would have been 6 on this photo,
Comment by: gringo on 14th February 2010 at 00:27
hi ann can you remember the girl jean on the second row was her name phillips i think it,s my sister
Comment by: Ann on 14th February 2010 at 19:21
Hi Gringo. You have jogged my memory it is Jean Phillipsm you will have to ask her if she remembers me!
Comment by: Dave Farnworth on 9th January 2011 at 21:06
Second row far right its me Dave Farnworth
Comment by: Tony Phillpotts on 30th September 2011 at 21:06
Boy 5th from left on second row in the white shirt is my dad Mike Phillpotts
Thanks Ann .. does anyone viewing this know what happpened to Pamela Crossland. I used to dance alongside at Tommy Moss dance school .. pls respond here AND to email given .. graham@deverill.com.au. Ta Graham
Anybody know what happened to Roy Smith 4 from left next to back row we were best friends at St Andrews and then All Saints never seen him since I left school at Easter 1966
Comment by: christine (woodcock) on 25th November 2012 at 06:04
hi ann i remember you well hope you are happy and well Iemigrated to Brisbane australia many years ago
Comment by: Ann on 1st February 2013 at 21:18
Hi Christine good to hear from you, are you in contact with anyone else from our class?
Comment by: Janis Critchley on 16th March 2013 at 19:39
Hi Ann hope you are all ok think my mum may have a photo with all the names on I will check with her x Janis
Comment by: Louise Anderson nee Barlow on 18th October 2014 at 23:47
Hi Ann, lovely to see the old school photo,happy times.Now living in Ormskirk often go back to the old haunts. Can remember most of the class.
Back in 1964-65, I had a high school pen-pal from Wigan, Lancashire with the name Corrine Aspinall, who had greatly helped me to improve my "primitive" English, while studying in the 1st year of the local (Athens, Greece) English Preparatory School. Is there any (even slim) possibility for me to contact her or someone from her family after 50 years? I would very much appreciate it. Thank you in advance... Nick.
Comment by: Keith Butcher on 10th September 2015 at 20:07
I was in that class but I am not on the photo. I remember you all very well and often bump into Martin Clare. Around that time Roy Smith kicked me and broke my ankle so I may have been absernt
Just to fill in some names from Ann's list.
Elsie Vogel, Martin Clare, Roy Smith,Michael Philpotts, Alan Ashurst, ?,Alan Brighton,David Farmer and maybe Barry Unsworth but not to sure.
Also missing are Delia Sherrington and someone who joined after the he photo, Robert Gibson.
Robert was a small, quiet,slightly built lad with dark hair.
Sadly Robert died aged about 15. He and I were the only ones to go to Thomas Linacre school from that year. I have left an email address and would to here from any of you.
As we all get older we look back on those happy precious times , beautiful memories !! Yes I remember most of the old schofriends including you !Not moved to far away but seldom go back . Maybe I will one day ! The dress I am wearing on the photo my mother made out of a curtain !!! Make do and mend in those days !!! And we were always grateful . I hope you are keeping well it's been a long long time since we were so young and carefree .