Photos of Wigan
Photos of Wigan
Album Contents
Album Contents
Wigan Album
St Andrew's C of E School
11 Comments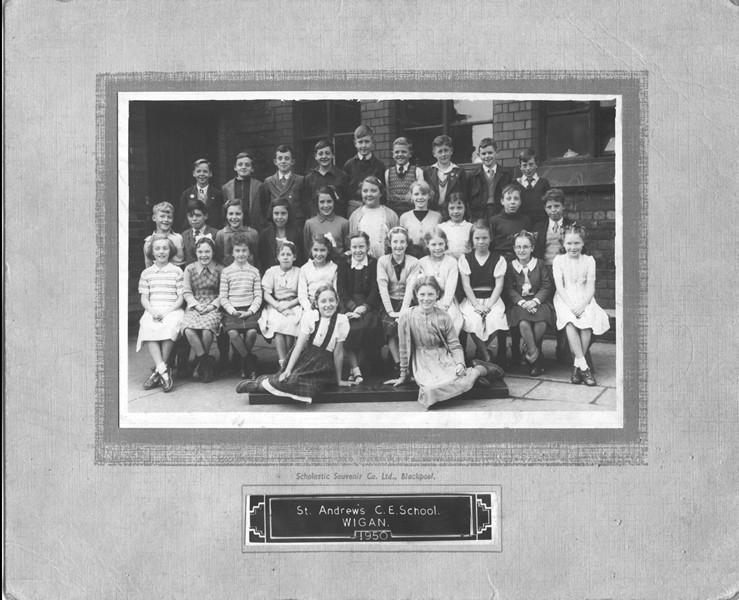 St Andrews 1950
Photo: Geoff Slonker
Views: 3,848
Item #: 13540
St Andrews 1950
Comment by: geoff slonker on 25th April 2010 at 15:26
L2RBACK D SMITH? R NAYLOR MYSELF J HARDMAN ?R GREEN R HUGHES
MID K GIBSON K DAY ??????R PACKINGHAM FRONT ROW ?SHEILA? ? s CHEETHAM. FRONT 2 J WELLER J SMITH
Comment by: Trevor Jones on 6th September 2011 at 14:56
Geoff....Did me and you work together at Ince Moss Colliery???. I lived in Standish Lower Ground and you lived in Woodhouse Lane. It would be about 1958-1959.
Comment by: g slonker on 18th September 2011 at 09:02
Hi Trevor i did work at Ince Moss but i dont remember your name sorry about that
Comment by: Trevor Jones on 19th September 2011 at 11:36
Hi Geoff, I started work underground in 1958,I worked in pemberton 4ft Bob Dowd was my fireman.I can`t remember where you worked but if we came up pit together you used to run me home in your car...you was the only one with a car in those days.
Comment by: Geoff Slonker on 20th September 2011 at 16:47
Hi trevor I remember you now did you go to " Lills cafe" in Standish with a mate of yours as I recall.
Comment by: Trevor Jones on 21st September 2011 at 10:51
Hi Geoff..Yes I did frequent "Lils Cafe" with quite a few of my mates. What district did you work in at Ince Moss, was it Percy Hughses district with Bob Collingwood and Allan Melling?.
Comment by: Geoff Slonker on 4th October 2011 at 18:18
Been away for 2weeks yes it was Percy's shift with Bob Collingwood also another fireman Syd ? can,t recall his surname
Comment by: Trevor Jones on 5th October 2011 at 14:35
Maybe your thinking of Syd Hart He was in charge of Bin Mine. I also worked on his shift with Teddy Atherton and Alan Melling....did you leave ince moss before it finished...wrere did you go to from there???
It was Syd Hart in the bin mine I left 1961 for Irlam steelworks till 1974 then Metal Box till 1999 retired early now live in Atherton what happened to you
Comment by: Trevor Jones on 10th October 2011 at 16:20
Hi Geoff....Stayed at Ince Moss til` it closed then went to Golborne til` that closed....then went to Parsonage til` that closed....eventually I ran out of Pits to go to...so I had to do other things!!!. I now live in Ashton.