Photos of Wigan
Photos of Wigan
Album Contents
Album Contents
Wigan Album
Spring View School
17 Comments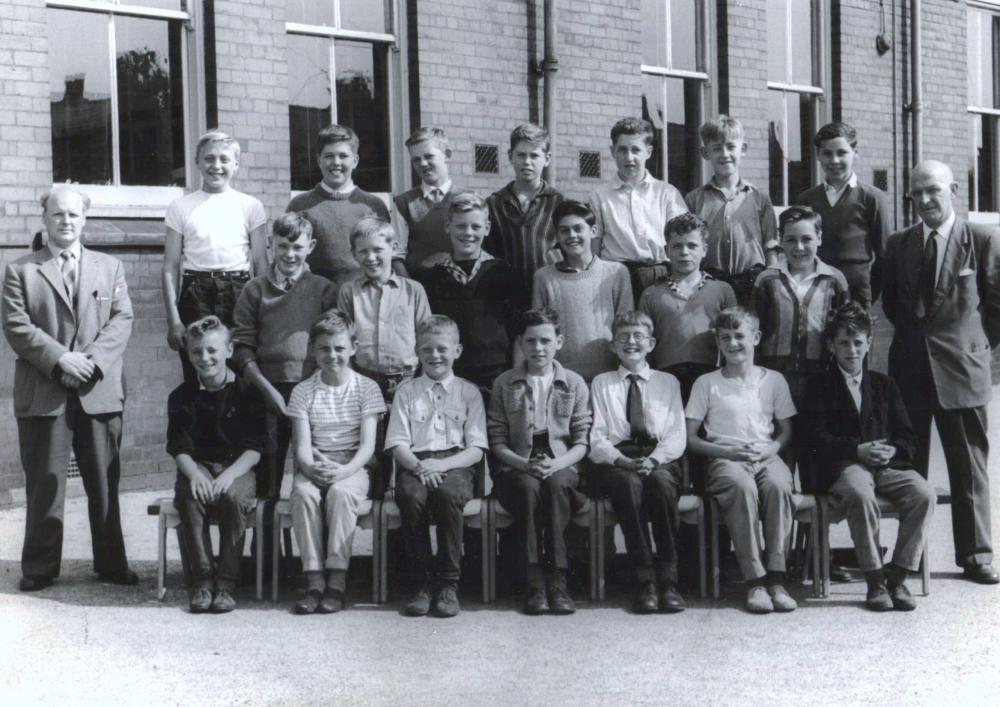 spring view
Photo: eddie rampling
Views: 6,625
Item #: 13525
first year at spring view 1959 can any body name this lot.
Comment by: tony j on 5th February 2010 at 15:32
looks like alan green, seated 1st left.
Comment by: built up shoe on 5th February 2010 at 17:52
owd block head master,mr halliwell woodwork teacher,peter fishwick,john waterworth,kev cooper,brian mills
Comment by: geoff on 6th February 2010 at 11:42
are you on this photo eddie?.
Comment by: John B on 6th February 2010 at 13:23
Eddie : front row, second from right - looks like my old mate Kev Weaver ?
thanks for your response I know most of the names well about two thirds. I'm the one seated first left, It would be nice if someone could fill in the names.
Thanks again,
Sedge Rampling
Comment by: John on 7th February 2010 at 12:16
Ok Eddie - put us out of our misery, give us some names.
Comment by: geoff on 7th February 2010 at 14:22
i thought it was you on the front row.i remember playing football with you and others on chapel st lower ince.i think the far right middle row(stood next to owd block)is adrian sharples,the kid in the middle of the back row is colin roberts,he lived on james st.i hope i am right.
B/ROW: KIETH MILLS, ALAN MAIDEN,JOHN BENNET,STEVEN MURPHY,?,JOHN RUTTER,?,
M/ROW:JACK COOPER,?,SYD BERRY,BRIAN HARGREAVES,ME,?
F/ROW:EDDIE RAMPLING,?,TERRY HALLIWELL,MALC BEAVEN,?,JIMMY GRIFFITHS,PETER FISHWICK
Comment by: roskiewigan on 7th February 2010 at 17:30
Front row third from right Jimmy Entwistle,Middle row third from left Sid Berry .
Comment by: irene roberts nee griffiths on 7th February 2010 at 18:13
Jimmy Griffiths was my cousin.
ok this is what I know with a big thanks to John Waterworth
back Kieth Mills,Alan Maiden,John Bennet,Steven Murphy,???,
John Rutter,???.
middle, Jack Cooper,???,Sid Berry,Brian Hargreaves,John Waterworth,???.
front, Eddie Rampling,???, Terry Halliwell,Malc Beavan,James Entwistle,Jimmy Griffiths, Peter Fishwick.
5 missing anybody help.
Eddie
Comment by: glyn on 11th February 2010 at 20:15
A couple of years above my year but i think lad after S. Murphy was Frank Bennet and lad after J Rutter was ?Clark.
the boy on the back row left handside is brian mills not keith
Comment by: graham on 16th February 2010 at 14:52
the boy onright handside back row is billy clark
Comment by: jimmy edwards on 17th October 2013 at 00:01
Only just got a computer so all this is new to me . Nice to see photos from spring view and a lot of old mates had a lot of laughs at spring view school got a photo of our leaving class ( 1963) also bible given to us on leaving still not read it .live outside bury married to Betty 42years 2 sons 1daughter 6 grand kids 1on way in Australia .will send email if any one wants it .
Comment by: Albert Heaton on 23rd October 2015 at 11:30
Irene were you related to Doreen griffiths who lived near chip pie at corner of millers lane she was in my class at spring view school from 1964-66 she will be about 65yo now
Comment by: Albert Heaton on 4th November 2015 at 09:55
Irean sorry I meant Taylor's lane spring view not millers lane