Photos of Wigan
Photos of Wigan
Album Contents
Album Contents
Wigan Album
St William's RC, Ince
11 Comments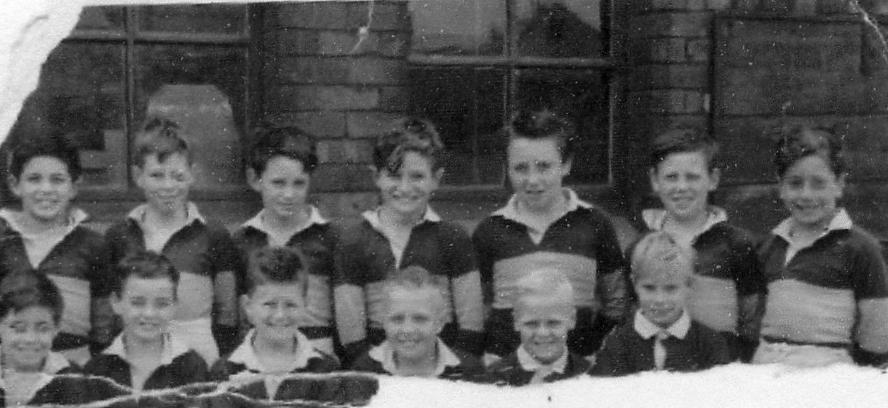 St Williams RC rugby team
Photo: Glenys Cunningham
Views: 4,915
Item #: 12913
taken in 1961 some faces missing off the photo. mr rose was the teacher.
Comment by: tony on 29th December 2009 at 20:51
back row l to r frank sanphillipo,terence featherstone,frank tickle,joseph bushell,jimmy lyon,david forshaw,reid.front row l to r david rosser,me,tony lavin,eric grimes capt,mick cassidy,raymond blakley
Comment by: Gerry on 30th December 2009 at 12:06
I wore that shirt on many occasions on the right wing.a couple of yeras later. the dark coulour was maroon the lighter colour was gold.
Comment by: tony on 30th December 2009 at 14:12
left wing me loved playing st pats always a close game but never won
Comment by: josie pennington nee beckett on 7th January 2010 at 01:09
gerry,have u looked at pic before this under rugby team lad first right middle row looks like ur dad , looks like you even.
lads in the picture are left to right back row terry oneill, terry featherstone, frank tickle, joe bushell, jimmy lyon, me, mick reid,front row frank sanfillipo, tony cunningham,tony lavin, eric grimes (capt),mick cssidy, raymond blakeley. should have a reunion for everyone from that era sometime.
Comment by: tony on 7th February 2010 at 19:38
hi dave how u doing are u sure its frank sanphilipo (what a name)next to me, i thought it was dave rosser then again i could be wrong (old age)i think there is a few missing off the photo i know one was peter boyle he played in't pack second row
Comment by: Gerry on 16th May 2010 at 18:22
Eric Grimes and his sister Pat went to New Zealand or Australian in the early 60s
Third from the left on the top row is Philip Tickle, Frank's younger brother.
I know it is ..... because it is me!!!
Comment by: kenny on 28th September 2011 at 07:08
tony

I didnt know you played rugby,owd lad,how you doin' anyroad
Comment by: tony on 3rd October 2011 at 18:52
hi kenny
we had some laughs at john englands did'nt we, as for rugby i hated it, dont mind watching it. have you got the shop in lower ince and how your ronny doing not seen him since school
Comment by: Gerry on 5th January 2014 at 10:27
Philip tickle also played the part of a policeman in the ghost train a play produced by cardinal Newman school about 1966