Photos of Wigan
Photos of Wigan
Album Contents
Album Contents
Wigan Album
St Catharine's, Wigan
16 Comments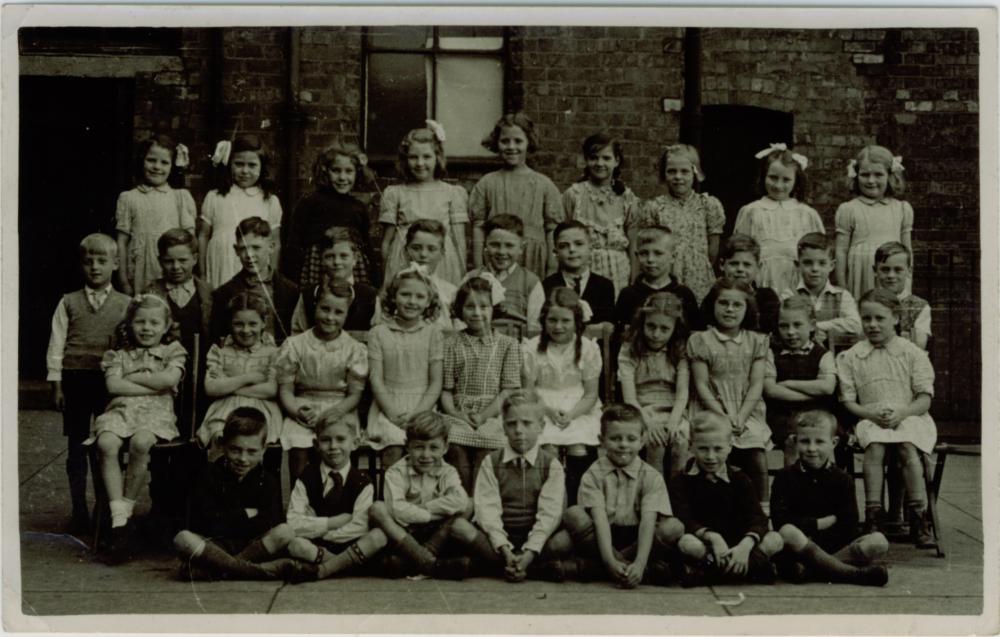 St Catharine's c.1947
Photo: Graham Norris
Views: 4,444
Item #: 12896
These children should be celebrating their 70th birthdays in 2010
Comment by: FredG on 21st July 2010 at 21:08
I'm puzzled as to why this photo hasn't generated any responses since similar ones from the same school have had a lot more viewings and responses. A forgotten generation? How sad
Comment by: tricia on 22nd July 2010 at 11:06
4th from right, back row, I think is Joan Atherton
Comment by: Alan on 11th November 2010 at 21:51
Is this a possible answer. This age range may well have missed out totally on the computer phenomena whereas those just a few years younger may have picked it up albeit at a late stage in life?
Comment by: Ivy myers on 16th January 2011 at 18:36
my brother richard myers is on the front row sat in the middle he was 70 in nov 2010
Yes I have celebrated my 70th birthday. They are not a forgotten generation, I've remembered every name of every pupil. It was a lovely surprise looking at the photo and reminiscing. It would be lovely if some of the others could leave a comment.
Comment by: Pauline Unsworth on 5th February 2011 at 15:46
Can anyone confirm that the very shy girl - 4th from right on second row - was Mavis Ashcroft? Mavis died in 1959.
Comment by: june causey (culshaw) on 7th February 2011 at 00:20
yes, pauline, almost sure that its mavis ashcroft.her sister, pauline ashcroft,who was a year younger, was in my class. mavis was a lovely shy girl and it was so very sad that she died so young.regards.
Comment by: Pauline on 7th February 2011 at 14:19
Hello June, I was Pauline Ashcroft, Mavis' sister (2 years younger). Thank you for your response and for your kind comments. Best wishes, Pauline
just loged on to wigan world great to see old school photo it would be good if we could have another photo now
Comment by: Anne Henderson (nee Stringman) on 10th October 2011 at 23:32
Third from left on back row, seeing myself there brought back such lovely memories of a lovely time in my life. I having been living in Wales for nearly 50 years but Wigan and St Catherine's School always holds a special place in my heart.
Comment by: gary s on 29th April 2012 at 15:16
back row second from left is my mum Barbara Smith ( nee Maiden). She has seen this photo and recognises quite a few of her old schoolmates.
Comment by: Cyril Humphreys on 4th November 2012 at 19:09
5th from the left , 2nd row from the back....that's me that is!
I remember most pupils on the photo, seems like yesterday.
Comment by: FredG on 23rd June 2013 at 14:36
So pleased to read the comments and that this did not turn out to be a "lost generation" - far from it. A few more names would be most welcome.
how about reunion I live in blackpool would come to wigan anytime as my cousin lives in wigan I am now 74
This is such a long time ago!
I am back row second from right, with those big hair ribbons!
I had to change schools the following year because we lived on Manchester road which was part of Ince so they made me change schools. Is Renee Anglesea on the photo? She was my best friend....
I see the old school was demolished a long time ago.
I now live in Australia!
I found Renee Anglesea seated just right of centre in the white dress.