Photos of Wigan
Photos of Wigan
Album Contents
Album Contents
Wigan Album
Whelley Secondary School
13 Comments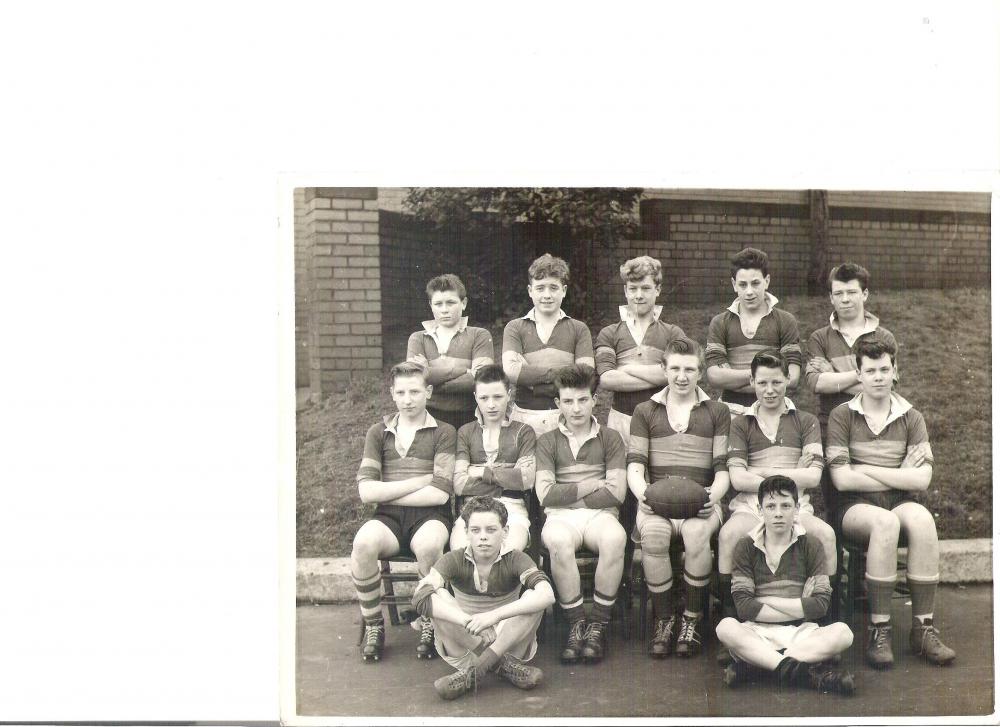 school rugby team 1958/9
Photo: Roy Thompson
Views: 6,249
Item #: 12887
Whelley scool rugby team to play at Central Park in the wood cup final b/r left to right C Blackledge F Melling middle row left to right R Thompson B kelly (capt) holding ball and next to him is K Mills with G Heyes at the front right it would be nice if someone could fill in the other names as i know a couple of these lads died very young



Comment by: Jem Glover on 25th December 2009 at 20:22
Is the very front left George Gaskell
Comment by: Tom P on 28th December 2009 at 17:19
Yes it is Jem, hadsome good times with Georgi
Comment by: jim holding on 1st January 2010 at 20:12
back row ,,end right...is it frank whitfield,,do remember his face from St catherines,,as also colin blackledge on other end of line
Comment by: Philip Harrison on 22nd January 2010 at 18:43
Back row from left to right: Colin Blackledge, F. Melling?, ????, Billy Mather, Johnny Whitfield. Middle row from left to right: Roy Thompson, Graham Myers, John Blan, Brian Kelly, Keith Mills, Ken Sumner. Front row from left to right: George Gaskell and Frank Charleston.

Hi everybody, Philip Harrison here, I was at Whelley until Christmas 1958. I'll try to give as good a description as I can in remembering the players.

Colin Blackledge - Always happy and smiling - I'm told sadly he was killed in a road accident at an early age. F. Melling, sorry Mr Melling I can't remember you. You were in good company. Next player - sorry also. I seem to remember you but I can't think of your name. Perhaps someone may be able to supply it at a later date. Billy Mather - fearless prop forward or second row. He has been the landlord of the Colliers Arms pub in New Springs for several years and still is now (Jan. 2010). Johhny Whitfield: joker, speedy Johnny played left or right centre I think. Loved his rugby. He was at the reunion in 1994 when I went with mi owd mate Len Berry.Roy Thompson, sorry I didn't know Roy, he must be alright though 'cos he's on the team!! Graham Myers - fastest winger I've seen at Whelley. He nearly went the full length of Central Park in an opener before a league match. Superb tackler as well. He was at the re-union at the 'Ball and Boot' in 1994 and I didn't recognise him. John Blan - lived in Pike Street, Whelley. He may have played hooker, he was from a family of professional rugby players. Another super tackler. Brian Kelly - he was Head Boy at Whelley, well liked by all, just the guy to captain the team, full of inspiration. Keith Mills - rugby through and through, diplomatic and encouraging. Did some physio work at Central Park, used to run quickly with the 'Magic Sponge'. Ken Sumner - very sadly another life taken in a road accident at a young age. Friend and neighbour of Brian Kelly at that time. George Gaskell - scrum half, super side-stepper and dodger, he could turn on a tanner. Always ready for a joke. His dad Peter was a good compere and singer at the Alexandra pub in Whelley, his favourite song was 'Ten Guitars'. Frank Charleston - mild mannered Frank. He seemed to 'read' the game. Loved playing rugby, got on with everybody.

Apologies to all concerned if I've got anything wrong.
Comment by: keith mills on 11th February 2010 at 13:58
the lad not named is alan bolton. his sister june also went to whelley and lives in the blackrod area. not sure of the whereabouts of alan
Comment by: Roy on 20th February 2010 at 15:54
Hi Philip,yes Colin was killed riding pillion on his way to work one morning, I think he was an apprentice at Walkers. As I said on your intermedaite team photo Graham Myers my cousin also passed away a few years ago
Hi Roy. I saw your other comment on the Intermed. Team photo, thanks for that.
cheers phillip thanks for the comments did,nt know about the pics happy days and great memories enjoyed with a great bunch of people.
just been told by brian shawcross that keith mills died to-day 17th april 2012 condolences to the amily rest in peace my riend you will be sadly missed.
Comment by: Eddie rowland on 10th November 2016 at 19:25
can anyone tell me the name of the one fourth from the left top row.
Colin Blackledge was my uncle, unfortunately I never got too meet him as he passed away aged 17, it nice to see his photo.
Comment by: Tom on 29th October 2020 at 11:28
Billy mathew Roth from top on back row
Comment by: rt on 26th December 2020 at 22:14
emma if you want to see another photo of colin look at orrell ru photo,s he is on the colts of 1962 this was taken not long before he was killed in the accident . we grew up together from infant school to senior school and joined orrell together a fantastic friend and sadly missed