Photos of Wigan
Photos of Wigan
Album Contents
Album Contents
Wigan Album
St William's RC, Ince
17 Comments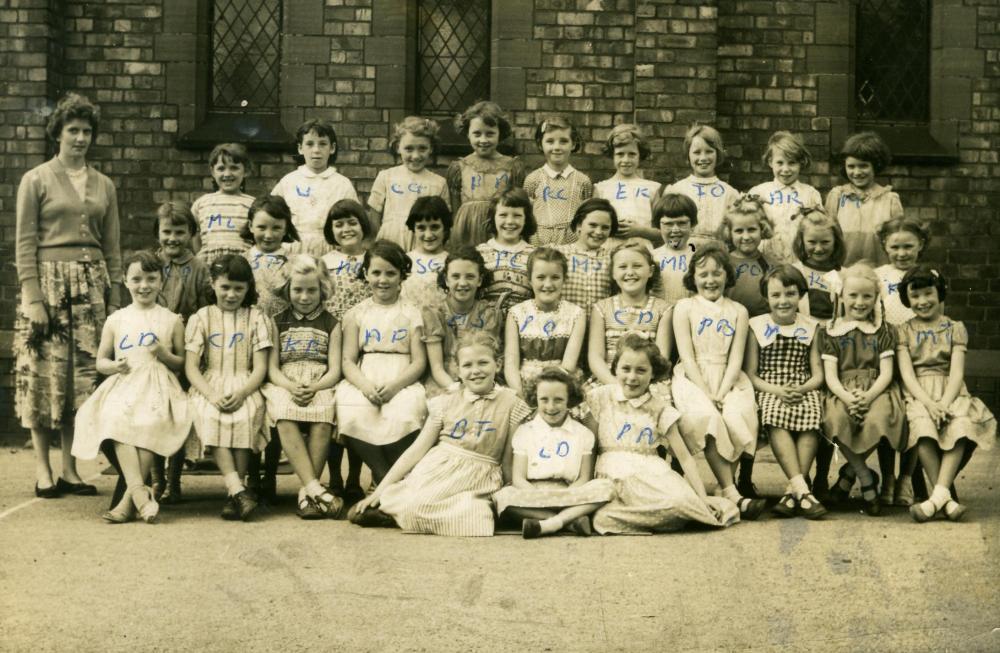 St Williams RC School Ince
Photo: Glenys Cunningham
Views: 6,809
Item #: 12706
This photo was taken at St Williams approx 1956 My sister in law Kathleen Mather (nee Cunningham) is on the back row 5th from the right
Comment by: josie pennington nee beckett on 7th January 2010 at 01:01
i cant beleive there are no comments on this pic i am a bit younger than these girls but i remember almost every one of them they may have been in same yr as my sister pat beckett but she is not on pic? she was born 1948 so may be older than these girls?
Comment by: josie pennington nee beckett on 27th January 2010 at 23:34
come on you lovely girls, hope u see this pic soon i think teacher is miss rylance.
Thanks for this lovely picture. I'm Maureen Dean (nee Tarpey)front row end right. I was born 1950.
Comment by: josie pennington nee beckett on 14th March 2010 at 19:10
hi maureen,are you on the walking day dvd? and if so did it start from your house in leaway? i was born in 1950 on the 31st december.
Comment by: tony on 15th March 2010 at 22:24
hi josie is the girl 3rd from the right nora carney
Comment by: JOSIE PENNINGTON on 15th March 2010 at 22:50
hi tony how are you and glenys?i have gone over this photo many times and i do recognise a few of the girls but untill u brought my attention to this i would never have known and yes i think it is norah i cant beleive that, how did u recognise her?
Comment by: josie pennington nee beckett on 15th March 2010 at 23:02
hiya again tony, forgot to ask did u get in touch with noras daughter over them photos as ive not seen any comments from her.
Comment by: tony on 16th March 2010 at 20:55
hi josie i looked at the photo again and looked at all of the initials and the name just clicked and found i did remember nora carney as for kittys gandaughter i sent them all that day and i think she replied and thanked us
Comment by: josie pennington nee becket on 20th March 2010 at 21:29
hi tony,i do know some of the girls on there their a little bit older than me and on the dvd some are on there so i think they must have mixed us all together,how are you going on with dvd av u watched it a thousand times yet,and av u seen anyone else u know? have a look on the pic with miss dunne on takeing notes and look at a comment from brian.
Comment by: Gerry on 17th May 2010 at 21:47
Miss Rylance came to school on a vespa scooter and parked it in the play ground next the coal mound
Comment by: josie pennington nee beckett on 22nd May 2010 at 19:33
my god gerry u have a good memory but now u said it i remember it, she always wore lots of foundation u could scrape it off i liked her though
F,ROW.left to right..Brenda Forshaw Linda Dernly.Pauline Atkins 2nd row..linda davis christine prescot kathleen bryn ann prescot mary simpson pauline qusik carol dempsey pat brady nora carney ann hill maureen tarpey n/row carol padget joyce fairhurst marilyn bushel sandra gray pauline connel mary stazicker maureen belshaw pat oneil b/row marilyn lancaster winfred aspinal christine gannon kath cunningham eileen kenny ileen holcroft ann rigby margaret catterall........sorry if i have spelled any names wrong ..
I was born in 1948 and I remember some of these girls but I.m not on this pic.
I was Christine Atherton, I remeber Sheila Ashcroft, Carol McHugh and Pat Mercer.
Comment by: josie on 3rd August 2014 at 23:51
my sister pat beckett was same age as all these girls i think but not on pic x
Comment by: josie pennington nee beckett on 3rd August 2014 at 23:56
pauline cusics son is married to my daughter i looked at this pic many times and didnt recognise her x
Comment by: Hannah catherall on 5th January 2019 at 16:41
Mrs Rylance is my grandmother and the fact she came to school on a Vespa is the coolest thing ever! She will love this picture!