Photos of Wigan
Photos of Wigan
Album Contents
Album Contents
Wigan Album
UpHolland County Secondary School
25 Comments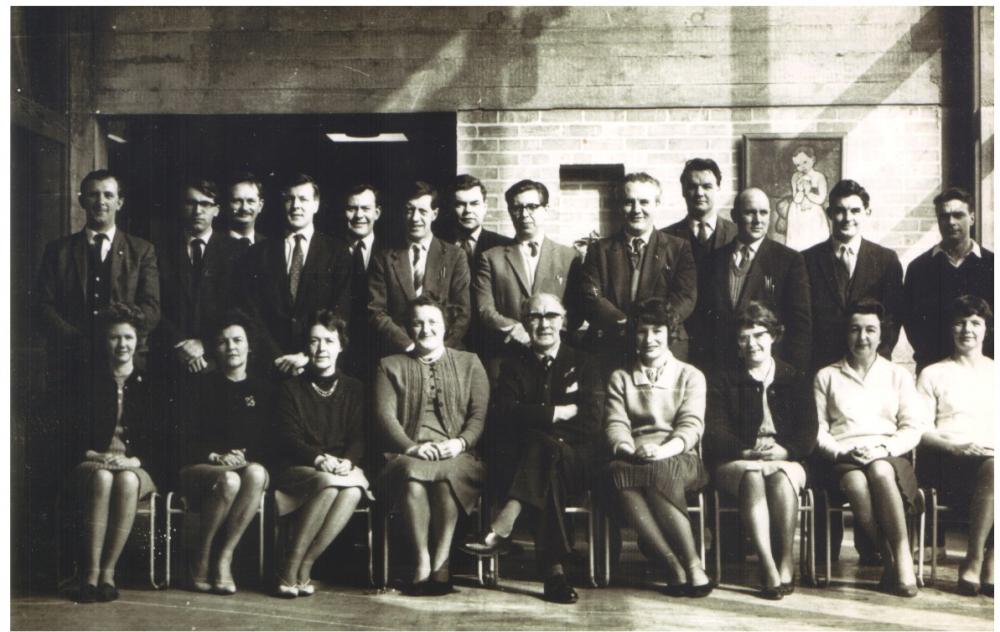 Upholland Secondary School Nr Wigan
Photo: Martin Pearce
Views: 5,146
Item #: 12399
Our Teachers 1960/70's
Photo in my collection
Will leave the names to be added by former pupils............good memories.
Comment by: Mick on 2nd November 2009 at 18:45
Back Row L to R: Mr Farrimond, Not known, Mr Smallshaw, Mr Moore, Mr Bell?, Mr Green, Mr Ashton, Mr Stanway, Not known, Mr Birchall, Mr Wigglesworth, Not known, Mr Peet.
Front Row L to R: Not known, Mrs James, Mrs Worthington, Miss Deryshire, Mr Clarke (Head), Not known, Not known, Mrs Morris, Mrs Melling.
Comment by: indalo on 2nd November 2009 at 18:53
Martin is the teacher 1st left back row Norman Farrimond?He taught me at Lamberhead Green,he was well respected by all,a person who i hold in very high esteem, thanks for everthing Mr.Farrimond
Comment by: J on 2nd November 2009 at 22:33
Norman Farrimond sadly passed away on 11 August 2009. A true gentleman who was respected by all who had the privelege of knowing him.
Comment by: Mick on 2nd November 2009 at 23:12
Sorry to hear that J. As you say, he was a true gentleman, and an inspirational teacher, who loved his work.
Comment by: neil parky on 8th November 2009 at 20:46
mr farimond was a true gentleman. he was the music teacher who introduced me to brass bands. in 2000 i conducted in the national finals in the royal albert hall it was down to him for giving me the intrest in the first place
the teacher on mr peets right was mr little what a good bunch they were
Comment by: susan on 21st June 2010 at 02:58
Miss Derbyshire taught me shorthand and typing which set me in good stead for a 45 year office career. She taught us at night school as well and my friend's dog used to sit under Miss Derbyshire's desk while we had our lessons. Happy days!
Comment by: Dennis Dickinson on 28th June 2010 at 20:16
Greetings from New Zealand ! - a lot of those teachers taught at Billinge & UpHolland Secondary school in the late 1950s, when I attended. The photograph brings back lots of memories.
Comment by: D on 7th February 2011 at 14:44
Most of the teachers were good that i remember but quite strict. Miss Derbyshire was very nice but I recall one lad thought she was soft and gave her some cheek, she picked him up by the scruff of the neck and belted hell out of him!
the teacher to mr stanways right is mr chadwick he was the woodwork teacher and lived in dalton.on mr clarks right is miss hutchinson who married and became mrs fowles
Comment by: bill freeman on 19th March 2011 at 09:52
please substitute left for right in my last comment
The teacher top row, fifth from the right is my uncle, Tom Chadwick. He did indeed teach woodwork and was very active with the school brass band.
I attended the school at this time and remember the overall good quality of teaching. Upholland Secondary was a great school, with teachers that inspired their students to achieve good results.
my form teacher when i started this school was mrs worthington , she was a lovely person and i respected her.. 2nd and 3rd yr form teacher was mr smallshaw he was also geography teacher a good teacher with ginger hair ... miss derbyshire took me for embroidery also a lovely caring teacher miss those day... they were all a foundation for my life values ...s o'shea
Comment by: Martin Pearce on 24th October 2012 at 20:46
Sad loss this last week of Mr Donald Green, you may be gone from our world but some will never forget you.Until we meet again.
A great photograph I didn't know it existed until now. Fond memories of Upholland Country Secondary School and the teaching staff.
Comment by: Jacqui smith on 27th February 2014 at 22:19
Is that Miss foreshaw bottom row on the left, I had her for French lessons
Comment by: Giovanni on 28th January 2015 at 09:51
Cant see that old battle-axe Ms Cornelius who taught English. I recognise the others!!
Comment by: Giovanni on 19th February 2015 at 17:19
I started in January '63 and was put in Snudges class. I knew Medic, Southwell and a lad called James from Orrell. Another was Fishy Fishwick. December that year we mimed as the Beatles with guitars at the school concert. The girls went wild!
Comment by: John Meadows (Medic) on 9th May 2015 at 07:33
I remember that concert miming to the Beatles and I remember Ms Cornelius who is absent from the photograph Giovanni.
Comment by: Sue McVeigh on 22nd June 2015 at 21:42
The teacher 2nd from the right is Bob Little he was our maths teacher when I was in the first year
Comment by: ken hesketh on 18th January 2016 at 12:38
i was at school in 56/7 and recall some of the teachers in the picture .mr clarke .mr wrigglesworth.mr peet who was the sports master ..he was a terrific teacher and very well thought of..we had a good football team guided by mr peet who was also involved with the wigan boys football team.
great times at a terrific school..
Comment by: Raymond Maddocks on 23rd October 2020 at 01:17
Mrs. Fowles was my form teacher in my second year would of been 65 to 66, her maiden name was Miss Hodgkiss not Hodgkinson we sat and chatted for a while at the 40th reunion, lovely lady lived off Mill Lane Hall Green before moving to the north of England.
If I remember Mr Ashton was metal work teacher nicknamed ' Rivet'. he delivered a well remembered cane!! Can't remember name of woodwork teacher but he was nicknamed 'mallet'. Mr Stanway was 'Snudge'. I was Paul McCartney in that Beatles concert! Miss Conelius was a tarter!
Comment by: Neil Farrimond on 5th January 2021 at 17:33
Some of these faces I haven't seen for a very long time. My Grandad was also named Norman Farrimond, and I remember many calls to my home in the evening for "Norman Farrimond, the school teacher". Mr. Farrimond was a great teacher and a gentleman, as was Mr. Green. He got me though my Physics lessons and I thoroughly enjoyed that class.