Photos of Wigan
Photos of Wigan
Album Contents
Album Contents
Wigan Album
St William's RC, Ince
33 Comments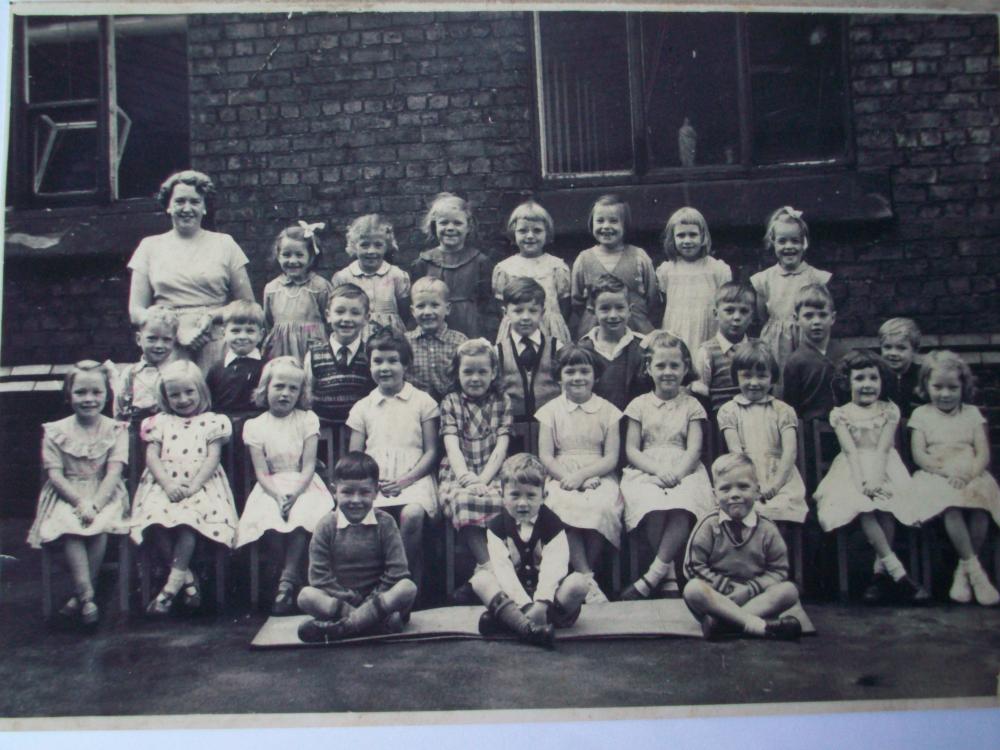 st williams infants 1955/56
Photo: josephine pennington nee beckett
Views: 8,172
Item #: 12237
school photo in st williams yard think teacher is miss brown.i am on back row second right.
Comment by: Gerry on 17th October 2009 at 19:59
Is that Michael Dearnley in middle sat on the mat?
Comment by: josie pennington nee beckett on 17th October 2009 at 20:25
YES IT IS I WILL NAME THEM ALL LATER JUST WATCHING X FACTOR.
Comment by: Margaret Wall on 17th October 2009 at 21:08
I don't remember you Josephine, as we (my sister and I) would have been in the class above yours but I do remember Miss Brown. She was a lovely teacher, as was Miss Lawson.
Comment by: josie pennington nee beckett on 18th October 2009 at 12:27
MARGARET I DONT REMEMBER YOU BUT I KNOW SOME OF THE NAMES YOU MAY KNOW MY SISTER PATRICIA BECKETT I THINK THAT IS HER ON THE WALKING DAY PHOTO YOU PUT ON (NOT THE ONE IN UNIFORMES) SHE IS THE ONE NEARER TO THE CROWD AT BACK BLOND E HAIR IN WRINGLETS AND YAWNING.HAVE YOU ANY MORE PICS OF WALK DAYS OR SCHOOL MARGARET.
Comment by: Margaret Wall on 18th October 2009 at 15:52
Hi Josie. Yes I do remember your sister Pat Beckett and it is her having a yawn.
I have recently aquired lots of old family photographs from the widow of my brother Dennis, who died last year and I am in the process of going through them. If I do come across anymore school ones, I will post them on Wigan World.
Incidentally, I have just replied to a comment of yours from 18th Sept under 'Walking Days' and named some of the girls in the picture.
Comment by: Gerry on 18th October 2009 at 17:30
Never mind X factor Josie, this is MUCH more important is that Maurice Ashust in the middle of the middle row with the edged waistcoat on
Comment by: josie pennington nee beckett on 18th October 2009 at 19:14
no its not its ronald macoll he lived nere us upt lane at the end of frances st think it was a shop one time and when it closed we used to sit on their big step.
Comment by: josie pennington nee beckett on 18th October 2009 at 20:17
right i will try to name them.back row starting from right. dinese ball\ me\barbara kelly\ christine palmer?\ kathleen aspley\carrol cowburn\eileen glover\miss brown. right to left boys. patrick cleary\ christopher moor\ colin blakely\joseph?\ ronald macoll\brian parr?\james lyon\david darbishire\dont know if end lad may be brian parr someone might know? right to left girs anne dutton\yvone charman\christine seddon\lyne porter\kathleen dunleevy\ christine blinkhorn\kathleen simpson\christine atkins\linda coyle\dont remember next girls name\boys on mat right to left ian featherstone\micheal durnley\dont remember this lads name? sorry for not remembering some i know faces though.
Comment by: Irene Brown nee Walsh on 19th October 2009 at 13:05
Hi Josie, Great photo,the Joseph you can't remember is Joseph Bushell, he lived near us when we lived in Spring View.
Comment by: josie pennington nee beckett on 19th October 2009 at 15:04
THANKS IRENE ALSO DENISE BOYLE , NOT BALL
Hi Josie, are you related to the Becketts from Poolstock, my late father in law was Stanley Beckett.
Comment by: JOSIE PENNINGTON BECKETT on 21st October 2009 at 22:54
HELLO JOAN. NO NOT RELATED AS FAR AS I KNOW MY DAD WAS BORN IN DARWEN 1914 THEN LIVED IN BOLTON WHERE HE MET MY MAM WHO WORKED THERE THEY MARRIED AND LIVED AT TOP BELL GREEN LANE HR INCE.
Comment by: Gerry on 23rd October 2009 at 16:59
Ian Featherstones dad played for Wigan Rugby in the 60s
Comment by: tony on 31st December 2009 at 14:31
girl on the 2nd row 1st left is ann davis ,the boy on the mat left is david rosser
Comment by: JOSIE PENNINGTON on 7th January 2010 at 00:47
hi tony ,are you sure its anne davis ,i seem to know her but cant remember her name,as it happens my husband alan is anne davises uncle,his mam and his sister were expecting at same time theres 5 days between them i dont recognise that girl as the anne i know , maybe a different anne davis,our anne was born 22.5.51 alan was born 27.5.51 amazing really ,must show this to anne she may shed some light on it.tony have you seen the dvd of st williams walk day 1957 not very good quality but brings a tear to the eye.
Comment by: tony on 7th January 2010 at 17:01
hi josie am sure its ann davis and as for the dvd iv not seen it were would i get a copy from, all the kids on the photo are slighty older than me only a couple of months ,i know chris moores birthday was in march and mine in may, if i remember you could have two starts in a year and end up all in the same class.
Comment by: JOSIE PENNINGTON on 8th January 2010 at 19:08
hi tony,hopefully i may have a copy you can have,i got a video of it a few yrs ago & we did some dvds of it my cousin gerrald mawdsley copied some for me & added band music,i have watched it loads of times,some have seen their mothers or grandmothers the quality is not dead good but ok it starts in lea way and think tarpys house,anywayi will have a look for a copy for you and if not our gerry will do one,lots of my friends have copys now.will be in touch.
Comment by: tony on 8th January 2010 at 20:13
thanks josie i realy apprecate that, did you find out if it was ann davis? once again thanks
hi tony, alan says its not their anne but she is on the comunion photo and i have found a dvd for you, i have put my e mail address on so if you give me your address i will get it to you.also may have info on wedding pic unknown,my sister recognised them and she phoned me today and now i recognise some of them,ime going to speak to her later and will get names they lived back to back with us up lane,maglones dont think i spelled it right.
Comment by: tony on 10th January 2010 at 21:31
thanks again josie the maglones that name is very familar i heard the name kitty maglone when i was little i wonder if one of them is kitty on the photo
Comment by: josie pennington nee beckett on 11th January 2010 at 00:19
tony,you are right kitty is the bridesmaid on the left, i think that was her maiden name,as we did know her as kitty maglone but her married name was carny she had one daughter called nora ,i think that her brother is the groom tom maglone, they had a daughter kathleen maglone they lived a couple of doors from each other in our backs and isnt it funny i thought that pic u put on of the girl in the backs jumped out at me as maybe our backs there must be some conection with ur dad & maglones & carnys ,nora carny is about 60 ish , kathleen maglonewill be same as our pat 61,i have seen kath a few times lately she and her husband have an office supplies buisiness just over rose bridge ince, they went to st williams do you not remember nora.
Comment by: tony on 11th January 2010 at 13:37
hi josie nora does'nt ring a bell but i think kathleen does the photos i've posted on this site all originate from 188 belle green lane that how my dad ended with he's share when he left and so the same for his sisters rose and mary, now rose's son lives near me, just a few doors away, i went round a month ago and got and scaned all his mums old photos from 188 b g lane the very last three i put on were hers and there's lot more which eventually i will post on wigan.world.i think the maglones could have been closer to my aunty rose.i've found in aunty rose's photos the same people that are in my dads but not the same photos
Comment by: josie pennington nee beckett on 11th January 2010 at 16:01
HI TONY , CANT WAIT FOR MORE PICS, AND WHAT WAS YOUR AUNTYS MARRIED NAMES? DID THEY STILL LIVE IN INCE AFTER THEY WERE MARRIED?
Comment by: Glenys Cunningham on 11th January 2010 at 17:11
her married name was winston and she lived at scholes at the back of the harp pub at the end of vauxhall rd i use to go every weekend with mi dad and the whit walks were something else we had our own chairs outside the pub on the day good old days
Comment by: tony on 11th January 2010 at 19:13
up's the last comment was mine
Comment by: JOSIE PENNINGTON BECKETT on 12th January 2010 at 01:06
hi tony just thought i may have known them but i dont thanks anyway.y
hi josy was i never in r class i cant see me on eny i was born 25 5 51
hi hilda,i cant understand why some of our class is not on unless u werent at school that day i was born 31st december 1950 so ime only 5 months older,alans birthday is 27th may 1951 and their anne davis s birthday is 22nd may 1951 not mutch in you three,have u got any photos hilda u could put on.
Well done Josie -I am on the end next to you - I can name most of the children on the photo - Just one or two have slipped my memory - It is the only class photo I can remember - I agree with the comment about Miss Brown being a lovely teacher - she was - I never forgot her - or my first day in her class - in fact I have many very happy memories of St Williams - I think you are amazing Josie to post all these great photos - I am a bit of a nostalga fanatic - I have not lived in Wigan for many years - But I would move back tommorow if it was possible !
josephine (beckett)

The las next to our Ronnie (to his right)I'm pretty sure his name is Bushell,dont know his first name
kenny it is joseph bushell, he had an older sister called marolyn,has your ronny seen it, i think its the only bar one pic of me in my childhood.
hiya denise so nice to hear from you,where are you living now, and how are you, have you got a family, your married name sounds polish ? i remember your lovely mam sitting on the step waiting for you coming out of school you only lived a stones throw away from st williams,i and lots of others now have got a dvd with st williams walking day 1957 dont know if you already have it but it shows all around where your house was,not fab quality but it will bring a tear to your eye,i have left my email so get in touch please ,hope you see this denice i love getting in touch with old school friends and ww isjust the place,have you seen the ince thread ? all about ince memories its fantastic if you havent already seen it, clik on comunicate ,then go to places and its under ince memories, you have to be a member but its only easy to do good luck xxx
Comment by: josie on 16th November 2012 at 01:24
hi denese, please get in touch as i would love to hear from you, i have a most wonderfull dvd of the walking day in 1957 think you are on it i can send you a copy hope you see this post x.