Photos of Wigan
Photos of Wigan
Album Contents
Album Contents
Wigan Album
St Thomas the Martyr Primary School, Up Holland
8 Comments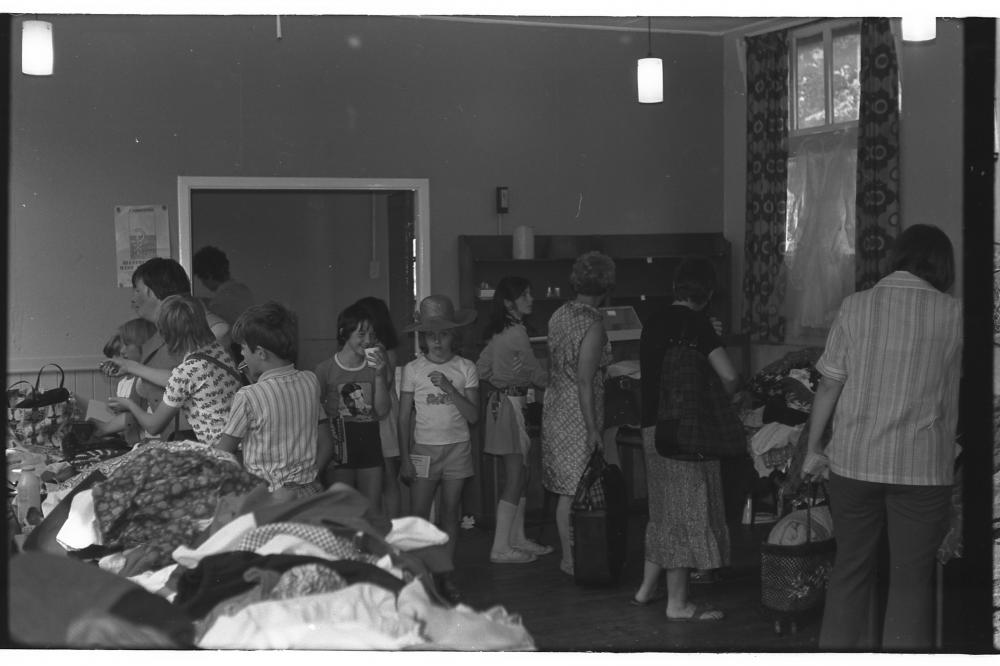 Upholland Juniors bottom hut. Jumble sale 1970's
Photo: Martin Pearce
Views: 2,351
Item #: 12210
Through the doors at the back of the room was Mr Harts office.........and you did not want to go in there if you had done some-thing wrong! Yes I had a visit once as I remember.....!!
In this class in 1966 I sat next to a small lad by the name of Roy Cazier. Sadly he drowned at a quarry I used to go fishing at with my Dad. Just below Tower hill in May 1966.Never never forgotten.........
My mums brother Norman Alker and Roys Father were good friends when they where growing up.
Comment by: irene roberts nee griffiths on 16th October 2009 at 09:59
Fabulous! I used to love a jumble sale; I suppose they're car-boots today, but it's not the same. A lot of women bought from jumbles from necessity in my childhood. I used to love going on Autumn nights...going into school out of school-hours, with darkness and a touch of frost outside! Thanks for the memories.
Comment by: irene roberts nee griffiths on 16th October 2009 at 11:36
Used to love a jumble sale;going into the lit-up school outside school-hours on chilly Autumn nights. People went out of necessity in those days, but what lovely, homely memories.
Comment by: Duncan on 26th January 2011 at 12:02
Jumbles sales were fun, bargains galore and they were good fundraisers for various churches and organisations. All part of the community spirit that's lacking nowadays.
The caption says 1970's but the junior school moved to Hall Green in the 1960's. I went to the infant school on Alma Hill for a year then moved to the infant school at Hall Green. Then the junior school on Alma Hill and then that moved to Hall Green too. It must have moved in 1968 or thereabouts. The huts were used for scouts and church events for several years after the school moved though.
The back office is also where we saw the nit nurse ... on a remarkably regular basis.
Comment by: Duncan on 27th April 2015 at 12:35
the junior school moved from Church Street to Mill Lane at Hall Green in the summer of 1969, the infant school had moved from Higher Lane to Mill Lane a couple of years before that. It was not long before Church Street had to reopen as the new school was so overcrowded, some overflow classes were held there till around 1976.
yes roy was my brother there was also norman john susan christine
I was in the bottom hut when Roy Cazer was in there. I was in the class next to Shirley Dainty, Mary Payne, Kathleen Leigh, Carol Ramsdale, plus many others. I can not remember when it was, but I do remember moving to the top hut and taking our desks for some reason, it was an icy day which I remember to. (Health and safety eh lol). great memories x I remember going to school in wellies and having that dry burning ring around my calf, some times having card in sole of my shoes cos of hole in my shoe. I remember the plastic summer sandles too, leaving blisters on my feet. NO wonder I loved to walk around in bare feet LOL. I remember running across the play ground to go to the toilets, and having to remove spiders for one of my friends before she would use the toilets. x