Photos of Wigan
Photos of Wigan
Album Contents
Album Contents
Wigan Album
Spring View School
23 Comments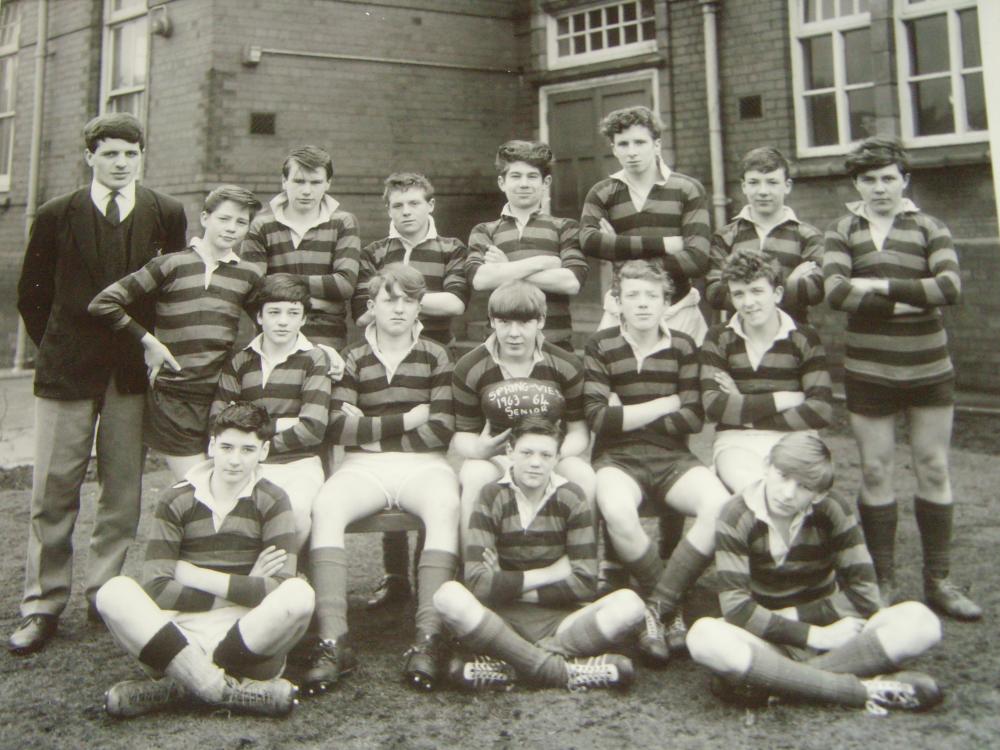 1962ish rugby team
Photo: Dave Whittle
Views: 6,156
Item #: 12172
senior boys rugby team
Comment by: Jem Glover on 13th October 2009 at 23:45
Dave can see you on middle row far left [sitting] the ball has the years 1963-64 season on it
back row l to r Mr Jameson Glyn Richardson ? Pete Heyes Leonard Chadwick Fred Hough Dennis Cunningham ? Sharples middle Dave Whittle Keith Gore Harry Farrimond ? ? front ? ? Eric Wilson sorry if forgot your names job to remem my own
Comment by: glyn on 17th October 2009 at 09:57
Dave, I put all the names on last time you put photo on ww,you could be going through early stages of dimensia.
Comment by: Billy on 22nd October 2009 at 20:57
Third from left on back row is Colin Nicholson now something to do with Orrell RU.Front row is Peter Ramsdale/Ramsden who signed for Wigan RL middle is Joey Heaton and sat behind Eric Wilson is Derek Gibson who's involved with Shevington Sharks.
I think Mr Jameson now lives in Cumbria.
Comment by: glyn on 23rd October 2009 at 23:09
I think Billy its Brian Ramsdale to the left of Joey Heaton and it was Dennis Ramsdale who played for Wigan,are you in contact whith Colin Nicholsan not seen Colin since school.
Comment by: colin on 29th October 2009 at 20:16
You're right Glyn it is Brian Ramsdale. What is Mike's 2nd name he's sat next to Harry Farrimond he used to play hooker.
I heard you now live in Spain as a tax exile, must be some money to be made learning people to drive
Comment by: GLYN on 29th October 2009 at 21:44
Colin,Its Mike Winstanly next to Harry if you go to Sports then scroll down to Wigan Schoolboys ARL i`ve put names to all the faces. No i`m not tax exile wish i`d enough money to qualify,I do spend most of my time in Spain,been here about 3 and half years.Hope your keeping well what you doing now?,checked on Orrel rufc site but couldnt see anybody who looked like the person standing next to me on photo,
i remember some of these boys some one said it was pete heyes but it was keven he is my cousin
Comment by: glyn on 25th January 2010 at 23:18
Hilda. Kevin lived in same street as me.Did you live near Brittania Bridge school
I think the boy on the far right is my cousin Billy Edwards.
Hilda was your brother Syd who played for Wigan? and i think Kevin Heyes nickname was Pey?
Just been looking at the old school photo,s i had left by this time went to leigh but still recognise many of the faces be good to organise a reuion
Comment by: Glyn on 2nd May 2010 at 21:33
Andy if you go to Schools and then go to st Marys there"s a photo of you on it.Your right Dave Syd played for Wigan about same time as Boston and i think he was Hildas brother
Comment by: hilda fenton. on 3rd May 2010 at 23:35
yes dave syd was my brother and i remember we use to call how kev pey heyes.glyn was right.
nice to see a photo of my uncle leanord chadwick who sadley passed away at 47 12 years ago it mademy nanvery happy to see this
Comment by: Jimmy Edwards on 6th December 2013 at 23:33
Irene,that's not our Billy only time he ran was going to the Petty bottom of Back Yard when it was dark.Joanee,great lad your uncle Len had a lot of time for him .Agood lad took before his time RIP. Remember his mam sister & Aunty who had the Manly.
It's definitely my dad BRIAN Ramsdale on the front row. We have this same picture at home. He went on yo play for Wigan RL and later on also Swinton.
Comment by: gibo on 16th March 2018 at 23:20
Had a pint with Harry Farimond last week he is trying to organise a school reunion
hi harry farrimond here anyone got dave wittles email address please regards. H.F
hi, if anyone in contact with Henry farrimond please send him my email. davidwhittle1@hotmail.co.uk. thanks