Photos of Wigan
Photos of Wigan
Album Contents
Album Contents
Wigan Album
St John The Baptist School, New Springs
8 Comments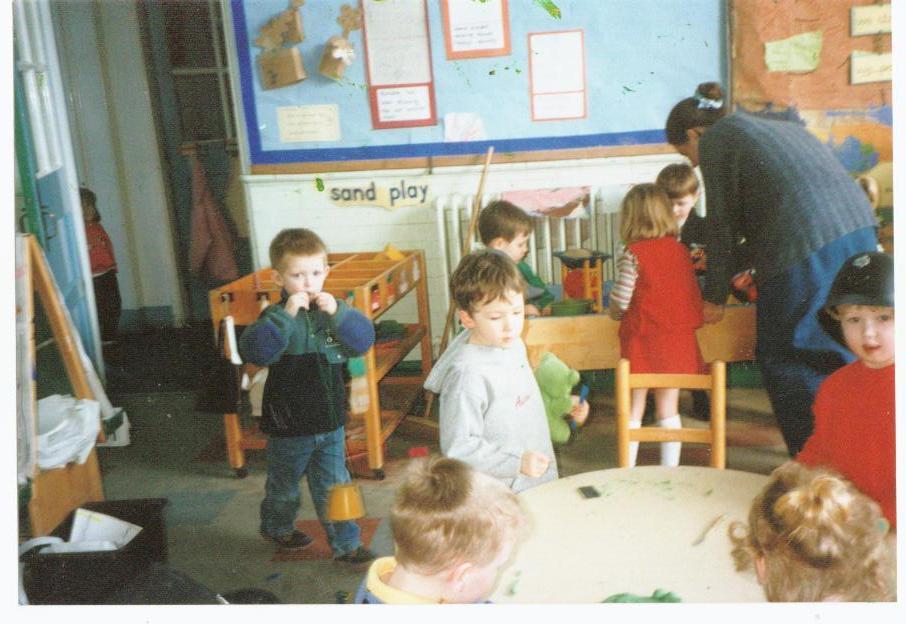 St John's Nursery 1995
Photo: Catherine Bolton
Views: 2,509
Item #: 12115
No dough left.....will they share?

The yellow bucket that Michael is carrying is one of a pair of stilts which you can see hanging up in one of the 1988 pictures of the nursery before the amalgamation with St John's. (Aspull New SPrings County Infant School)
We got our money's worth out of them!
Comment by: Star on 10th October 2009 at 14:00
There is a few to many photo's on the same subject ,st john's nursery.
Comment by: Catherine Bolton on 10th October 2009 at 21:31
Hi Star,
Yes I agree with you.
It would be great to see some more pictures of the infants and juniors and inside the buildings. Also some more really old ones.
There must be hundreds of photographs out there.
Anyway I was glad to share what I had. I'll be able to bin the originals next week.
Best wishes , Mrs B
Bin the originals? Nnnoooo!

Please consider saving them for future generations, I'll take them off your hands. email me for more info: brian@wiganworld.co.uk
I don't agree with Star!...this is a Wigan Album and I would hope any old pics are welcome.
I love seeing these pictures...keep them coming!
Comment by: marie on 11th October 2009 at 11:50
dont bin them i think what you should have done was put a few on and spaced them out over a few weeks
Comment by: dave on 11th October 2009 at 15:27
Cathrine keep em coming , obviously star didnt attend new springs infants . If you have any of of st. johns juniors am sure any ex pupils would really appreciate them!Thanks again for the nursery school photos
Comment by: dorothy on 11th October 2009 at 23:11
you havn't put enough on cath i havn't seen any of my children or grandchildren love looking at old photos
Comment by: Mrs B on 12th October 2009 at 07:17
Hi Dot, Nice to hear from you. If you remember we used to give all the photos to the parents and these are just some that were left when we closed.
We took lots when your three grandsons were there,not so many in earlier years, but they must have all gone home.
People seem to like looking at them so if you have any, why don't you put them on (dead easy!) or I will, no problem.
Are there any of your better half when he was there?
Was St John's also a senior school then?
Glad to put on any St John's pictures anyone wants to share with the world!
email cathy@mill-cottage.net