Photos of Wigan
Photos of Wigan
Album Contents
Album Contents
Wigan Album
HOLY FAMILY NEW SPRINGS
9 Comments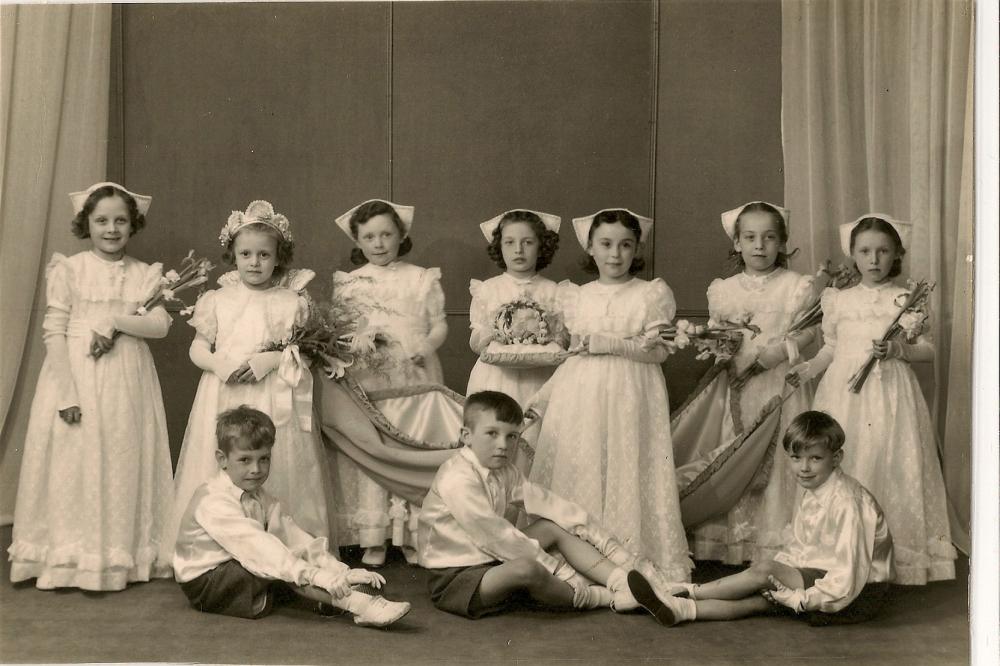 FIRST COMMUNION
Photo: ANN MCVEIGH NEE FELL
Views: 5,023
Item #: 11977
FIRST HOLY COMMUNION 1954
Comment by: rubyshoes on 1st October 2009 at 16:44
I think it may be the May crowning rather than first holy communion
Comment by: ann mcveigh nee fell on 1st October 2009 at 21:46
the first communion group was also the crowning group do i know you ruby
Yes Ann you are right crowning group was the communion group. My group were the year after.
Comment by: ann mcveigh nee fell on 12th November 2009 at 12:40
hi josie i thought i was right how are you doin not seen you for ages was sorry to hear your mum had died a lovely lady
Hi Ann this is how you can get in touch with me here in New Zealand - I remarried in 2002. If you want my address Teresa Dare nee Dillon has it. I presume you are still in Aspull!
Comment by: John Hankin on 7th July 2011 at 11:20
I think the girl scond from left is Kathleen Stokes nee Snailham. Kath lives on Wigan Road Whelley.
Comment by: bill on 25th August 2011 at 19:45
B/R L/R Ann Gaskel.Kathleen Snailham.Margaret Settle.Marie Dickinson.Ann Fell. Helen Pugh.Francis Power.the boys L/R.
Chris Birkett.Barry Battle. !Mahoney
Comment by: Bill on 25th August 2011 at 22:51
Just making a correction the boys name is not mahoney but Malone..Tony Malone had a sister named Doreen
I recognize my late cousin Margaret Settle (Arden)3rd from left.