Photos of Wigan
Photos of Wigan
Album Contents
Album Contents
Wigan Album
St Benedicts, Hindley
12 Comments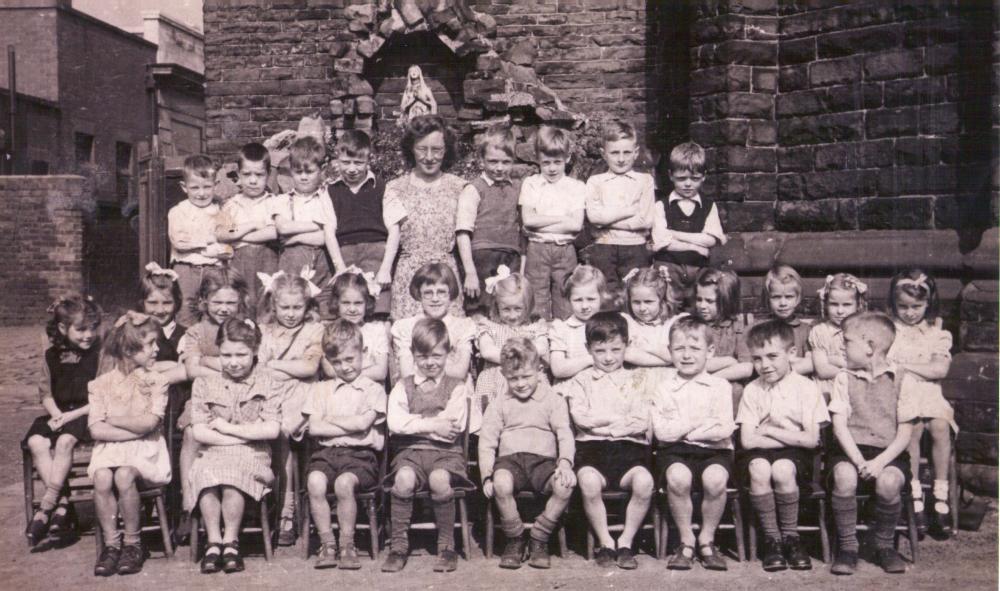 img021
Photo: harold churnside
Views: 4,473
Item #: 11837
taken about 1947? back row d o haloren,h churnside,w needham,j walsh, miss falleran? j richards,f massey,f toman,b harcourt,middle rowa roocroft,e conroy,p wyhatt,c bishton,m howe,v baines,k carroll,forgot,l marsh,h churton,forgot,m haggerty,front row,h atherton,m muldoon,t cawley,d prescott,b marsh,b coffey,r carter,c parker,e fitzgerald.
Comment by: marie greenall on 20th September 2009 at 22:03
brian marsh is my cousin he lives in scholes
Comment by: donna on 4th March 2010 at 04:11
brian marsh is my grandad awww so cute haha x
Comment by: derek conroy on 25th May 2010 at 22:03
EILEEN CONROY IS MY SISTER ROY CARTER WAS MY FRIEND I KNOW ALL THE KIDS IN THE PICTURE I AM NOW 72 YEARS OLD I WOULD LOVE TO HERE FROM ROY IF HE STILL AROUND .
Comment by: Phyllis Wyatt on 28th January 2011 at 10:41
I would love to have a reunion
marie greenall i am wondering did your cousin brian have relatives called joan kelly and lizzie kelly of gaskell street hindley thanks
Comment by: Marie greenall on 20th December 2011 at 18:09
Yes Louise Joan was my cousin my auntie Lizzies daughter3
HI MARIE THANKS FOR THAT MY MUM IS REALLY PLEASED
hi marie would it be ok if you could email thanks
louise
Comment by: marie on 9th January 2012 at 12:35
sorry Louise i dont have your e mail,look on people the Marsh family some old photos
I live in Notts now, so don't get the opportunity to see my former class mates.
Thankyou Irene Kelly for telling me about this web site,thanks to Harold Churnside for the photo.I agree with Phyliss Wyatt it would be great to have a reunion
hello louiseim jean brian marshs sister can youcontact melooking for cousins saunders and cross