Photos of Wigan
Photos of Wigan
Album Contents
Album Contents
Wigan Album
St John's C of E Pemberton
21 Comments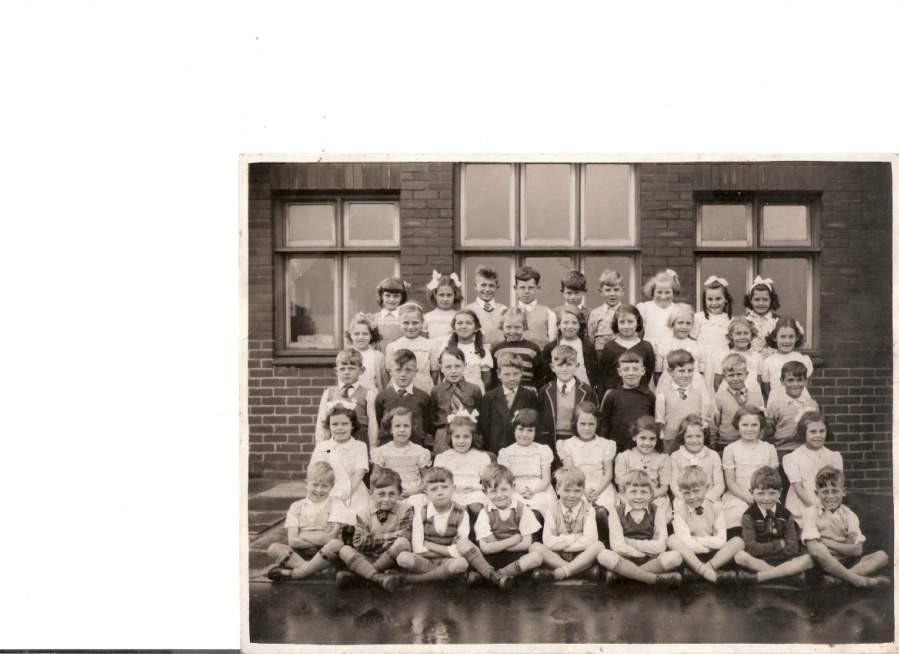 St Johns infants
Photo: Tom Cheetham
Views: 10,068
Item #: 11684
Photo taken around 1951.does anyone recognise anyone. Only know approx half of class.
Comment by: ttd on 3rd September 2009 at 10:35
Well done Tom put the names on we spoke about Sunday,
Comment by: Tom Cheetham on 3rd September 2009 at 13:12
Thanks alot Trev. Here goes -
Front row: Arnold Duckworth, Jimmy Roscoe, Graham Rigby, Kenny Walls, Derek Taylor, ?, ?, ?, Billy Wogan
2nd Row: ?, ?, Margorie Grundy, Anne Taylor, ?, Susan Hughes, ?, ?, Anne Bibby
Middle Row: ?, Eric Lyon, Cedric Lowe, David Heaton, Barry Ashcroft, John Conroy, Clive Meadows, ?, Norman Liptrot
4th Row: ?, (Eileen ?), ?, ?, May Murphy, ?, ?, Christine Coulshed, Anne Gore
Back Row: Margaret Abbot, Christine Finch, Myself, Derek Atherton, Bob Atherton, ?, Lillian Ellis, Jean Rigby, ?
Comment by: ttd on 3rd September 2009 at 14:48
Tom is that not John Casey 5th from left back row?
Comment by: Tom Cheetham on 3rd September 2009 at 15:50
I'm not sure Trev but I think he was one of the Atherton's Butchers family
Comment by: Dorothy Garlick(Holden) on 3rd September 2009 at 21:42
What a lovely photo, I joined the class shortly after it was taken.I think I can add one or two names.
2nd row Pat Cheetham,4th row ? Eileen Darbyshire, Rose Fisher sat after May Murphy,top row, Jean Garswood sat after Jean Rigby. Tom I remember you playing the cornet, and you and Arnold Duckworth used to sing at the christmas concerts at Pem Senior, what happy days.
Comment by: Tom on 5th September 2009 at 06:35
Pity your not on the photo Dorothy I cant remember you. It is a while since though.
2nd row first one Pat Heaton and nex to me Paulince Houghton' nice blast from the past thanks
first row left. Sheil Bowles and next to May Murphy is Rose cant rememeber last name may be Fisher then its Carol Smallshaw. Back row next to Jean Rigby think its Jean Garswood
Comment by: Tom on 27th September 2009 at 10:15
How,s it going Anne,not seen you in years.Is your brother Jim alright.I dont think ive seen him in 50 years.
Hi Tom from New Zealand and also Ann Bibby I remeber quite a few~~~~Front row 3rd from right Geoff Parkinson.2ndrow left end Pat Heaton,next to ann Pauline Haughton. 4th row 6th from right Eileen Kenyon,4th from right Rose Fisher,3rd from right Carol Smallshaw,1st from left Shelia Bowles,top row 5th from left John Casey. hopes this helps guys. regards and best wishes Jim in NZ.
Comment by: Tom on 29th September 2009 at 13:04
Hi Jim unbeleivable this, i send a comment to pem and one comes back from NZ.Talking to Dootsie the other week. Were both oap now.Hope your ok. Keep trying to get anything on our other house of education,no luck so far.Good luck mate. T.C.
Hi Tom give me your e/mail address and we can keep in touch. I to am nearing pension time as I suppose all the guys in the photo will be(where does the time go!!) I to have that same photo somewhere. Not planning to come back to wigan in the near future but would come back for a reunion if it was organised. do you still see Arnold Duckworth ?? Best Wishes Jim
Comment by: Tom on 1st October 2009 at 15:43
Hi again Jim. I havent seen Arnold since he was on Enfield St club, about 30 years since. I heard he went playing on cruise ships, but thats a while since now.Ime new to the internet not sure how to give you my email without telling the world. anyway good luck to wigan on sat. against the Saints
Hello Tom. You and me both not seen my brother for over 35 years last I heard he was living in county durham in a village called Crooke. Hope your ok. thanks for photo.
Billy Wogan is my brother my other brother Michael went to St Johns also
Comment by: Sandy mitchell on 3rd April 2013 at 19:23
Susan (miller) harrison. Fourth row 3rd from right. Susan now deceased was my sister
Comment by: Kenny Walls on 13th March 2014 at 11:29
My sister and her husband discovered the photograph. It is brilliant, Well done Tom. Best regards to all of my old school mates.
Comment by: Les Poulton on 10th August 2014 at 09:51
Just came across this lovely photo of past days. I am the first person on the left in the middle row - Leslie Poulton. Left Wigan at age of ten, finished schooling in Leeds, now living in Munich, Germany.
Comment by: Dave Crompton on 9th March 2015 at 22:36
Hi Tom, I was in your class for a while before I moved to Pem Primary,do you remember me ?
Clive Meadows, my brother is there in the middle with the blazer on.
Passed away in 1989