Photos of Wigan
Photos of Wigan
Album Contents
Album Contents
Wigan Album
St William's RC, Ince
29 Comments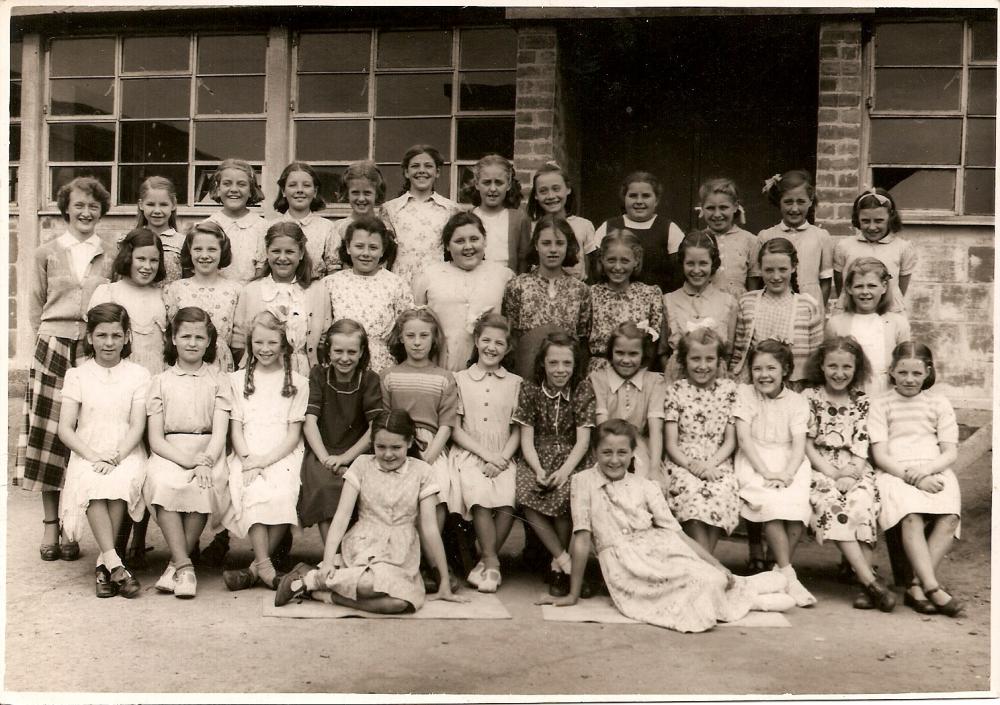 St. Williams Ince, Senior Girls, 1952-3?
Photo: Mary Andrews (Nee Nyland)
Views: 6,268
Item #: 11259
Class Photo 1952-3 Senior Girls
Comment by: Gerry on 21st July 2009 at 19:56
It must be outside Blackledges classroom up the steps from the girls playground are you related to the nyland twins aged about 56 now?
Comment by: Irene Roberts on 22nd July 2009 at 07:36
Thankyou so much for this photo.I am trying to get hold of photos taken near to my childhood home in Ince Green Lane.....we lived right next to St. Williams' School, and this building (it was two classrooms and the toilets)was just over our backyard wall. Some of my childhood friends attended St. Williams', and I seem to remember the teacher in one of these classrooms was a Mr. Rose. The caretaker was a Mr. Riley.Thanks for the memories.
Comment by: Gerry on 23rd July 2009 at 21:54
I remember being in Mr Roses class Irene, he later moved on to St Theresas in Wigan somewhere. this was just about the time they built the new canteen/hall just opposite these class rooms about 1961/62
Comment by: marie greenall on 23rd July 2009 at 22:10
i think brenda regan and monica marsh are on this photo
Comment by: Evelyn on 23rd July 2009 at 22:28
I recognise a few from my distant past.
Back row 2nd pupil from left Betty Dalton
2nd row from left (5th) Monica Marsh (8th) Teresa Webb (10th)Agnes Pemberton.
Bottom row(4th) from right Agnes Culshaw.
Girl sat on floor on right Sheila Doherty.
Comment by: irene roberts nee griffiths on 24th July 2009 at 08:50
Hi, Gerry, I thought the canteen building was there in the 50s; I was born in 52 and seem to remember it being there when I was very small. After school hours, we used to play in the covered entrances, (boys and girls used separate entrances).....we called them "the cabins". Hello again, Evelyn, I remember the Marsh girls, Monica and Irene. They lived just farther up Ince Green Lane than us. Don't the girls in this lovely photo have an innocence missing in children of the same age today? I'm glad I grew up then rather than now.
Comment by: irene roberts nee griffiths on 24th July 2009 at 11:17
Gerry, just realised you probably meant a new canteen to replace the one with the "cabins", although it still stood in 1964, but changes had started to be made by then to replace the old school buildings with new ones.
Comment by: Caroline Doherty on 24th July 2009 at 20:52
The teacher, Mary Andrews is my dad's sister-Tom Nyland
Comment by: Gerry on 25th July 2009 at 23:51
Irene I left St Bills in 1963 when I was 11 to go to the Cardy We had used the NEW canteen for about 12 months by then. I remember the cabins too, looked like nissan huts I cant remember where we ate while the new one was being built though. one of the chaps that worked on the new canteen promised me autographs of the stars of the day that he knew.. Miki and Griff Mario Lanza and Pearl carr and Teddy Johnson need less to say I am still waiting
Comment by: irene roberts nee griffiths on 26th July 2009 at 11:53
Have posted pics showing old canteen building still standing in 1971/72, although new building in use as canteen;(probably called "dining hall"by then though!)
Comment by: kathleen on 2nd October 2009 at 12:17
I am on the first row kathleen byrne
I am remembering lots of the names and faces.
Comment by: marie on 3rd October 2009 at 10:46
glad you found yourself kathleen i thought it was you
Comment by: kathleen on 3rd October 2009 at 21:04
hi marie I was pleased to find it. we never had a camera in those years, so I have very few of when I was younger.

I know a lot of their faces and I'm trying to put names to them.
Comment by: kathleen on 3rd October 2009 at 21:17
some of the names

M Mawsley, B Dalton, B Regan, K Kenyon, J Clark, K Byrne,
? culshaw, ? pemberton, M Carney, V Woods, I Rogers, M Wilkinson.
Comment by: marie on 4th October 2009 at 15:25
Comment by: josephine pennington nee beckett on 4th October 2009 at 18:45
hello kathleen. you gave some names on this pic one was m mawdsley do you know if its margaret if so i think she is my mothers cousin. also do you know if on the back row the girl third in from right is madeline beckett my sister.
Comment by: kathleen on 5th October 2009 at 19:41
Sorry josie I think madaline becket is the first one on the left as you look at the photo, I.m not sure yet which is m mawdsley I am waiting for a freind to come for a visit and will find more names then. it was a long time ago.
Comment by: josie pennington nee beckett on 6th October 2009 at 20:11
KATHLEEN. DO YOU MEAN THE GIRL FIRST LEFT ON BACK ROW IS MADELINE . ONLY I THOUGHT SHE WAS MARGARET MAWDSLEY? FUNNILY ENOUGH THEY ARE SECOND COUSINS AND MY SISTER PAT SAID THEY DID LOOK ALIKE AS CHILDREN. MADELINE LIVES IN AMERICA BUT WILL BE VISITING SOON SHE WILL PROBABLEY KNOW. THANKS FOR THAT KATHLEEN.
Comment by: kathleen on 7th October 2009 at 20:26
I think that is her Madaline she was very good at painting, I remember we had to paint a ship at sea, whitch I could not do Madaline did it for me, but I had already done my sky bit. the teacher Miss Dunn made me do the whole thing again, she knew madaline had finished it for me a I got in trouble for it.
Comment by: kathleen on 22nd October 2009 at 18:54
I have got some of the names
1 row
Madeline becket, Betty dalton, ? , ? .? .? .Kathryn alker, ? , Vera woods Margret mawdsley, ? ,Mary ? whittle.
middle row
Sheila owen, ? crooke,Teresa mills, Monica marsh, ? ,? ,? ,
Margaret wilkinson, Agnes pemberton,
front row
Marie carney, Brenda regan, ? ,?dutton, Kathleen kenyon, ? , kathleen byrne, Agnes culshaw, Irene rodgers, ?,?,
on the floor
?,?,
Comment by: kathleen on 22nd October 2009 at 19:38
Sorry I missed out Joan clarke between Kathleen kenyon and kathleen byrne.
Comment by: marie on 22nd October 2009 at 21:00
bet youv printed this picture off Kathleen i printed it for Brenda Regan she was made up
Comment by: kathleen on 22nd October 2009 at 21:24
Marie. Yes I have, I was so pleased to find it and I would like to say a BIG thank you to Miss Nyland for giving me the chance to see it
in photo 1952-3 st williams this is me pat owen not my sister sheila i have remembered allthe names
hi everyone i found my mum straight away brenda regan i am her double ha ha.
Comment by: josie on 16th November 2012 at 01:15
the girl on back row left is not my sister madeline beckett ,its her second cousin margaret mawdsley but i cant see my sister on this photo.
Does anyone know if the girl on the front right row second to end is
Mary Chippendale?
Comment by: kathleen on 5th July 2014 at 22:06
yes that is m chippindale sitting next to ileen rogers.
Comment by: Kathleen Atherton on 10th December 2015 at 14:33
Im 6th from the left on the first row sat down... I was Kathleen Anglesea, my grandson printed this photo for me, fantastic memories. Does anyone else have any other photos of this class?