Photos of Wigan
Photos of Wigan
Album Contents
Album Contents
Wigan Album
Aspull Methodist
11 Comments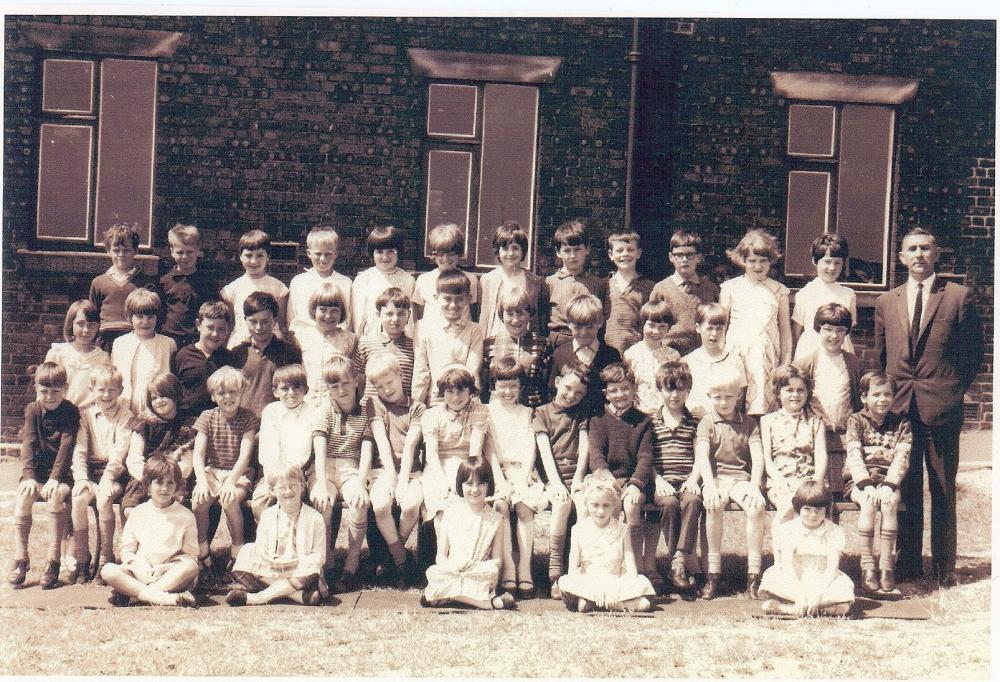 Aspull Methodist
Photo: David Barker
Views: 7,558
Item #: 11145
Aspull Methodist group photograph with headmaster Mr Porter.
Approx year 1964.
Comments welcome.
Comment by: David Barker on 26th July 2009 at 15:37
Found a list of names for you .BACK ROW L/R Keith Horrocks,Paul Buckley,Carol Bailey,Derrick Heaton,Glenda Silcock,Heather Hamilton,Karen Whittle,Derrick Creed,Roy Jones,Chris Churchill,Brenda Acton,Sheila Wilkinson..MID ROW L/R Lesley Hill,Janet Kaye,Gary Silcock,Roy Jolly,Janet Whitter,Christipher Glover,Lenard Deakin,Lynne Martland,David Pearson,Susan Hill,Joan Whittle,Gwenyth Jones,...FRONT ROW L/R Robert Hindley,Phillip Mercer,Lynne Cooper,Phillip Rooke,Ian Wills,Derrick Butterworth,Brendan Haddock,Pauline Burgess,Angela Mason,Kenneth Mason,David Barker,Ian Crossland,Geffory Haddock,Shirley Bibby,David Seddon, AT THE VERY FRONT...L/R Adele Green,Margaret Fowles,Gillian Deakin,Susan Bird,Carol Burgess,And not forgetting Mr Porter...Enjoy the photo brings back a few memorys doesn't it just.
Sixth from the left of the back row is my neice Heather Hamilton (now deceased) great girl always a smile.Sadly missed by all.
David Barker, are you related to Harold Barker? I worked at Dairy Pit when Harold worked there.
Comment by: David Barker on 23rd February 2010 at 17:51
Yes Ken i'm Harolds son,theres a photo of my dad in the WORKS section ,at the Dairy Pit you may have seen it.
Thanks David, yes I have seen that photo at Dairy Pit. Could you give me a shout at kenroo@rogers.com for a bit of a chat.
Thanks Ken Roocroft.
Comment by: David Barker on 19th July 2011 at 14:39
Hi William the photo was taken at back of the school on the playing field,about 1964 approx.
Comment by: Phil mercer on 15th October 2011 at 21:48
Thanks David there were four I couldn't get but you've cleared them up for me now.
Comment by: David Barker on 18th October 2011 at 22:39
Bet that takes you back Phil lol.
Hi I'm Lyn Cooper's niece. Just to leave a short message to say that sadly Lyn died in February 2010 suddenly suffering a heart attack. But I do know she would have been laughing out loud at her self on here.
Comment by: linda rutter ne hulme on 4th October 2012 at 21:01
the boy on seconed row fith in is my nephew Gary Wills i will Email this photo to him then he may get in touch