Photos of Wigan
Photos of Wigan
Album Contents
Album Contents
Wigan Album
Argyle Street Council School
17 Comments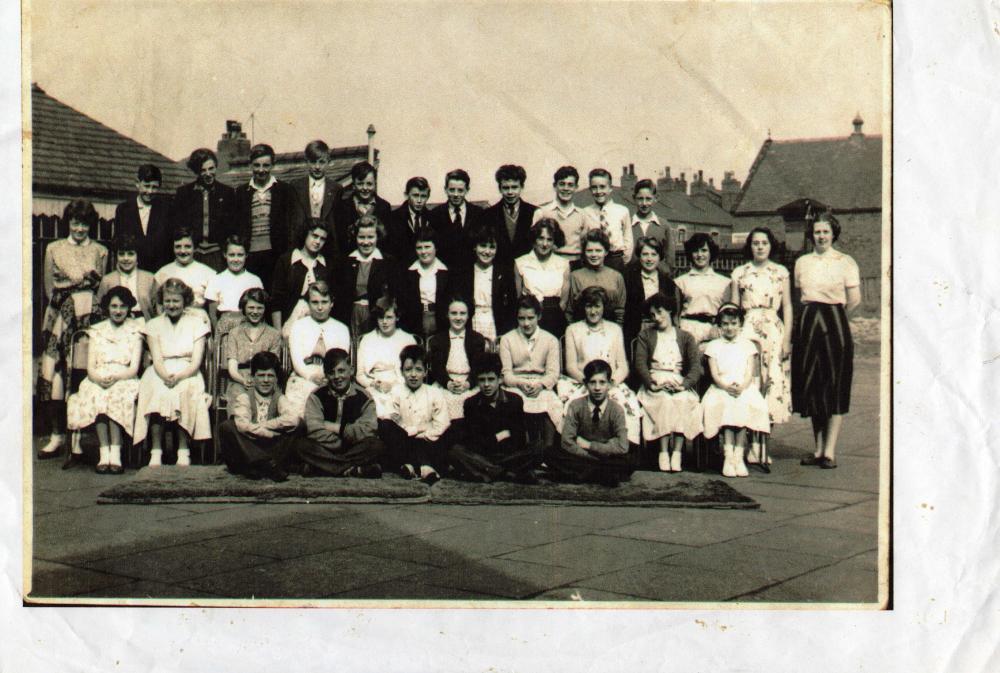 Argyle Street School about 1956
Photo: Ruth Platt
Views: 10,068
Item #: 10704
Names I remember are;

back row
Derek Cunliffe, Frank Hilton, Derek Worthington, Dennis Keighly.

middle row
Pamela Massey, Margaret Dyson, Glenys Hall, Marion ?, Kathleen Wilcock, Florence Betley, Lorraine Taylor, Ruth Platt, Valerie Speakman, Linda Howarth, Dorothy Bithel, Vera Smith.

Front Row
Kathleen Stott, Winifred ?. Iris Wright, Iris Waterworth.

Sat down
Alan Leigh.

Perhaps someone out there can remember more names, I hope so.

Comment by: Henry7 on 17th May 2009 at 19:37
I think his surname was Corbett, can't remember his first name.
Derek Worthington in this photo did he live at alder farm close lane hindley
Can anyone remember the teachers name. Second girl from the left sat down is Barbara Starkie.
Comment by: Derrick Cunliffe Second LeftBack Row 170111 on 17th January 2011 at 20:20
FrontRow. Left To Right. Kathleen Stott. Barbara Starkie.
Winifred Grant. Sandra Wood. Doreen Hewitt. Iris Wright.
Maureen Waterfield. Kathleen Ashton.Iris Waterworth. Barbara
Alker.Sitting Down Left To Right David Evans. William Fairhurst. Alan Leigh. Gordon Morris. Brian Rothwell.
Comment by: Derrick Cunliffe 18 02 11 on 18th January 2011 at 11:56
Back Row L/R Ronald Talbot.Derrick Cunliffe.Jim Corbett.
Frank Hilton.Ian Yates.Jack Davies.Roy Mather.Derek Withington.Denis Keighley Alan Jones Walter Hill Middle Row
Comment by: Derrick Cunliffe 180111 on 18th January 2011 at 12:29
M/row.L/R Pamela Massey.Margaret Dyson.Glenis Hall Marion
Westhead.Kathleen Willcox.Florence Betley.Luvaine Taylor.
Ruth Platt.Valerie Speakman.Linda Howarth. Dorothy Bithell.
Vera Smith.Brenda Hayes. The Teacher is Mrs Ross
Comment by: Alan Ashton on 11th August 2013 at 16:31
Third from right 2nd row is my BIG sister Kathleen Ashton Sill living in Hindley Green
I think this photo was taken prior to 1956. I was there from Sept 1955 to end of summer 1957. i.e. all of 1956. A lot of the pupils pictured were in my class but not all. Some pupils would have been moved to different classes ( A B C etc. ) as each new term intake moved in. These new pupils would come from : Argyle St. juniors St. Peters juniors and All Saints juniors (that's me !) Many of my classmates left in 1957 having passed exams for Horwich technical college (boys only) or Leigh technical college (that's me again) (boys and girls) I still have my school photograph taken in exactly the same spot as this one, I think photographs were taken towards the end of the summer term so mine is either 1956 or 1957 ( I think 57 ) Unfortunately I have not got a clue how to submit this picture on line !!! In my day it were all clockwork and steam !
Comment by: Derrick Cunliffe on 29th December 2015 at 11:16
Mike I am sorry but there is way you were in this class or
this year It was me who put names to all these faces,I don't
know your name the Only Featherstone I Know was Harry sorry
D. C.
Derek you are right I was not in this class or the photograph, that is why I know it is pre 1956. However by then I was at Argyle Street and the class that I was in had a lot of the pupils pictured in this photo. My school photograph pictures them to be a couple of years older. In conclusion I did join your year, with others, at a later date but by then pupils had moved between classes as I explained earlier.
Lets fast forward this class to 1956 and add more names : Michael Featherstone, Brian Pilkington, Alan Brown, Alan Picton, Frank Parr, William Cowburn, Michael Aspinall, William Brett, Marleen Pendlebury, Anne Eckersley, Barbara Sproston, Jean Ashhurst, Cheryl Eckersley. The teacher then was Miss Dorking although she got married whilst I was there and changed her name. Looking at my class photograph Derrick I think you are in it and I am stood right behind you !! I do not remember you either but can anyone name all their classmates from 60 years ago?
I have just found out that Argyle Street also took pupils from Castle Hill school Barbara Sproston and Betty Farrimond came from there, these two were in my class. Happy new year to all mike.
Comment by: Derrick Cunliffe on 1st January 2016 at 14:57
Michael. All the people you have mentioned except you I can
remember the year was the year after our photo I hope this
puts you right thanks. D.C.
Comment by: kathleen coventry nee ashton on 7th March 2016 at 15:49
i am on the class photo as said 3rd one sat down like derrick said iremember all names on the photo but the oones you mention mike none of them on i do think its 1956 our last year at school and that was when mrs ross came she was our form teacher and maths she also played piano in assembley happy days x
Thank you for the lovely photos. My mum Dorothy Halsall went to Argyle Street. She was born in 1946 and lived in George Street Hindley.
She is looking for school pictures and also a photo of Miss Lleweylin. Does anyone have any?
Thank you
C