Photos of Wigan
Photos of Wigan
Album Contents
Album Contents
Wigan Album
Whelley Secondary School
17 Comments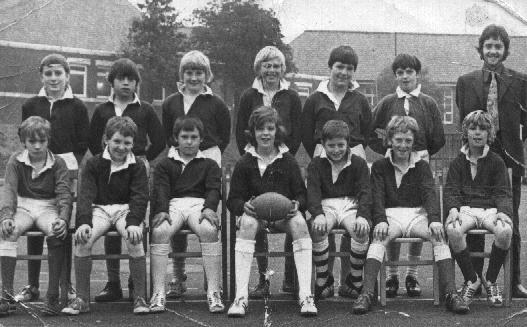 whelly middle school rl team
Photo: jeff taylor
Views: 8,733
Item #: 10577
rugby team from 1970-71(i think)
from top left to right stuart smart vaugn crooks paul senior kieth melling jeff puckering paul appleton teacher derek birchall
bottom row from left terry ? dennis slater carl anders stephen evens(evy)stephen evens(joey) me ste baron
Comment by: malc holland on 23rd April 2009 at 23:09
Derek Birchall with hair! That photo must be early 1950's?
Comment by: vicky(taylor) on 24th April 2009 at 10:31
crikey jeff..brill pic hate to say it but ..How much do i look like you lol
I was at College with Derek Birchall. He was a very fine rugby player. It isn't the hair that surprises me (I knew him 40 years ago) but the fact he's wearing a tie! I also ended up in teaching (it was after all a Teacher's Training College) and retired 2 years ago after 40 years at the "chalk face". Where is Derek now I wonder.
Comment by: malc holland on 24th April 2009 at 16:41
Derek? Enjoying retirement (and Sams Bar!)
Comment by: Keith Bowen on 24th April 2009 at 18:25
Thanks for that Malc. When I knew Derek he was built like a whippet and just as quick.
Comment by: jeff taylor on 24th April 2009 at 20:14
terrys surname is hammond sorry terry but it as been a while
Comment by: Jean J on 24th April 2009 at 23:29
And us girls had a right crush on Mr Birchall. It was hard to concentrate. Ha.
Comment by: paul cross on 27th April 2009 at 14:50
Ste Baron's skin is still grey today just like the photo!
Comment by: marie rowe (nee baron) on 27th April 2009 at 15:56
hey thats my dad your talking about lol. very interesting seeing this picture as ive never seen one of my dad so young,he looks better now than he did back then
Comment by: roy sturgeon on 6th July 2009 at 14:37
by the crin jeff you are spitting image of your norman when i used to mate with him
only just seen the picture now.bloody hell i was only ten then.those were the days
Comment by: carole shambley ne smith on 26th January 2010 at 17:01
o my god i remember all u lads u all thought u wer really cool back then lol the good old days
Comment by: Ian Leatherbarrow on 19th July 2010 at 12:44
What were the shirt colours then? When I was at Whelley Middle in the early-mid 70's the school team wore cherry and white hoops (as per the RL side of the time). I remember Mr Birchall, and wasn't his wife the music teacher? In fact Mr Birchall gave me my first taste of playing rugby in my last ever games session - I'd always steered clear, preferring football, but thought I'd give it a go. I loved it, but when I went on to Mesnes High they played Union so I continued my rugby career in the 15 a side code, subsequently playing club rugby until retiring this year aged 47!
Geoff Puckering is my cousin and now lives in Canada. He has three sisters and his mum and dad still live in Scholes. Geoff makes regular visits home.
Comment by: thomas anglesea on 9th October 2012 at 18:41
sad to say domloition starts on 1 dec.2012 to make way for new homes.sorry to see it go.
Comment by: paul senior on 27th July 2015 at 21:44
just seen this pic, remember it being taken by tom simm
still see some of the lads in town, from time to time.