Photos of Wigan
Photos of Wigan
Album Contents
Album Contents
Wigan Album
Sacred Heart School, Springfield
27 Comments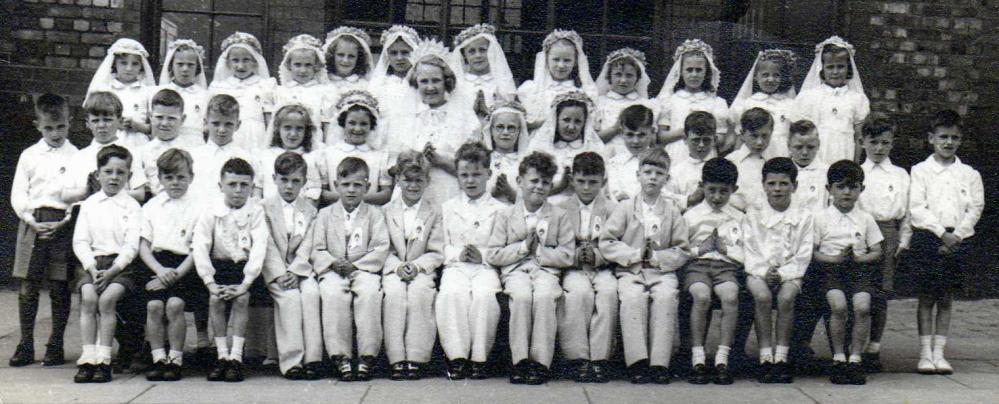 Sacred Heart School
Photo: Jack Cheers
Views: 8,719
Item #: 10576
1St communion group 1949
Comment by: Orrellite on 23rd April 2009 at 22:14
Back Row Frances Barker,Marjorie Dainty,Anne Healy,Veronica Taylor,?,?,Jean Fairhurst, Frances Molineux, Monica Crook,Christine Pill, Pauline Edgar,Monica Tyrer.
Middle Row frank Ashcroft, frank Forshaw,?, Les Golding, Anne Butler,Patricia Press,?, jaqueline Heart,?, Vincent Brown, Frank walsh, Fred Wright, Terry O'Neil,Tony Gore,Peter Seddon.
Front Row Eddie Green,Ken Dean, Francis Barker,John Woods,Charles Tickle,Peter Butler,Jack Cheers,Brian Worswick,Gerard Heart, Clive Harrison,Colin Brown,Terry O'Brien, Geoffrey Finan.
Please4 feel free to correct any mistakes either wrong names or spelling.
Comment by: Art on 23rd April 2009 at 22:45
Ahh! '49, the year I escaped from Conk Kennedy's grasp to Gidlow..;o)
Comment by: Frank Healy on 24th April 2009 at 09:20
I think it might be Barry O'Brien
Comment by: Orrellite on 24th April 2009 at 12:27
quite right thanks for the correction.Are you able to name any of the missing ones,the name Wilson seems to come to mind for the sixth along back row ?
Comment by: Frank Healy on 27th April 2009 at 08:18
I'll contact my sister Ann to see if she can help
Comment by: Orrellite on 27th April 2009 at 14:47
Thanks. you may recall some of the teachers in those days namely: 2 nuns? Miss Marshall who's class this was, Miss Padgett, Miss Veasey,Miss Magee, Miss Carey, Mr Mannion , Miss Prior ( then Mrs Moran, Mr Larkin, Headmaster Kennnedy.
Comment by: Frank Healy on 27th April 2009 at 16:09
I remember them all and Miss Phillips and Mr (Jem?) Moran. Miss Marshall? The very name makes me shiver; she used to terrify me. Did she have the same effect on anybody else I wonder?
Comment by: orrellite on 27th April 2009 at 19:59
Miss Marshall, anyone who say's that they were not terrified is lying, What added to her aura was that her classroom was down in the cellar area.
Comment by: tony j on 27th April 2009 at 20:01
yes, i remember miss phillips frank, used to frighten the life out of us !!!
Comment by: Frank Healy on 28th April 2009 at 10:29
Hi Tony. Yes, Miss Phillips was another who used to terrify me/us although there were occasions when she was almost human :0)

I agree with you Orrellite about the cellar/classroom adding to Miss Marshall's aura. From what I can remember, you had to go down the steps at the side of the school, along the "backs" to a door at the top of Kimberley St, down a couple of steps into a sort of ante-room, then down another 5 or 6 steps into the actual classroom itself and, if that wasn't bad enough, there waiting for you was Miss Marshall herself (I feel a shiver coming on)
Comment by: Frank Healy on 28th April 2009 at 13:42
Feedback from my sister Ann.

BACK-ROW 5th from left (1st ?) is Pauline Crossland.
6th from left (2nd ?)- knows the face but not the name.
MIDDLE-ROW John Forshaw not Frank Forshaw.
3rd from left (1st ?)- again knows the face but not the name.
2nd ? (tall girl)- doesn't know.
3rd ? (between Jacqueline Hart & Vincent Brown)is Jean McLoughlin.
Extreme Right is not Peter Seddon, possibly Peter Butler.
FRONT-ROW Definitely Peter Seddon not Peter Butler.

Frances Barker and Francis Barker are twins.

The only other one I feel able to query is Colin (?) Brown
Comment by: Orrellite on 28th April 2009 at 15:20
Frank, as leader of the long trouser team (crowning group) Peter Seddon was not with us,I knew Peter well at the time and also his elder brother Maurice,John Forshaw was two years older than us and was my walking partner to Grammar school Frank is the one in the picture. Funny how some names completely escape as with Jean Mc. Miss Phillips there's a name eo conjure with.
Comment by: Frank Healy on 28th April 2009 at 16:26
I'll give my sister a ticking off :0)
Comment by: Pauline Oliver nee Edgar on 30th April 2009 at 22:44
5th from left is Pauline Croston. 6th from right is Betty Wilsonon the back row. On the front row 3rd from right is John Grimes
Comment by: orrellitte on 1st May 2009 at 06:34
Thanks Pauline that only leaves two to go,3rd and 3rd and 7th middle row.
Comment by: Frank Healy on 1st May 2009 at 08:51
:0) My sister didn't do too well really. David, it might be better if we don't tell her :0)
Orrellite! Are we (my B-I-L and I) right in assuming that you are Jack Cheers?
Comment by: orrellite on 1st May 2009 at 13:26
Frank, there are no prizes but for confirmation look in PHOTO, ALBUM, WORK, MINING, and latest mines rescue photograph. Just out of some interest you might read my comments on the earlier photograph of the fire team and the story of my grandfather.
Comment by: Frank Healy on 1st May 2009 at 15:41
Hi Jack. I'd seen the photo and read your comments: know what you mean. In those days pit tragedies were alarmingly frequent; a lot of Authority (what nice people they must have been) seemed to view mining deaths as being "part and parcel" of the job.
Comment by: Frank Healy on 8th May 2009 at 09:17
Hi Jack, have you ever looked at the Sacred Heart Youth Club photo in the Assorted section?
What a lovely picture. Haven't seen this one before, but I remember the occassion well. Need to correct my name Patricia Prestt not press. Would love to hear from anyone who remembers me.
Where have the years gone?, now in retirement and still enjoying life.
Comment by: Orrellite on 11th September 2009 at 12:18
Pat so sorry about the spelling in my original posting I do remember you by name as I did with most in the photograph.
Glad to hear you are well and enjoying life.
Kind regards Jack
Comment by: Pauline Oliver nee Edgar on 23rd December 2009 at 19:51
Hello to Pat Tate nee Prestt, Hope you are well Pat, was talking to Christine Pill this week, she was telling me about your weekend away. Hope you had a good time.
Hello Pauline Morris nee Edgar,what a nice suprise. I am very well thanks. we had good hol. spending a lot of time painting,flower club also takes up lots time but love it.
I usually see Christine there. you should try it its great.
Comment by: Pauline Oliver (nee Edgar) on 8th March 2010 at 20:12
message for Pat Tate, I also do watercolour painting,crown green bowls and golf at Gathurst also enjoy retirement.
Front row, second from left, that looks like my dad, Eddie Gallagher, is it not him?
thats my hubby frank walsh middle row 5th from the right isn't he qute with his glasses on ,my youngest granson our Daniel hes 7 yrs old now looks just like him there.
Told about this picture by my brother Bernard, who also attended Sacred Heart but in the war years.

I was at Sacred Heart Infants in the late 1940s and made my first communion there in 1949. In Dec 1949 our family moved to Norley Hall and I attended St Cuthberts.

In May 1950 a girl named Joan Barnes joined me at St Cuthberts - she had been in my previous class at Sacred Heart.

We both therefore must be on this picture - but I cannot pick either of us out.

The only named person in the picture I recognise is Geof Finan.

I remember Miss Marshall being the teacher in the cellar classroom, my brother tells me this is the place where the gas masks were given out early in the war.

Hope this helps.