Photos of Wigan
Photos of Wigan
Album Contents
Album Contents
Wigan Album
St Paul's, Goose Green
9 Comments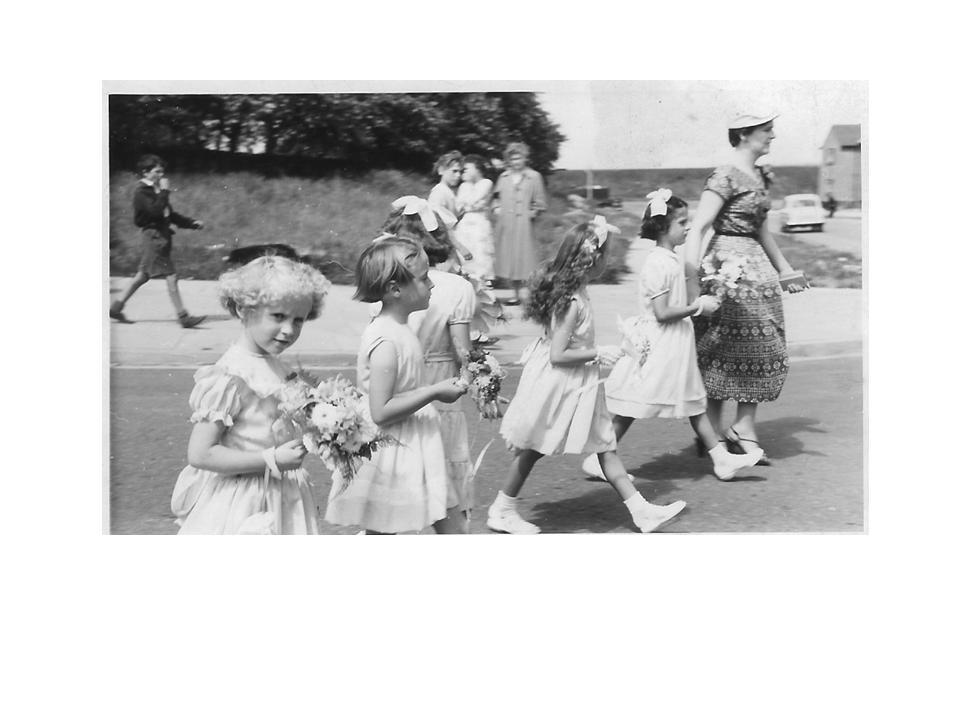 Walking Day late 1950's
Photo: Carole Walker (nee Fairhurst)
Views: 2,205
Item #: 9975
I am on the left and next to me is Susan Keight who was my best friend, I think the girl at the other end a Speakman
I seem to think the speakman girl is Irene, She looks like the one I knew.
Comment by: Carole Walker on 23rd March 2009 at 11:39
Yes, could be Sis, where did they live?
Carole you know my memory?? Anyway I think she lived down near Auntie Mary when she was in Bentinck St.Goose Green.
Comment by: Carole Walker on 26th March 2009 at 09:01
Could be, I will have to check it out with Barbara next time I contact them, or may be Jimmy will know when I see him aboutd the family history. Let you know x
P.S. I have that pic of you and Sandra Kay jumping off a sand dune at Talacre but not sure where to post it. I will let you know and hope she sees it, unless I put a message under the St John's Ambulance pic she replied under.
Comment by: Janet Green on 6th April 2009 at 19:56
pleased to see the photo. Susan Keight is my cousin
Comment by: Carole Walker on 8th April 2009 at 08:30
Hi Janet, did you live in Goose Green, do I know you? How is Susan, June and their family? I haven't seen them since soon after leaving school.
Comment by: Janet Green on 10th April 2009 at 19:23
Hi Carole,
I lived in Clapgate Lane opposite the big school gates. i have an older brother Robert. Susan now lives in York and I visit her at least once a year. i see june and her family more often.
Comment by: Carole Walker on 21st April 2009 at 13:02
Hi Janet, I remember the Charnocks in that row opposite the gates and sorry to say I can't remember anyone else along there although one or two of the gardens backed on to a bit of land we rented at the bottom of Arthur Street were we lived. We called it 'the pen', it was walled and fenced, we shared it with the Cunliffe family in our row, they and us had a garage on there and a bit of land each which was wonderful when you only had a back yard. My Mum would carry the washing down there to hang it out.I remember being upset one day when my Dad sent me up to the house to ask Mum for some 'elbow grease' for the car! I was only about 7 but even then I felt so silly. It was all a wonderful time of life. I used to call for Susan and if their front door was open I would shout inside 'Susan's Mummy, is Susan in?' I couldn't figure out it would be Mrs. Keight. Our children may have more material things than we ever had but sorry to say they will never experience the free, safe and happy times we had.
Best regards
Carole
P.S. Remember me to Susan when you see her next and ask her if she remembers getting her foot trapped in our couch one dinner time, we had been jumping up and down on it when no one was in. I ran down to her Auntie Annie's (would that be your Auntie too) at the bottom of our street for help knowing we would get into trouble but Susan managed to escape before I had to give all the details to Auntie :0)
Comment by: Janet Green on 14th May 2009 at 20:30
Hi Carole,

I'll ask Susan about it when I see her. The auntie in question would have been my auntie as well, but we didn't have an Auntie Annie, it was probably Auntie Margaret. Our Auntie Nellie lived in the same street, as well.