Photos of Wigan
Photos of Wigan
Album Contents
Album Contents
Wigan Album
North Ashton Holy Trinity
7 Comments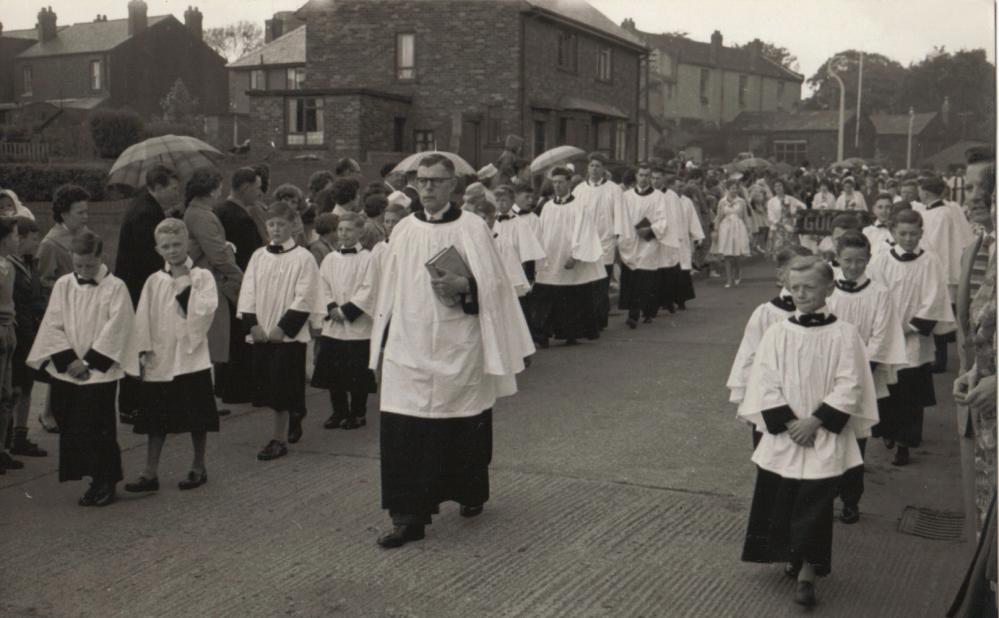 Holy Trinity Church Choir at Walking Day
Photo: Eric Winstanley
Views: 1,940
Item #: 9856
Not sure what year, but do we have any names?
Comment by: Sue Atkins nee Atherton on 13th March 2009 at 23:24
Everyone will know Harry Lowe but could the lads in the left hand line be - 2nd Colin Allsopp, 3rd Peter Fearnley, both of these should have ? to them because I'm not too sure, maybe someone else can confirm.
Comment by: Sue Atkins nee Atherton on 13th March 2009 at 23:30
Thinking about it not Peter Fearnley but maybe Peter Ashley??
Comment by: Eric Winstanley on 14th March 2009 at 11:40
Sue,
Yes it's Colin Alsopp, Petwer Ashley, George Smith and I think it's Robin Hughes behind Mr. Lowe.
On the right it's Me, 3rd in line David Tattum followed by Derek Foster and in the background is Barry Houghton.
Some of the men are big George Harrison and Frank Lowe.
The first on the left may be Jeff Walker?
Comment by: Sue Atkins nee Atherton on 14th March 2009 at 21:21
Yes Eric I recognised you straight away, Derek Foster is one I knew but couldn't put a name to. I think you're right about it being Robin Hughes. Looks like it was a bit rainy if the brollies are anything to go by.
Comment by: Lyndon Crompton on 16th March 2009 at 19:23
Hi Eric, It's been a long time since train spotting on "Spinny Bridge" hope you are well. The lad in front of Dek. Foster is David Tattum from Hawthorn Ave.
Comment by: Eric Winstanley on 17th March 2009 at 08:34
Hi Lyn,
It sure is. Everytime I take my grandson for a walk he wants me to lift him up onto the bridge to see if there's a train coming.
There's many a time we've been playing on the Green, heard a train at Garswood station and then stormed off down Spindle Hillock, to try and spot it at the bridge.
Great times.
I hope all is well with you and family, not seen Ian for a long time now.
Where are you?
By the way, any help in terms of supplying old photos for the Reunion, would be appreciated.
Eric, I still live in the Wigan area as does our Ian. What's this about a reunion? All the photos. I have of Rectory School are posted on this site but you are welcome to any if needed. Let me know by e-mail.