Photos of Wigan
Photos of Wigan
Album Contents
Album Contents
Wigan Album
North Ashton Holy Trinity
8 Comments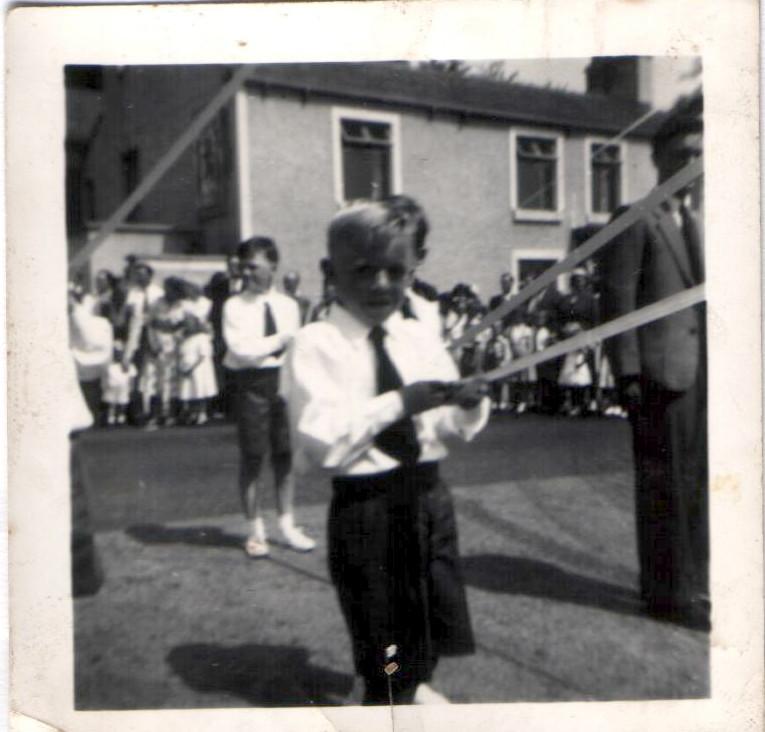 Jelly Sunday - about 1957/8
Photo: Sue Atkins (nee Atherton)
Views: 2,305
Item #: 9647
Yet another Jelly Sunday Photo, this shows my brother Brent I think around 1957/8(?) taken very soon after the walk had started. This is just in Elm Ave with the Blue Bell in the background. Notice how many people watched, they came from all over to see this walking day. What a total difference to todays Trinity Sunday.
Comment by: Sue Atkins (nee Atherton) on 28th February 2009 at 22:54
Looking at Janice's recent photo in Booths Brow Road it looks like our two photos could have been taken on the same day, I just noticed Bob Frodsham in the same place on this photo as the other.
Comment by: Dave Lewis on 1st March 2009 at 02:51
Nice one sue, i wasn't born then but lived in elm ave for a long time, nice to see the old bluebell in back ground, thanks for sharing.
Comment by: Kath Nicholson nee Roberts on 1st March 2009 at 12:39
Great photo Sue, how cute does your Brent look?!! lol what great memories, it was always sunny weather too wasn't it? thanks for sharing x
Comment by: Mark Calter on 1st March 2009 at 15:30
Sue
Brents wife Joan use to baby sit for us in the late 60s and my brother use to play in the same team as Brent before they emigrated.
Jelly sunday was always looked forward to, the reason being for the spread Aunty Annie Sutton put on in Ceder Grove ,we be eating while you were walking
Comment by: keith pennington on 1st March 2009 at 18:59
small world Mark,Kath and glenda roberts where friends of Dave and me,
Comment by: ste lomax on 2nd March 2009 at 08:18
thats you call a white shirt,sue.lol
Comment by: Sue Atkins nee Atherton on 2nd March 2009 at 19:04
Oh yes Ste! And all in their Annie Deeks pumps lol!
Comment by: Sue Atkins nee Atherton on 2nd March 2009 at 22:09
Mark, I remember our Brent playing footy with your Francis (wasn't it?) Sadly Joan passed away 9 years ago and is still so sadly missed.