Photos of Wigan
Photos of Wigan
Album Contents
Album Contents
Wigan Album
St Nathaniel's, Platt Bridge
7 Comments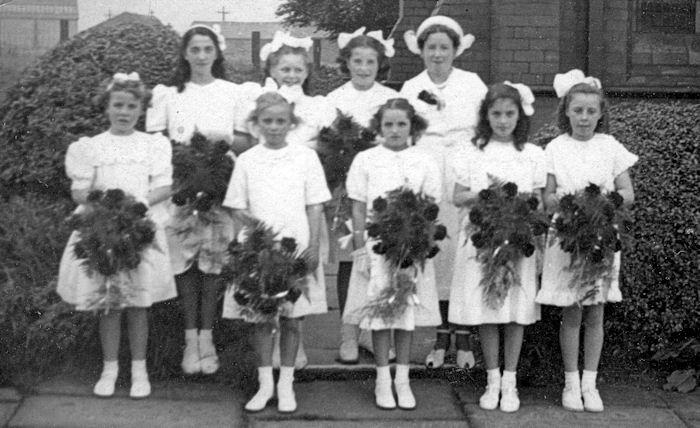 Walking day
Photo: Thomas Sutch
Views: 4,198
Item #: 9309
St Nathaniels, Platt Bridge, early 1950's. Kathleen Sutch, back row left, and her sister Jean front row second right.
Comment by: sylvia marsh on 4th March 2009 at 21:23
Barabara Jolley is 2nd left,back row.Edna Walker 2nd left front row. I am on the end front row next to Jean.
Comment by: margaret grundy on 10th March 2009 at 22:30
Hello Sylvia Marsh. I guessed right, I thought that was you.
Thats me next to Barbara Jolley (Margaret Sharratt)
Hi Margaret, How are you? It was great to see your comment,I haven't been on the PC for ages.Are you still living around Wigan? The girl at the other end of the front line was her name Jean Such as well?
Regards, Sylvia Clifford(Marsh)
Hi Sylvia, Lovely to hear from you. The girl the other end from you was Jean Smith. Remember, she lived up Liverpool Rd., towards Hindley. I live in Abram now. Where do you live?
Margaret
Comment by: sylvia clifford on 31st May 2009 at 21:49
Hello Margaret, Now I remember Jean Smith,knew the face but couldn't put a name to it. I have lived in Cornwall since 1990,I love it.Hope you are well and enjoying this lovely weather. Regards Sylvia
Comment by: Leslie hart on 7th October 2010 at 10:19
hello sylvia i avent seen u for over 3o yrs how u goin on last time i herd you ad apub in stoke hows yr harry getin on not seen him since 1966 i love to get in touch we him again do u no wer e living u can ask him 2 ring me my No 07745302426 are u still wi don not seen him over 30 yrs 2 enyway i hope u can let yr harry no thanking yours LES HART
WOW-Platt Bridge gorgeous girls-early 1950s--i remember Kathy and Jean Sutch from Foggs Fold--Barbara Jolley from Sydney St--Margaret Sharratt from Collinge St--Jean Smith from Liverpool Rd--Edna Walker from Adelaide St--Sylvia Marsh from Davis St--the middle one in the front row i recognise the face but cannot put a name to it--dont know the lady but could be a relative to Margaret Sharratt--great to see YES