Photos of Wigan
Photos of Wigan
Album Contents
Album Contents
Wigan Album
St Nathaniel's, Platt Bridge
10 Comments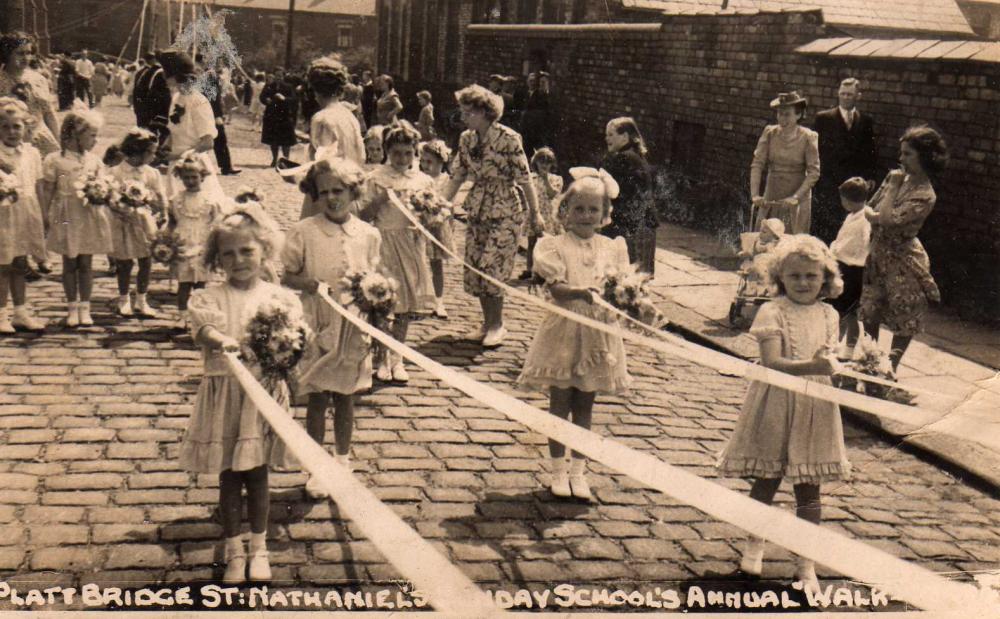 St Nathaniels walking day platt bridge
Photo: Beverley Johnson
Views: 3,255
Item #: 8959
circa 1948/9. My mum Mavis Pennington is on the longest ribbon (now Jackson)
Comment by: ste s on 27th January 2009 at 21:20
this looks like ridyard st maybee
Hi Beverley I remember you well now :-) I used to live on Walthew Lane and knew your mum very well. How is she keeping?
Comment by: Alice Stevenson on 28th January 2009 at 18:55
Does anyone recognise the couple with the baby standing opposite the "walk"?
Comment by: Beverley Johnson on 29th January 2009 at 18:25
Hiya Ck. What is your name?? My mum is keeping very well. We are just looking through all the old pictures now.

She thinks the girls on the ribbon are L-R ?? Reeves, Rosemary Proctor, My mum Mavis Pennington, Marlene Hall, Barbara Lowe...These may be wrong though her memory isnt what it used to be!!
Comment by: CK on 30th January 2009 at 08:45
My name was Carol Brown when I lived on Walthew Lane and I had 2 boys Kevin and Danny
Comment by: A.S. on 31st January 2009 at 09:20
Did that lady with the pushchair live on Moss Lane?
Comment by: David on 15th February 2009 at 13:52
Hi Beverly could you ask your mum if she knew the Beesleys on Moss Lane. I am trying to find out if the lady with the pushcair is my Mum She was Olive Beesley.
Comment by: maggiem on 13th February 2010 at 09:34
the lady with pushchair is Lilian Kirkham (nee Taylor)and her husband Bill. They lived on Liverpool Rd.
Comment by: wigwann on 18th March 2010 at 09:25
Thanks M. for the info. it has solved a long standing problem for me.
Hi all, Lillian Kirkham was my aunty which was the sister of my mother, mary wilson,nee taylor.