Photos of Wigan
Photos of Wigan
Album Contents
Album Contents
Wigan Album
St Catharine's
12 Comments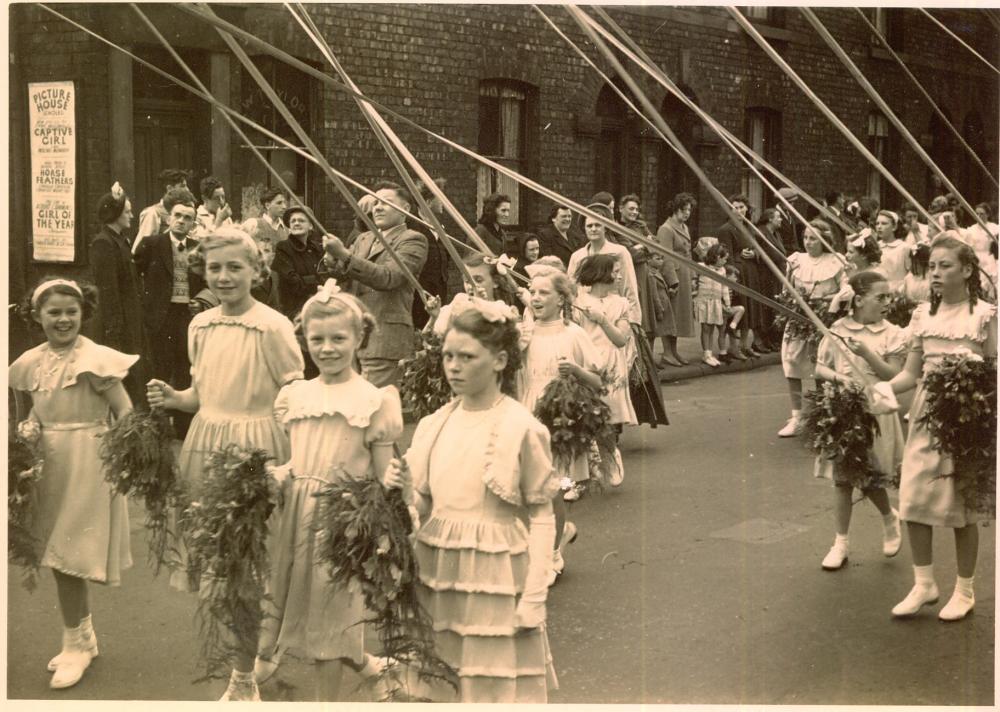 St. Catherines walking day.
Photo: G. Norris
Views: 4,283
Item #: 8156
Somewhere in Scholes. c.1948
Comment by: Ackky on 8th December 2008 at 18:10
Girls on front row right to left, possible Renee Anglesea,
Sheila Shirley, May Rudd, possible Olga Lloyd
Comment by: Nogger on 15th December 2008 at 21:48
Can confirm the four girls on the front row and possibly the second from the right is Babara Bibby and over her right shoulder further back is Brenda Seddon, the young man on the banner rope is Eric Curshaw, whose parents had a newsagents on Birkett Bank.
Comment by: ackky on 16th December 2008 at 18:47
Nogger.
Thanks for the confirmation, May Rudd is my sister-in-law,I am married to her younger sister Margaret, and they would like to know who you are.They believe the girl on the far left, Olga LLoyd, married G. Norris who sent in this photo, perhaps you can confirm this also.
Comment by: Nogger on 19th December 2008 at 00:42
Hi Ackky
The photograph belongs to my wife Olga who would like to be remembered to May and Margaret and Joan, we've lived 'up Blackrod' since 1963 and have three children and five grandchildren.
Olga has been trying desperately to remember the name of the girl immediately behind Renee Anglesea can the Rudd girls help?
Best wishes for Christmas and the New Year.
Mr & Mrs Nogger
Comment by: Ackky on 19th December 2008 at 19:12
Nogger.
Do you mean the girl on the extreme right hand side of the photo holding the ribbon in her right hand, if so, the Rudd girls think it is Barbara Bibby. Margaret, Joan and May would like to be remembered to your wife Olga,and just to say that Margaret is featured on the 1952 St Catherines class photo posted recently by Keith Bowen.If you or Olga can name others on the photo please do so.They send their best wishes to your family for christmas.
Yes, that young man (still young at heart) holding the rope is my Grand father, But his name is Eric Curless, not Curshew (although mistake is forgiven he he) He is now retired but still a practising doctor and enjoying life very much x
Did Renee Anglsea marry Ken Speakman
Comment by: Keith Bowen on 24th March 2009 at 21:22
Hi Tom, I might be completely mistaken but did your grandfather Eric Curless attend the Wigan Grammar, leaving "early" when his father passed away and later when in the Army started his studies to become a doctor? Apologies if I'm completely on the wrong tack.
hello to olga,margaret,joan and may. so lovely to see the photo. hope you are all well . I live in leyland and have three children and six grandchildren.our walter passed away eleven years ago aged 51.my eldest brother Reg still lives in Wigan.
Comment by: mark speakman on 6th September 2009 at 18:18
yes renee did marry ken speakman, 01/09/62
Comment by: roy sturgeon on 24th February 2015 at 14:00
photo in darlinton st east taylors chippy on corner on left
2nd row Barbara Whittle, Pat Schofield and Florence Hurst