Photos of Wigan
Photos of Wigan
Album Contents
Album Contents
Wigan Album
Abram Walking Day
8 Comments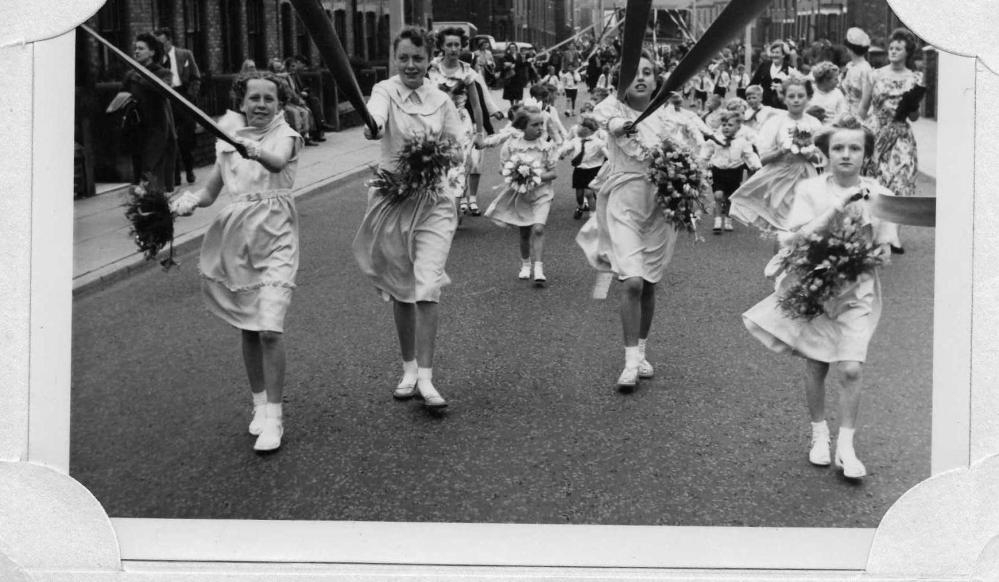 Abram circa 1958
Photo: Keith Pennington
Views: 3,233
Item #: 7988
Abram circa 1958
Comment by: Mark Calter on 18th November 2008 at 16:40
THATS YOUR SISTER ON THE RIGHT
Comment by: Mark Calter on 18th November 2008 at 16:59
the girl behind your sister the tenager is PAULEEN JOHNSON out of Vicarage rd if my memory is correct she is on the very far right
Comment by: Keith Pennington on 18th November 2008 at 19:44
Far left at the front is Marjorie Baxendale
Know all the faces Mark ,but names are lost
Comment by: Broady on 18th November 2008 at 21:30
Could the girl second from the right be Jean Hart?
Comment by: Mark Calter on 19th November 2008 at 14:53
Bill
Your right she used to live across from you,the girl on the rope with kids came out of Kigsdown rd is Bill Wrights daughter??
Comment by: badger(Olwyn) on 19th November 2008 at 21:40
Hiya Mark, Bill Wright's daughters name was Kathleen and she had a sister called Margaret. Their mum was a teacher,Bill was a councillor on Abram Council. The girl second from left I think was called Jean Porter, sure she emigrated to Australia many moons ago.
Olwyn
It certainly looks like me second from left and Jean Hart next to me on the right and Marjorie Baxendale on the left side of me.