Photos of Wigan
Photos of Wigan
Album Contents
Album Contents
Wigan Album
North Ashton Holy Trinity
6 Comments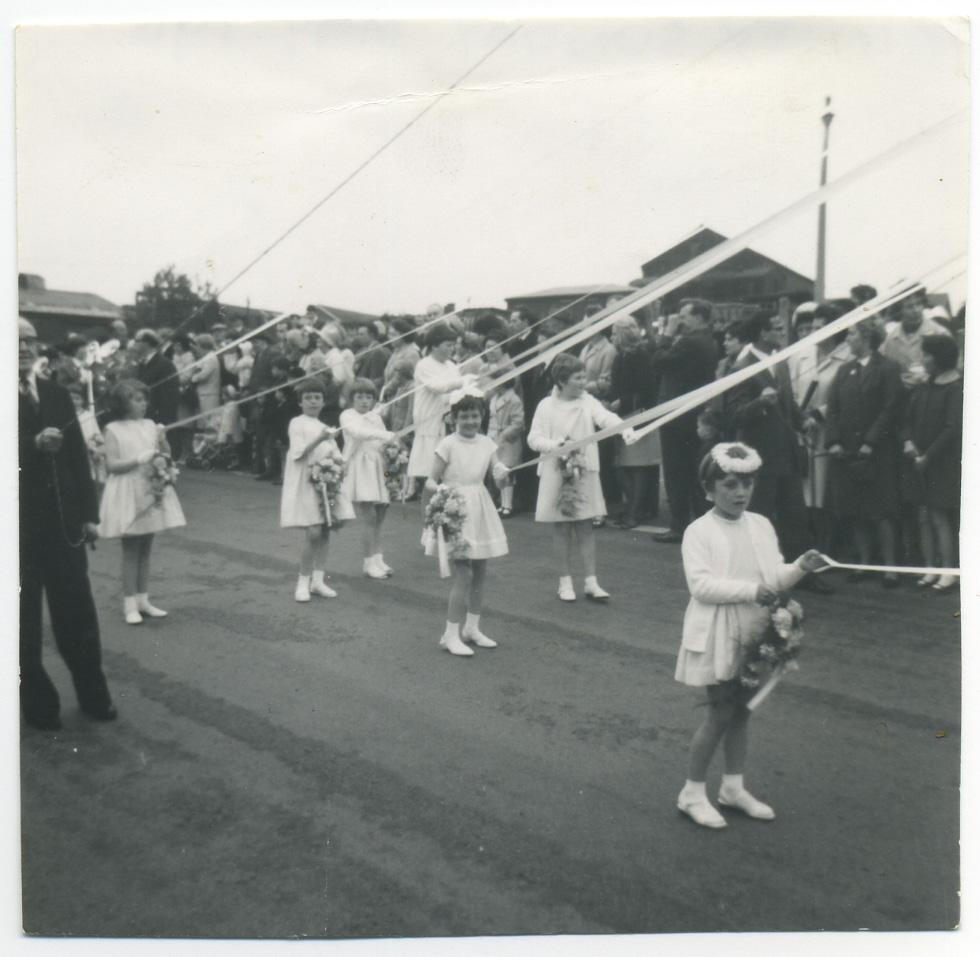 Trinity Sunday 1966
Photo: Kath Nicholson nee Roberts
Views: 2,438
Item #: 7815
Trinity Sunday 1966, taken on Billinge Road, coming round the corner near the Green and S&S Club - My sister Shirley Roberts is centre of the photo, with Wendy Hill leading, I think the girl behind our Shirley is Barbara Stubbs
Comment by: Susan Atkins (nee Atherton) on 30th October 2008 at 23:56
Another great photo Kath. Yes your right about Barbara Stubbs behind your Shirley and it looks like we were right behind them.
Comment by: Kath Nicholson nee Roberts on 31st October 2008 at 21:35
Yes Susan we were, John Newbiggin can be seen with the band and also it seems incredible but I think it's Nurse Stokes on the right of the picture watching the procession
Comment by: shirley roberts on 2nd November 2008 at 12:10
hi susan,i remember that day i had to go to sunday school so i could be on the banner,and it was freezing never went again lolxx
Comment by: Susan Atkins (nee Atherton) on 2nd November 2008 at 20:20
I think your right about it being Nurse Stokes Kath, she seems to be in her uniform but then again I remember that she was always on duty, lovely lady. I must admit Shirley you do look chilled but the thought of your bowl of jelly after your tea kept you going eh! LOL!!
Comment by: Eric Winstanley on 17th March 2009 at 09:50
The man on the left looks like Mr. Smith and the one on the right, Joe Hughes who passed away a few weeks ago. Joe lived in Palm Avenue, next door to my Auntie Ethel. He then went to live at Platt Bridge.
Comment by: GEOFF ROBERTS on 2nd November 2011 at 19:40
GREAT DAYS!IS THAT `NURSE STOKES`!ON THE RIGHT OF WENDY HILL..ON THE EDGE HOLDIN THE WHIP!LOL..............ONLY JOKIN FOLKS!